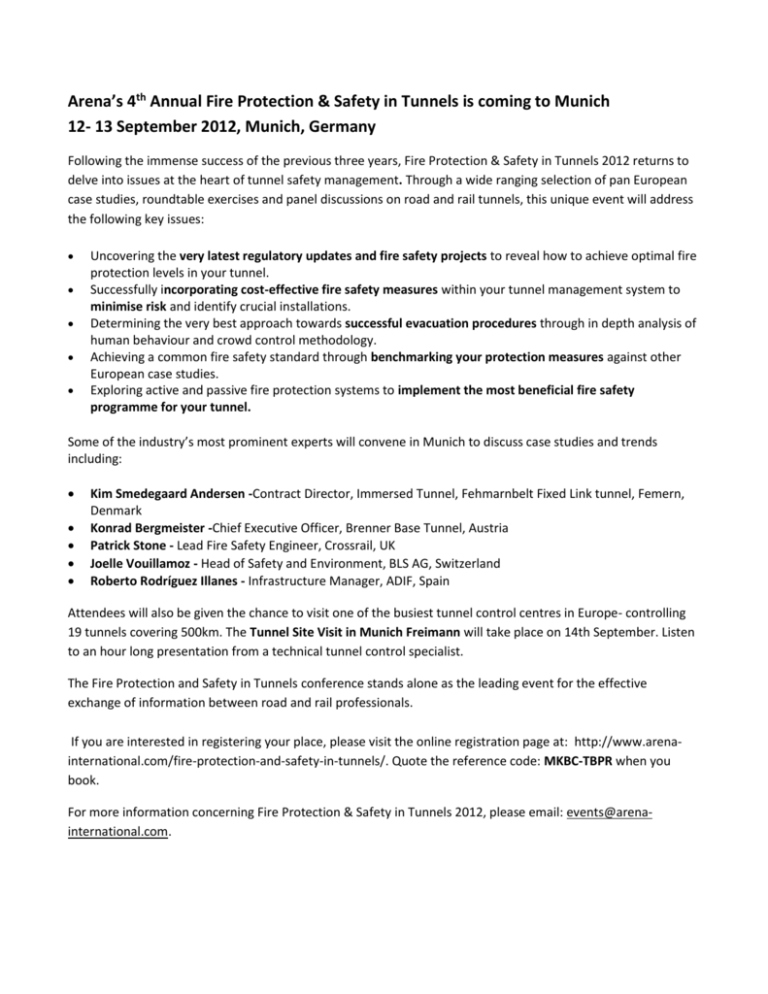 Arena's 4th Annual Fire Protection & Safety in Tunnels is coming to Munich
12- 13 September 2012, Munich, Germany
Following the immense success of the previous three years, Fire Protection & Safety in Tunnels 2012 returns to
delve into issues at the heart of tunnel safety management. Through a wide ranging selection of pan European
case studies, roundtable exercises and panel discussions on road and rail tunnels, this unique event will address
the following key issues:





Uncovering the very latest regulatory updates and fire safety projects to reveal how to achieve optimal fire
protection levels in your tunnel.
Successfully incorporating cost-effective fire safety measures within your tunnel management system to
minimise risk and identify crucial installations.
Determining the very best approach towards successful evacuation procedures through in depth analysis of
human behaviour and crowd control methodology.
Achieving a common fire safety standard through benchmarking your protection measures against other
European case studies.
Exploring active and passive fire protection systems to implement the most beneficial fire safety
programme for your tunnel.
Some of the industry's most prominent experts will convene in Munich to discuss case studies and trends
including:





Kim Smedegaard Andersen -Contract Director, Immersed Tunnel, Fehmarnbelt Fixed Link tunnel, Femern,
Denmark
Konrad Bergmeister -Chief Executive Officer, Brenner Base Tunnel, Austria
Patrick Stone - Lead Fire Safety Engineer, Crossrail, UK
Joelle Vouillamoz - Head of Safety and Environment, BLS AG, Switzerland
Roberto Rodríguez Illanes - Infrastructure Manager, ADIF, Spain
Attendees will also be given the chance to visit one of the busiest tunnel control centres in Europe- controlling
19 tunnels covering 500km. The Tunnel Site Visit in Munich Freimann will take place on 14th September. Listen
to an hour long presentation from a technical tunnel control specialist.
The Fire Protection and Safety in Tunnels conference stands alone as the leading event for the effective
exchange of information between road and rail professionals.
If you are interested in registering your place, please visit the online registration page at: http://www.arenainternational.com/fire-protection-and-safety-in-tunnels/. Quote the reference code: MKBC-TBPR when you
book.
For more information concerning Fire Protection & Safety in Tunnels 2012, please email: events@arenainternational.com.