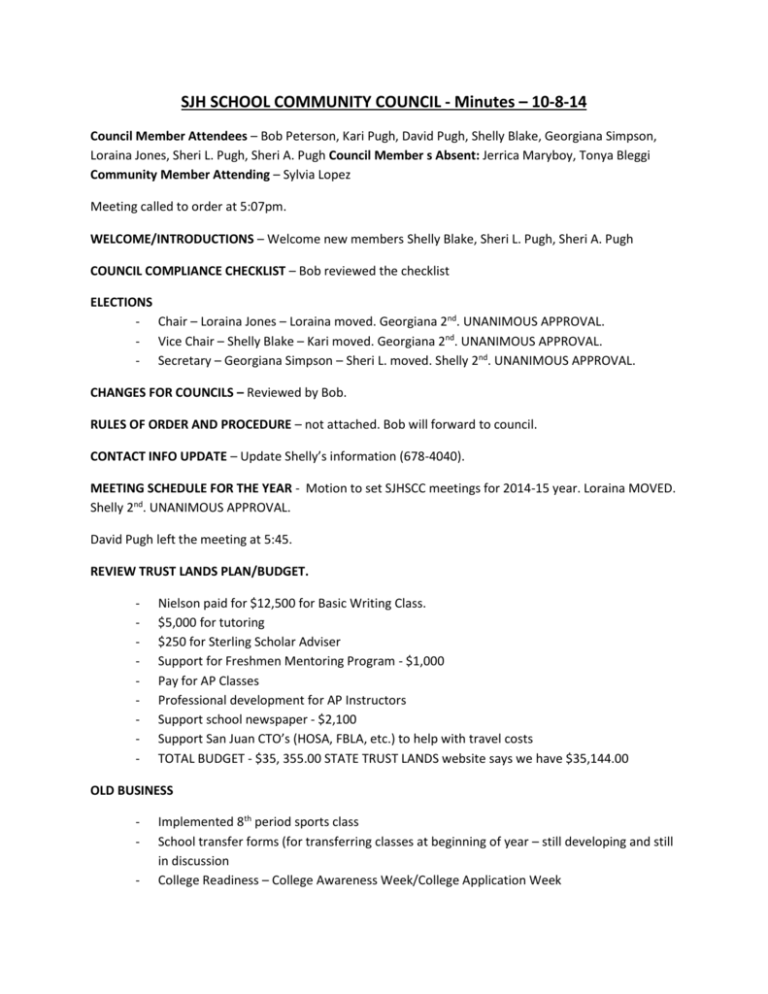 SJH SCHOOL COMMUNITY COUNCIL - Minutes – 10-8-14
Council Member Attendees – Bob Peterson, Kari Pugh, David Pugh, Shelly Blake, Georgiana Simpson,
Loraina Jones, Sheri L. Pugh, Sheri A. Pugh Council Member s Absent: Jerrica Maryboy, Tonya Bleggi
Community Member Attending – Sylvia Lopez
Meeting called to order at 5:07pm.
WELCOME/INTRODUCTIONS – Welcome new members Shelly Blake, Sheri L. Pugh, Sheri A. Pugh
COUNCIL COMPLIANCE CHECKLIST – Bob reviewed the checklist
ELECTIONS
- Chair – Loraina Jones – Loraina moved. Georgiana 2nd. UNANIMOUS APPROVAL.
- Vice Chair – Shelly Blake – Kari moved. Georgiana 2nd. UNANIMOUS APPROVAL.
- Secretary – Georgiana Simpson – Sheri L. moved. Shelly 2nd. UNANIMOUS APPROVAL.
CHANGES FOR COUNCILS – Reviewed by Bob.
RULES OF ORDER AND PROCEDURE – not attached. Bob will forward to council.
CONTACT INFO UPDATE – Update Shelly's information (678-4040).
MEETING SCHEDULE FOR THE YEAR - Motion to set SJHSCC meetings for 2014-15 year. Loraina MOVED.
Shelly 2nd. UNANIMOUS APPROVAL.
David Pugh left the meeting at 5:45.
REVIEW TRUST LANDS PLAN/BUDGET.
-
Nielson paid for $12,500 for Basic Writing Class.
$5,000 for tutoring
$250 for Sterling Scholar Adviser
Support for Freshmen Mentoring Program - $1,000
Pay for AP Classes
Professional development for AP Instructors
Support school newspaper - $2,100
Support San Juan CTO's (HOSA, FBLA, etc.) to help with travel costs
TOTAL BUDGET - $35, 355.00 STATE TRUST LANDS website says we have $35,144.00
OLD BUSINESS
-
Implemented 8th period sports class
School transfer forms (for transferring classes at beginning of year – still developing and still
in discussion
College Readiness – College Awareness Week/College Application Week
-
S.T.E.A.M. Expo at USU Eastern scheduled for April 10-11, 2015
Varsity Pins and Letters – letters are on their way; each program has guidelines for how
letter is earned; then pins/bars are ordered for additional years
Finals Week – in progress; so, for example, Math scheduled on Monday, Language Arts on
Tuesday, etc.; how absences are tracked during that week; try to organize for 1st quarter
NEW BUSINESS
-
-
Kayla Vernon – concern about how Homecoming Queen at SJHS is elected; strictly a
popularity contest; do Native American Students get represented; has a couple of ideas and
will follow up at next week with additional proposals
a. Have Homecoming Pageant – Kayla Vernon and Kelly Keyes want to oversee;
different clubs nominate, then voted; would showcase their talents; would have to
limit times so it did not go on too long
b. Limit to Juniors/Seniors?
c. Each club picks someone to represent their club
Utah Consolidated Action meeting – October 13; 3:00pm; SJH library – need 2 parents
Lorena and Georgiana(will check her calendar)
SJH Calendar
SAGE Assessment – no results available at this time
FOR NEXT MEETING
-
College Awareness/College Application Week as agenda item.
Motion to Adjourn at 6:24. Loraina moved. Kari 2nd. UNANIMOUS APPROVAL.