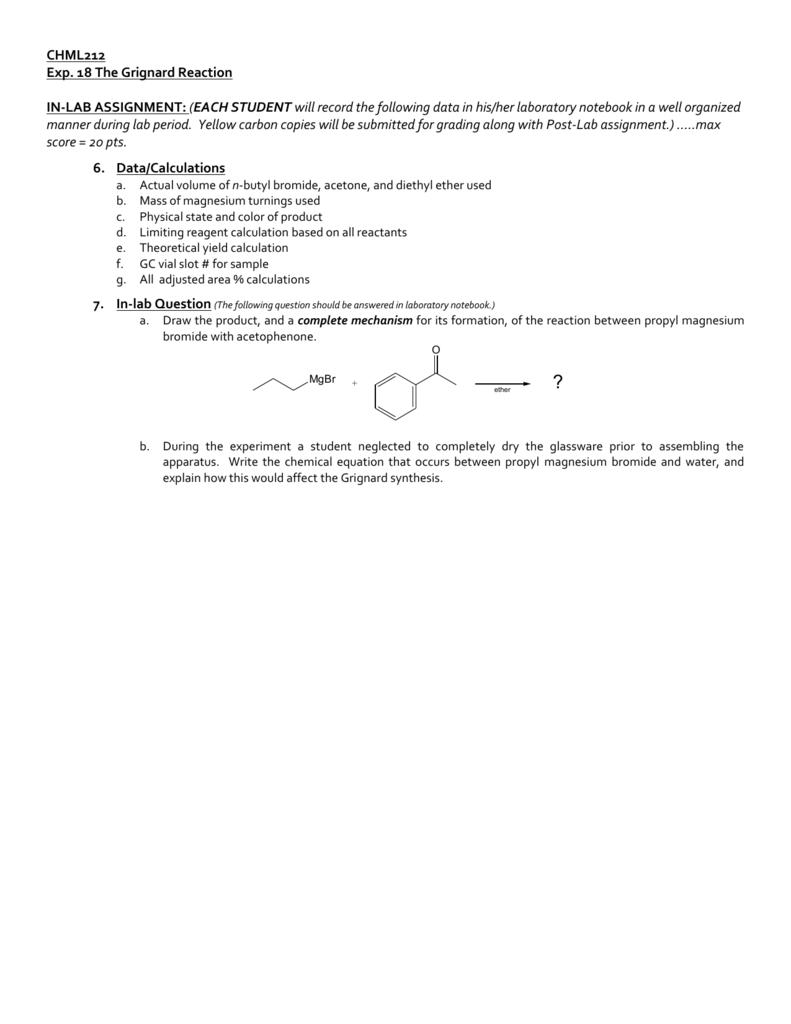 CHML212
Exp. 18 The Grignard Reaction
IN-LAB ASSIGNMENT: (EACH STUDENT will record the following data in his/her laboratory notebook in a well organized
manner during lab period. Yellow carbon copies will be submitted for grading along with Post-Lab assignment.) …..max
score = 20 pts.
6. Data/Calculations
a.
b.
c.
d.
e.
f.
g.
Actual volume of n-butyl bromide, acetone, and diethyl ether used
Mass of magnesium turnings used
Physical state and color of product
Limiting reagent calculation based on all reactants
Theoretical yield calculation
GC vial slot # for sample
All adjusted area % calculations
7. In-lab Question (The following question should be answered in laboratory notebook.)
a.
Draw the product, and a complete mechanism for its formation, of the reaction between propyl magnesium
bromide with acetophenone.
O
MgBr
b.
+
ether
?
During the experiment a student neglected to completely dry the glassware prior to assembling the
apparatus. Write the chemical equation that occurs between propyl magnesium bromide and water, and
explain how this would affect the Grignard synthesis.
CHML212
Exp. 18 The Grignard Reaction
POST-LAB ASSIGNMENT: (EACH LAB GROUP will submit one copy of a typewritten, paragraph style report addressing
all of the points listed below. Must be written using PAST TENSE, PASSIVE VOICE. ) …..max score = 50 pts.
8. Experimental (Write 1-2 paragraphs including all of the following. Do NOT present a bulleted outline.)




What type of reaction did you perform?
Describe the actual synthetic procedure. Include names of any reactants used and desired product, as well as
name of solvent and catalyst used (if any). Be sure to give actual volumes/masses of compounds used during the
synthesis (not just what the lab manual tells you to use).
Describe the purification technique used to isolate the desired product, including names and volume/mass of any
compounds used during purification process.
Describe the analytical technique used to evaluate the product, including name and volume/mass of any
compounds used during sample preparation, and any type of spectral analysis performed.
9. Results (Complete these tables. Then copy and paste completed tables into your document.)
Table 18.1 GC Results
GC Retention Times (min)
Standard
Sample
Compound
Area Percent
Adjusted
Area Percent
methanol
acetone
n-butyl bromide
2-methyl-2-hexanol
octane
n/a
Table 18.2 IR Analysis
Functional Group
OH stretch
sp3 CH stretch
C-O stretch
C-Br stretch
Base Values
Frequency (cm-1)
2500-3300
2850-3000
1000-1200
500-700
n-butyl bromide
Frequency (cm-1)
2-methyl-2-hexanol
Frequency (cm-1)
Table 18.3 NMR Analysis
(The chemical shifts can be handwritten into this table!)
n-butyl bromide
2-methyl-2-hexanol
H1
C1
H1
C2
C1
C2
H2
Br
H3
OH
CH2
1
CH2
2
CH2
CH3
3
4
1
H3
2
C3
H4, 5
H4
OH
H3C
C
CH2 CH2 CH2 CH3
3
CH3
1
4
5
C3
6
C4
C4
H6
C5
C6
10. Discussion (Write 1-2 pages including the following.)




Based on the GC results, were the reactants completely converted to the desired product? Explain this conclusion
by giving the name and adjusted area percent of any peaks in the sample chromatogram.
How can NMR spectroscopy be used to differentiate between the n-butyl bromide and the alcohol product in this
experiment? Give the identity of one type of proton and explain how it could be used to determine whether or not
the conversion took place. Include the typical chemical shift and the actual chemical shift for this type of proton
in your statement.
Include a short comment addressing what could be done differently to improve the experimental results, if
repeated.
Be sure to attach GC chromatogram!