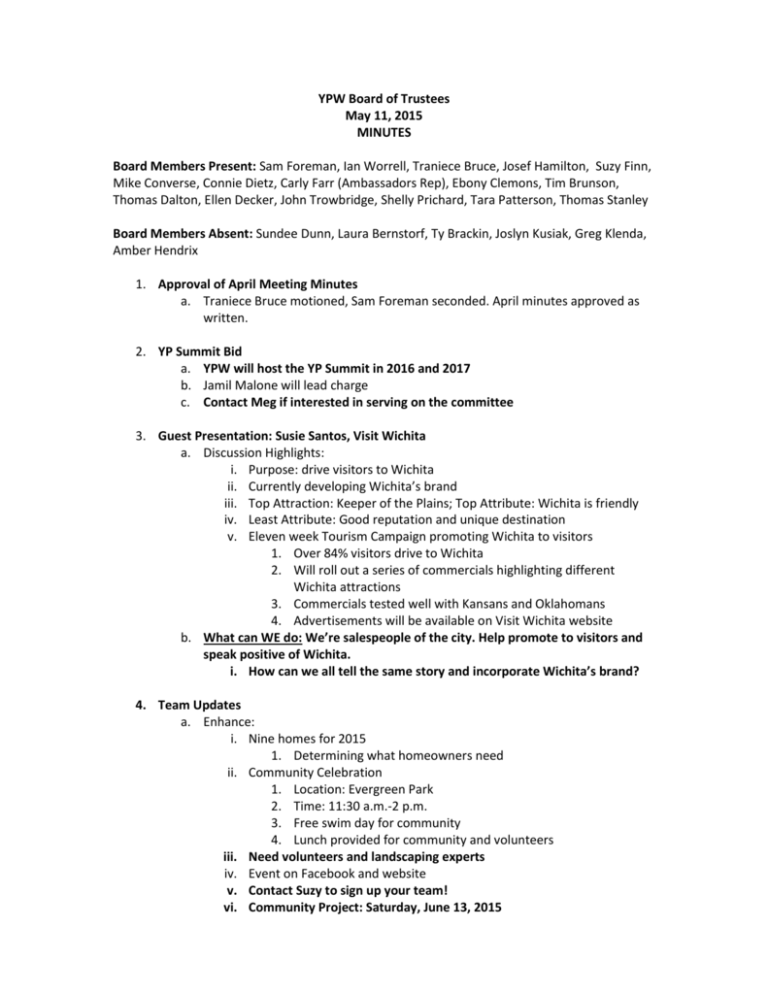 YPW Board of Trustees
May 11, 2015
MINUTES
Board Members Present: Sam Foreman, Ian Worrell, Traniece Bruce, Josef Hamilton, Suzy Finn,
Mike Converse, Connie Dietz, Carly Farr (Ambassadors Rep), Ebony Clemons, Tim Brunson,
Thomas Dalton, Ellen Decker, John Trowbridge, Shelly Prichard, Tara Patterson, Thomas Stanley
Board Members Absent: Sundee Dunn, Laura Bernstorf, Ty Brackin, Joslyn Kusiak, Greg Klenda,
Amber Hendrix
1. Approval of April Meeting Minutes
a. Traniece Bruce motioned, Sam Foreman seconded. April minutes approved as
written.
2. YP Summit Bid
a. YPW will host the YP Summit in 2016 and 2017
b. Jamil Malone will lead charge
c. Contact Meg if interested in serving on the committee
3. Guest Presentation: Susie Santos, Visit Wichita
a. Discussion Highlights:
i. Purpose: drive visitors to Wichita
ii. Currently developing Wichita's brand
iii. Top Attraction: Keeper of the Plains; Top Attribute: Wichita is friendly
iv. Least Attribute: Good reputation and unique destination
v. Eleven week Tourism Campaign promoting Wichita to visitors
1. Over 84% visitors drive to Wichita
2. Will roll out a series of commercials highlighting different
Wichita attractions
3. Commercials tested well with Kansans and Oklahomans
4. Advertisements will be available on Visit Wichita website
b. What can WE do: We're salespeople of the city. Help promote to visitors and
speak positive of Wichita.
i. How can we all tell the same story and incorporate Wichita's brand?
4. Team Updates
a. Enhance:
i. Nine homes for 2015
1. Determining what homeowners need
ii. Community Celebration
1. Location: Evergreen Park
2. Time: 11:30 a.m.-2 p.m.
3. Free swim day for community
4. Lunch provided for community and volunteers
iii. Need volunteers and landscaping experts
iv. Event on Facebook and website
v. Contact Suzy to sign up your team!
vi. Community Project: Saturday, June 13, 2015
b. College Connection
i. Intern Return
1. Party in the Park- June 11th (tentatively)
2. YP Week: WBC
a. Interns- Free of Charge; YPW Members- $3
b. Tailgating before game
c. Recommend interns you may know
d. Social Media Campaign- interns to post pictures
participating in activities/events on social media to win
prizes at tailgate
c. Pulse:
i. RiverFest Balcony Bash
1. May 31, 2015
2. Tickets: $20 (can purchase in advance or at door until 6:45 pm)
a. If ticket is purchased by noon on the Friday prior, will be
entered for chance to meet and greet Easton Corbin
3. Drinks available
4. Suzy's phone will be forwarded day of event
d. Advocacy:
i. Sam motioned for Thomas Dalton to be Member-at-large; Tim Brunson
seconded. Motion approved.
ii. County Commission Meeting:
1. Suzy attended meeting on Wednesday, May 13, 2015
2. Article: http://blog.wichitachamber.org/?tag=sedgwick-countycommission
3. Opportunities over the next few months to decide whether to
take a stance.
e. BEA Update:
i. Tuesday, June 2, 2015 from 9:00 – 11:00 am.
ii. Wanting to cooperate with YPW, especially for the purposes of getting
young business leaders and often young family parents there to give
their opinions.
iii. Hosting event with the Incoming Commissioner of Education, Dr. Randy
Watson.
iv. Community conversation with local business leaders.
v. Will enable Dr. Watson to hear the skills and abilities business leaders
believe are needed to build a successful future workforce.
vi. In search of a venue that can accommodate 50-75 people sitting at
round tables.
vii. Shelly Prichard will discuss how YPW can advertise/support event at
meeting.
5. Strategic Priority Update
a. Goal One: Member Survey
i. Should have ready next week
ii. Added questions regarding level of support for Sedgwick County Zoo
and Downtown Development
iii. Share survey with friends. Would like to garner feedback from members
and non-members
b. Goal Two: 10-Year Celebration
i. YP Week Draft Proclamation sent around for feedback.
ii. Proclamation approved.
c. Goal Three: Diversity and Inclusion
i. Moving forward with "I am ____________ professional" campaign
ii. Currently have professionals to represent underrepresented groups
iii. Want to drive more participation from said groups
d. Goal Four: Economic Development
i. Moving forward and going well
ii. Full update in Action Team Updates
6. Staff Updates
i. Table sponsorships for Founder's Day still being accepted (please see
email attachment)
ii. Four corporate table sponsorships sold
iii. Action Teams can purchase tables
iv. Corporate Investor of the Year Award voted and decided.