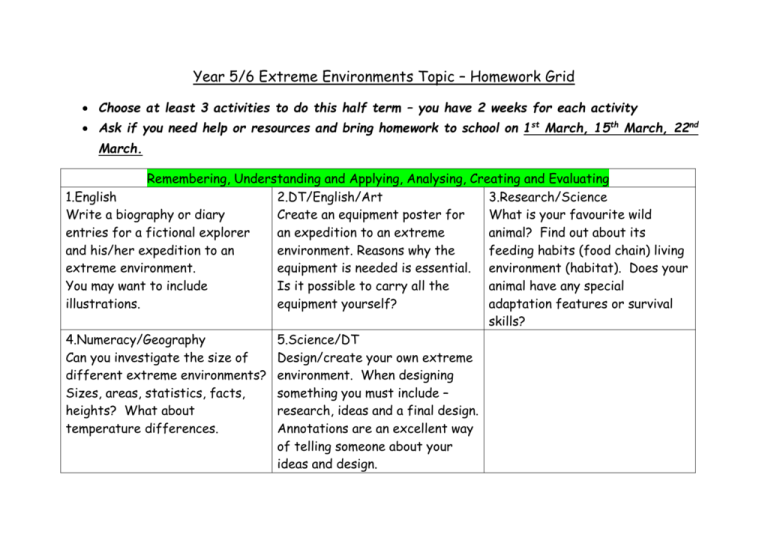 Year 5/6 Extreme Environments Topic – Homework Grid
 Choose at least 3 activities to do this half term – you have 2 weeks for each activity
 Ask if you need help or resources and bring homework to school on 1st March, 15th March, 22nd
March.
Remembering, Understanding and Applying, Analysing, Creating and Evaluating
1.English
2.DT/English/Art
3.Research/Science
Write a biography or diary
Create an equipment poster for
What is your favourite wild
entries for a fictional explorer
an expedition to an extreme
animal? Find out about its
and his/her expedition to an
environment. Reasons why the
feeding habits (food chain) living
extreme environment.
equipment is needed is essential. environment (habitat). Does your
You may want to include
Is it possible to carry all the
animal have any special
illustrations.
equipment yourself?
adaptation features or survival
skills?
4.Numeracy/Geography
5.Science/DT
Can you investigate the size of
Design/create your own extreme
different extreme environments? environment. When designing
Sizes, areas, statistics, facts,
something you must include –
heights? What about
research, ideas and a final design.
temperature differences.
Annotations are an excellent way
of telling someone about your
ideas and design.