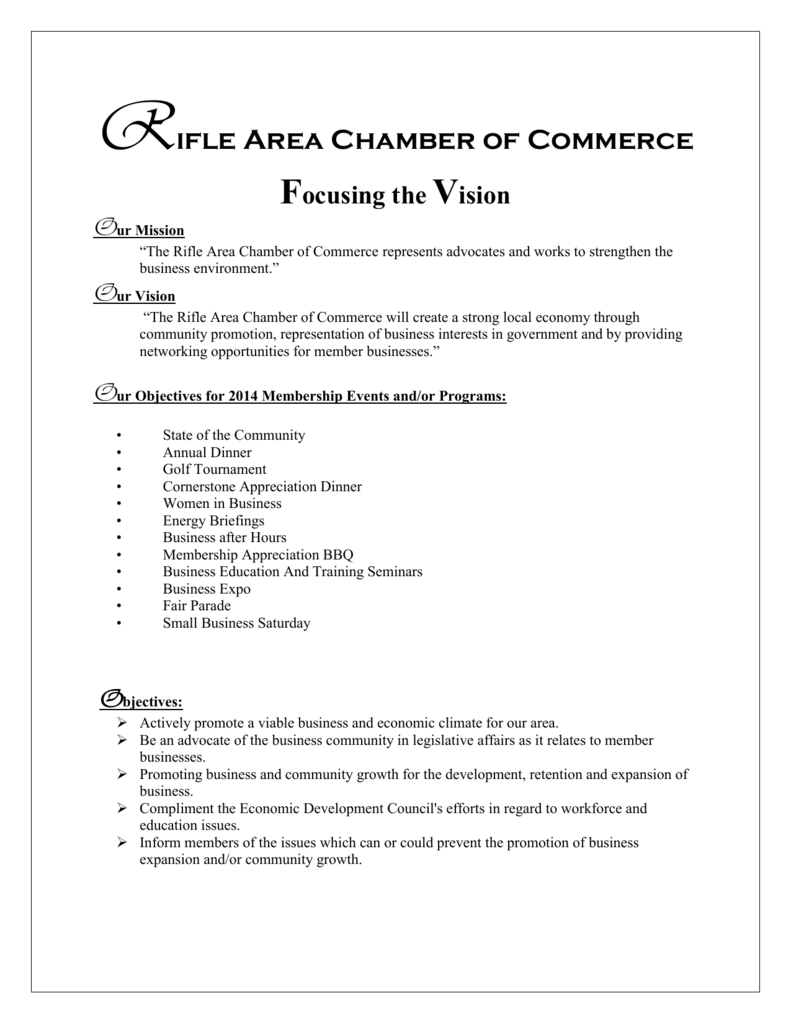 R
ifle Area Chamber of Commerce
Focusing the Vision
Our Mission
"The Rifle Area Chamber of Commerce represents advocates and works to strengthen the
business environment."
Our Vision
"The Rifle Area Chamber of Commerce will create a strong local economy through
community promotion, representation of business interests in government and by providing
networking opportunities for member businesses."
Our Objectives for 2014 Membership Events and/or Programs:
•
•
•
•
•
•
•
•
•
•
•
•
State of the Community
Annual Dinner
Golf Tournament
Cornerstone Appreciation Dinner
Women in Business
Energy Briefings
Business after Hours
Membership Appreciation BBQ
Business Education And Training Seminars
Business Expo
Fair Parade
Small Business Saturday
Objectives:
 Actively promote a viable business and economic climate for our area.
 Be an advocate of the business community in legislative affairs as it relates to member
businesses.
 Promoting business and community growth for the development, retention and expansion of
business.
 Compliment the Economic Development Council's efforts in regard to workforce and
education issues.
 Inform members of the issues which can or could prevent the promotion of business
expansion and/or community growth.
Achieving the Vision
Exceeding Member Expectations through:
A strong local economy, promoting the community, networking opportunities and
representing business.
Community Leadership
Engaging our members and developing programs through:
•
•
•
•
•
Marketing
Government Affairs
Finance
Scholarship
Ambassadors
Provide Education, Resources and Information through
Advocacy
Ambassadors
Board of Directors
Chamber Newsletter
Chamber Staff
Email Reminders
Legislative/Public Policy Information
Member Surveys
Networking Opportunities
New and Existing Member Orientation
One-on-one Member Contact
Professional Development Seminars and Training
Promotional Opportunities
Relocation/Vacation Guide and or Business Directory
Visitor services
Website (www.riflechamber.com)
Responsible Financial Management
 Invest membership dues to improve value and services to members.
 Increase non-dues revenue to be used in development of programs and services for
our members.
 Specify a plan to ensure retention, growth and sustainability of the Chamber.
Summary



Increase Membership through growth and retention by 15% (net gain)
Increase awareness and image of the Chamber as a business advocate resource
Increase member involvement through innovative ideas, technology and education.
Year One Goals 2014






Maintain a positive public image throughout the community.
Membership Growth and Retention- Updated to Overall Growth of 5% and
Overall Retention Rate of 85%. Looking to have 400 members by end of 2014.
Develop a Relocation Plan for the Chamber Office.
Strengthen programs and events (evaluate, innovate, execute).
Increase Positive Collaboration with Local, County, and State Leaders.
Maintain Financial Health of the Chamber while continuing to Explore Any New
Opportunities for Revenue.
Year Two Goals - 2015 and beyond




New Business Development
Collaborate with other Chambers especially in regards to New Business
Development and increasing Membership.
Image Check-Consistently Monitoring our Image to the Public and Our Members.
Conduct a website and Technology Review to maintain a forward approach to
new and advanced Website Design and Technology Uses for the Chamber and our
Members.
Five Year Vision Summary
To be sound, fair, be on the leading edge of communication thru technology, have a strong tourism
economy, increase membership beyond 450 members, be a catalyst for stronger businesses, foster
strong board relationships, have a positive image, provide tools and be a resource for education to
our members, be innovative.