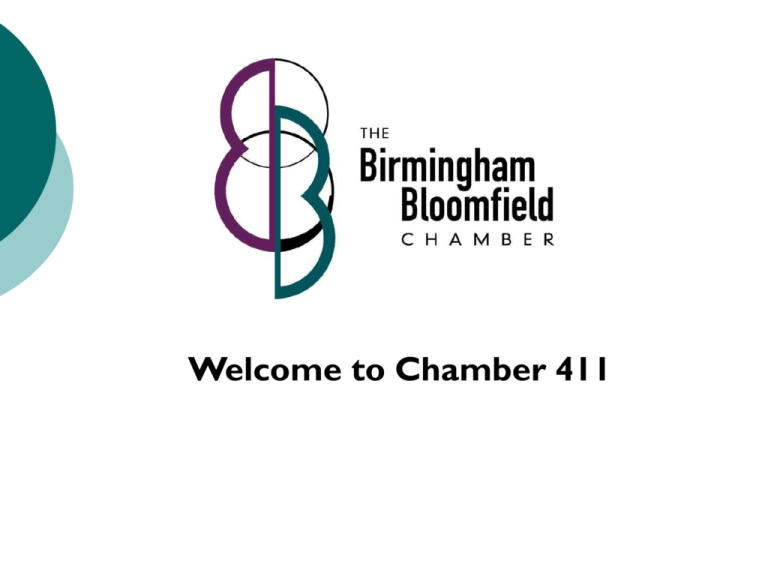 Welcome to Chamber 411
CHAMBER STAFF
Joe Bauman, President
 Sheryl Geralds, Operations Manager
 Danielle Workman, Membership
Manager
 Andrea Kaczmarek, Marketing & Event
Manager

CHAMBER LEADERSHIP
Board of Directors and Ambassadors
AMBASSADOR OF THE YEAR 2012

Congratulations Paul Taros of Taros &
Associates P.C.
OUR MISSION

The Birmingham Bloomfield Chamber's
mission is to serve our six communities
as their leading resource for advancing
business interests and building
relationships.
6 COMMUNITIES STRONG
THANK YOU
GEOGRAPHIC PROFILE
INDUSTRY PROFILE
EXPOSURE
Member Directory
 Referrals
 Member Mailing List
 Speakers Bureau
 Ribbon Cuttings
 Sponsorship Opportunities
 Advertising
 Business Profiles

RESOURCES
SCORE®
 Chamber Blog
 Public Policy Advocacy
 Economic Development
 Community Calendar
 Nonprofit Network

EDUCATIONAL
FORUMS
Forecast Series
 Back to School Breakfast
 Professional Edge
 Chamber 411

EXCLUSIVE MEMBER
BENEFIT PROGRAMS
Comcast Business Class
 Office Supplies
 Health Insurance
 Member 2 Member

INVOLVEMENT
Leadership Roles
 Educational Forum Committees
 Access to Legislators
 Chamber Ambassadors
 Economic Development

EVENTS
Vine & Dine
 Village Fair
 Community Leadership Luncheon
 Halloween Parade
 Member Coffees
 Business After Hours
 Annual Meeting
 Holiday Mixer

COMMUNITY
EVENTS
Village Fair
Halloween Parade
NETWORKING
EVENTS
Member Coffee
NETWORKING
EVENTS
Business After Hours
LinkedIn Tips
With Lori Williams,Your Legal Resource



Profile
Current and past positions, professional head
shot, web links, status updates
Connections
Grow your network by inviting those you
know and meet
Communicate
Groups, introductions, discussions
You & Your Company

1.
2.
3.
30-Second Elevator Speech
Name / Company
One intriguing statement that makes
others want to find out more about you
after the meeting
A memory hook or tagline
Take Action





Join or Refer a Member
Register for an Event
Create a Membership Action Plan
Participate in a Committee
Connect on LinkedIn and other Social Media
platforms
Upcoming Events
Member Coffee-Be Well Lifestyle Centers May 30
50th Annual Birmingham Village Fair May 30-June 2
Business After Hours-Roadside B&G June 12
Member Coffee-Sacred Garden Healing Arts Center
June 27
RESOURCES
Resources to residents and tourists:
Trip information - places stay, eat, play
Shopping and services
Community events & happenings
PLACES TO STAY
The Townsend
Hotel
Holiday Inn Express
PLACES TO EAT
Bagger Dave's
Burger Tavern
Chen Chow Brasserie
THINGS TO DO
Azenza Salon
Cranbrook Institute
of Science
OWNING A BUSINESS IS FUN
STUFF
THE DAILEY METHOD
MORE FROM CARLY
CONTACT US
Monday – Friday 9 a.m. – 5 p.m.
(248) 644-1700 www.bbcc.com
725 S. Adams Rd., Suite 130
Birmingham
Facebook
www.facebook.com/
BBChamber
LinkedIn Group
Birmingham Bloomfield
Chamber
Twitter
@BBChamber
Pinterest
BBChamber
Thank you for attending.
We look forward to
sharing in your success.