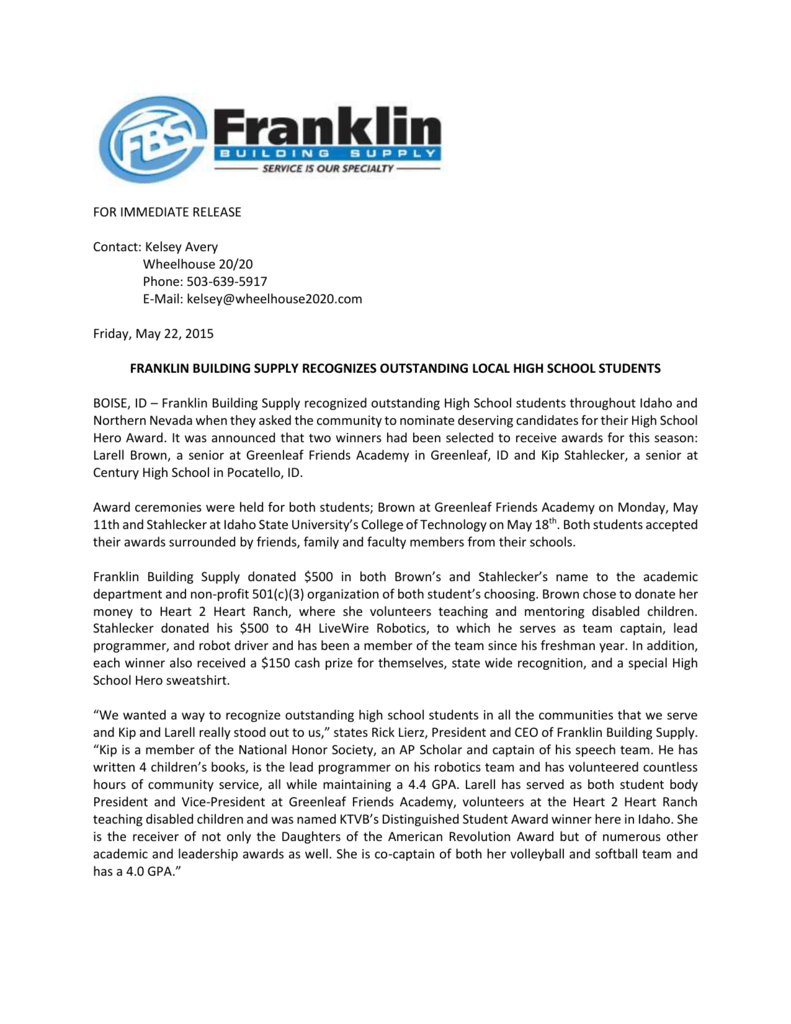 FOR IMMEDIATE RELEASE
Contact: Kelsey Avery
Wheelhouse 20/20
Phone: 503-639-5917
E-Mail: [email protected]
Friday, May 22, 2015
FRANKLIN BUILDING SUPPLY RECOGNIZES OUTSTANDING LOCAL HIGH SCHOOL STUDENTS
BOISE, ID – Franklin Building Supply recognized outstanding High School students throughout Idaho and
Northern Nevada when they asked the community to nominate deserving candidates for their High School
Hero Award. It was announced that two winners had been selected to receive awards for this season:
Larell Brown, a senior at Greenleaf Friends Academy in Greenleaf, ID and Kip Stahlecker, a senior at
Century High School in Pocatello, ID.
Award ceremonies were held for both students; Brown at Greenleaf Friends Academy on Monday, May
11th and Stahlecker at Idaho State University's College of Technology on May 18th. Both students accepted
their awards surrounded by friends, family and faculty members from their schools.
Franklin Building Supply donated $500 in both Brown's and Stahlecker's name to the academic
department and non-profit 501(c)(3) organization of both student's choosing. Brown chose to donate her
money to Heart 2 Heart Ranch, where she volunteers teaching and mentoring disabled children.
Stahlecker donated his $500 to 4H LiveWire Robotics, to which he serves as team captain, lead
programmer, and robot driver and has been a member of the team since his freshman year. In addition,
each winner also received a $150 cash prize for themselves, state wide recognition, and a special High
School Hero sweatshirt.
"We wanted a way to recognize outstanding high school students in all the communities that we serve
and Kip and Larell really stood out to us," states Rick Lierz, President and CEO of Franklin Building Supply.
"Kip is a member of the National Honor Society, an AP Scholar and captain of his speech team. He has
written 4 children's books, is the lead programmer on his robotics team and has volunteered countless
hours of community service, all while maintaining a 4.4 GPA. Larell has served as both student body
President and Vice-President at Greenleaf Friends Academy, volunteers at the Heart 2 Heart Ranch
teaching disabled children and was named KTVB's Distinguished Student Award winner here in Idaho. She
is the receiver of not only the Daughters of the American Revolution Award but of numerous other
academic and leadership awards as well. She is co-captain of both her volleyball and softball team and
has a 4.0 GPA."
Kip has been accepted to MIT where he will study Mechanical and Aerospace engineering next fall. Larell
plans to attend NNU where she will earn a degree in biology and hopes to one day become a Veterinary
Pathologist.
Nominees were judged on the basis of multiple achievements including grade point average, academic
activities, school related extra-curricular activities, and community and/or civic related involvement.
Students will have another opportunity to win a High School Hero Award next fall.
About Franklin Building Supply: Franklin Building Supply has been locally owned and operated since 1976
when the doors to their first location in Boise, Idaho opened. Franklin now serves more contractors and
homeowners throughout southern and central Idaho, northern Nevada and eastern Oregon than any
other pro-dealer in Idaho. Franklin proudly employs more than 300 team members and operates 17
facilities which include pro/retail building material locations, design center showrooms including Design
Innovations in Meridian, and manufacturing facilities which include trusses, pre-hung doors, granite slab
countertops, closets and cabinetry. For more information visit: www.franklinbuildingsupply.com
.