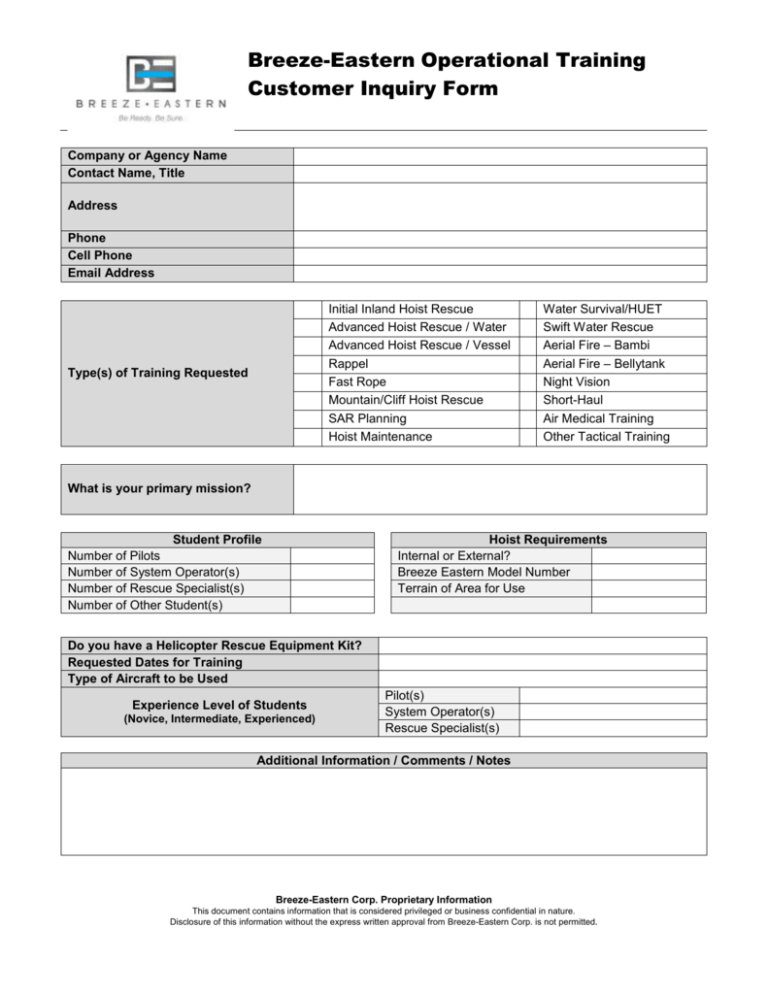 Breeze-Eastern Operational Training
Customer Inquiry Form
Company or Agency Name
Contact Name, Title
Address
Phone
Cell Phone
Email Address
Initial Inland Hoist Rescue
Advanced Hoist Rescue / Water
Advanced Hoist Rescue / Vessel
Rappel
Fast Rope
Mountain/Cliff Hoist Rescue
SAR Planning
Hoist Maintenance
Type(s) of Training Requested
Water Survival/HUET
Swift Water Rescue
Aerial Fire – Bambi
Aerial Fire – Bellytank
Night Vision
Short-Haul
Air Medical Training
Other Tactical Training
What is your primary mission?
Student Profile
Number of Pilots
Number of System Operator(s)
Number of Rescue Specialist(s)
Number of Other Student(s)
Hoist Requirements
Internal or External?
Breeze Eastern Model Number
Terrain of Area for Use
Do you have a Helicopter Rescue Equipment Kit?
Requested Dates for Training
Type of Aircraft to be Used
Experience Level of Students
(Novice, Intermediate, Experienced)
Pilot(s)
System Operator(s)
Rescue Specialist(s)
Additional Information / Comments / Notes
Breeze-Eastern Corp. Proprietary Information
This document contains information that is considered privileged or business confidential in nature.
Disclosure of this information without the express written approval from Breeze-Eastern Corp. is not permitted.