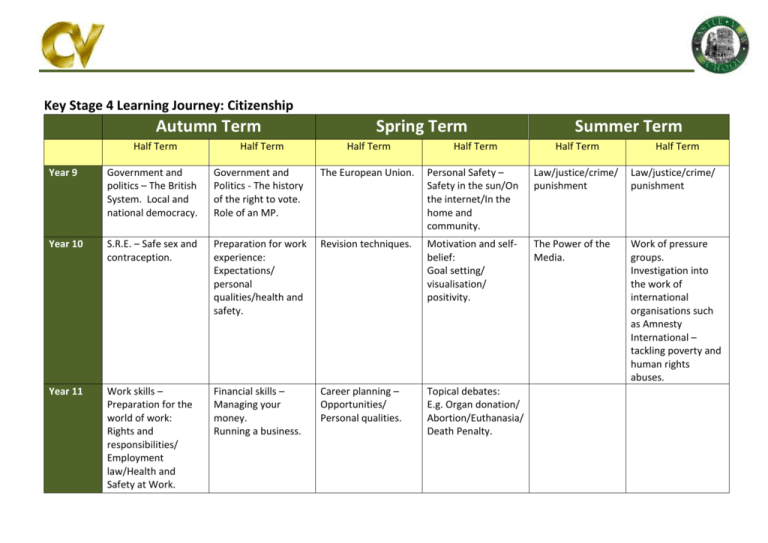 Key Stage 4 Learning Journey: Citizenship
Autumn Term
Half Term
Half Term
Spring Term
Summer Term
Half Term
Half Term
Half Term
Half Term
Year 9
Government and
politics – The British
System. Local and
national democracy.
Government and
Politics - The history
of the right to vote.
Role of an MP.
The European Union.
Personal Safety –
Safety in the sun/On
the internet/In the
home and
community.
Law/justice/crime/
punishment
Law/justice/crime/
punishment
Year 10
S.R.E. – Safe sex and
contraception.
Preparation for work
experience:
Expectations/
personal
qualities/health and
safety.
Revision techniques.
Motivation and selfbelief:
Goal setting/
visualisation/
positivity.
The Power of the
Media.
Work of pressure
groups.
Investigation into
the work of
international
organisations such
as Amnesty
International –
tackling poverty and
human rights
abuses.
Year 11
Work skills –
Preparation for the
world of work:
Rights and
responsibilities/
Employment
law/Health and
Safety at Work.
Financial skills –
Managing your
money.
Running a business.
Career planning –
Opportunities/
Personal qualities.
Topical debates:
E.g. Organ donation/
Abortion/Euthanasia/
Death Penalty.