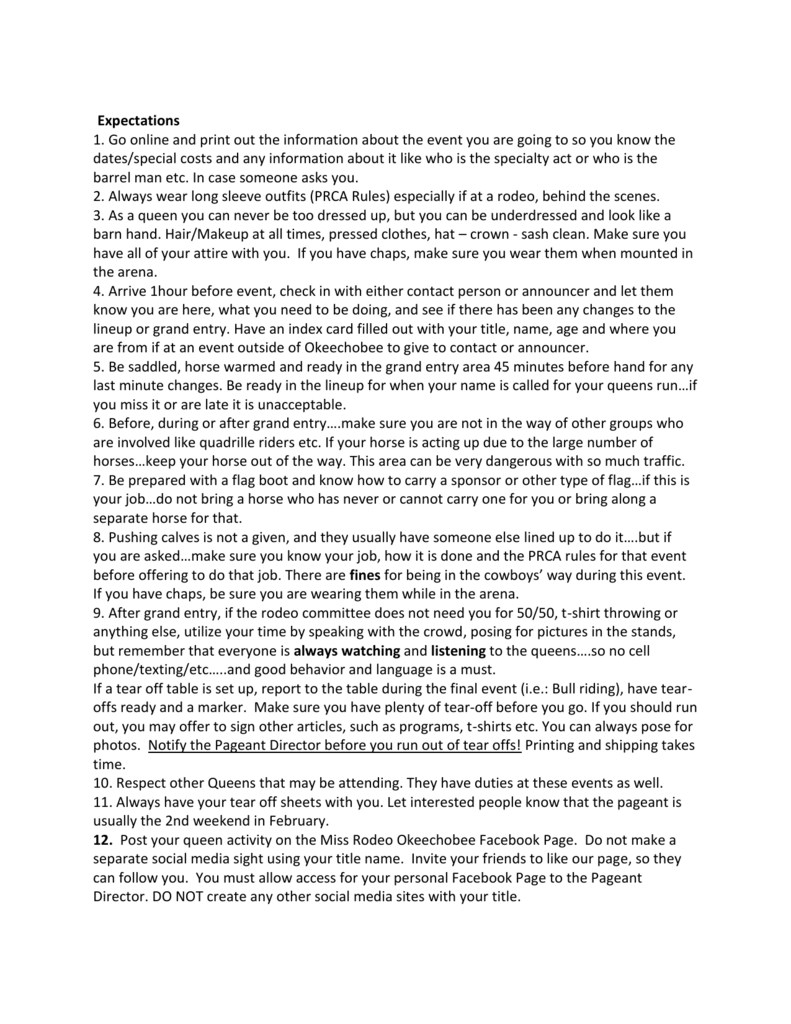 Expectations
1. Go online and print out the information about the event you are going to so you know the
dates/special costs and any information about it like who is the specialty act or who is the
barrel man etc. In case someone asks you.
2. Always wear long sleeve outfits (PRCA Rules) especially if at a rodeo, behind the scenes.
3. As a queen you can never be too dressed up, but you can be underdressed and look like a
barn hand. Hair/Makeup at all times, pressed clothes, hat – crown - sash clean. Make sure you
have all of your attire with you. If you have chaps, make sure you wear them when mounted in
the arena.
4. Arrive 1hour before event, check in with either contact person or announcer and let them
know you are here, what you need to be doing, and see if there has been any changes to the
lineup or grand entry. Have an index card filled out with your title, name, age and where you
are from if at an event outside of Okeechobee to give to contact or announcer.
5. Be saddled, horse warmed and ready in the grand entry area 45 minutes before hand for any
last minute changes. Be ready in the lineup for when your name is called for your queens run…if
you miss it or are late it is unacceptable.
6. Before, during or after grand entry….make sure you are not in the way of other groups who
are involved like quadrille riders etc. If your horse is acting up due to the large number of
horses…keep your horse out of the way. This area can be very dangerous with so much traffic.
7. Be prepared with a flag boot and know how to carry a sponsor or other type of flag…if this is
your job…do not bring a horse who has never or cannot carry one for you or bring along a
separate horse for that.
8. Pushing calves is not a given, and they usually have someone else lined up to do it….but if
you are asked…make sure you know your job, how it is done and the PRCA rules for that event
before offering to do that job. There are fines for being in the cowboys' way during this event.
If you have chaps, be sure you are wearing them while in the arena.
9. After grand entry, if the rodeo committee does not need you for 50/50, t-shirt throwing or
anything else, utilize your time by speaking with the crowd, posing for pictures in the stands,
but remember that everyone is always watching and listening to the queens….so no cell
phone/texting/etc…..and good behavior and language is a must.
If a tear off table is set up, report to the table during the final event (i.e.: Bull riding), have tearoffs ready and a marker. Make sure you have plenty of tear-off before you go. If you should run
out, you may offer to sign other articles, such as programs, t-shirts etc. You can always pose for
photos. Notify the Pageant Director before you run out of tear offs! Printing and shipping takes
time.
10. Respect other Queens that may be attending. They have duties at these events as well.
11. Always have your tear off sheets with you. Let interested people know that the pageant is
usually the 2nd weekend in February.
12. Post your queen activity on the Miss Rodeo Okeechobee Facebook Page. Do not make a
separate social media sight using your title name. Invite your friends to like our page, so they
can follow you. You must allow access for your personal Facebook Page to the Pageant
Director. DO NOT create any other social media sites with your title.
13. It is Miss Rodeo Okeechobee's job to carry the American Flag. All other titles are assets to
her. Miss Congeniality may not be invited to all appearances. Please know this up front.
14. You are not above any service duty. If you are asked to help clean up or serve food, we
expect you to do so.
15. The Okeechobee Cattleman's Association is your sponsor, you serve them as an
ambassador, conduct yourself accordingly at all times. The Sponsors of the rodeos are also your
sponsors, you represent them as well.
16. When traveling to rodeos or events outside of the Okeechobee Cattleman's events, please
have a thank you card with you and give it to the contact person to relay to the event producer.
This is a way to ensure that the Court will be invited to other events.