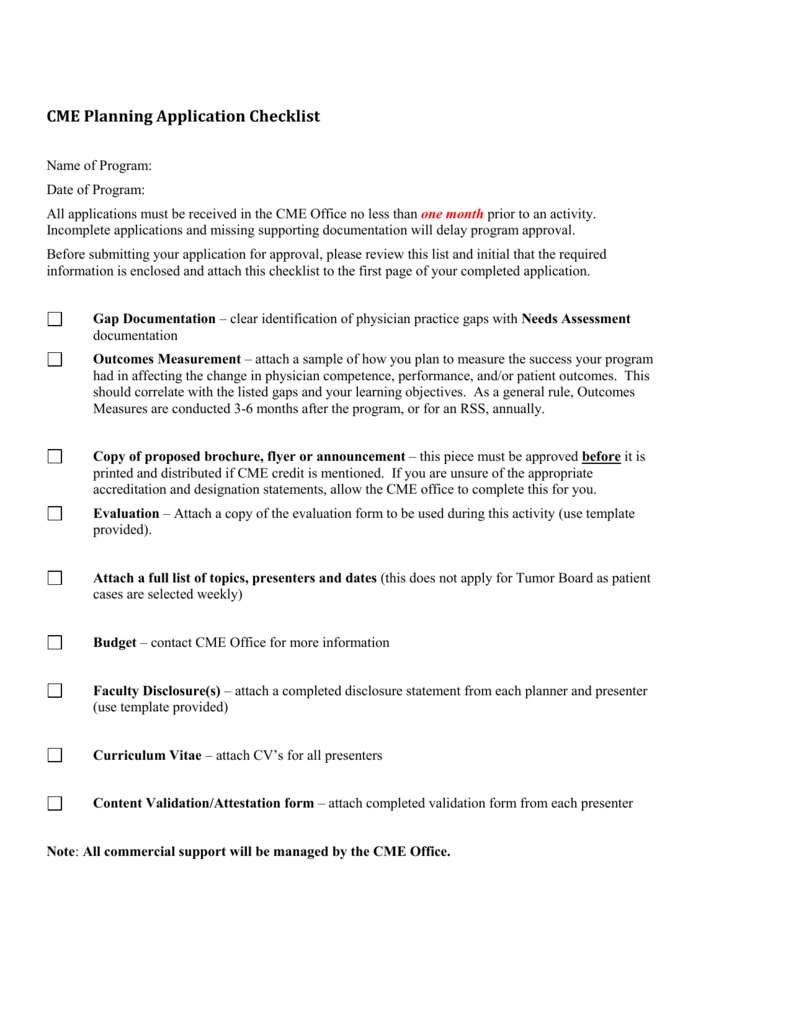 CME Planning Application Checklist
Name of Program:
Date of Program:
All applications must be received in the CME Office no less than one month prior to an activity.
Incomplete applications and missing supporting documentation will delay program approval.
Before submitting your application for approval, please review this list and initial that the required
information is enclosed and attach this checklist to the first page of your completed application.
Gap Documentation – clear identification of physician practice gaps with Needs Assessment
documentation
Outcomes Measurement – attach a sample of how you plan to measure the success your program
had in affecting the change in physician competence, performance, and/or patient outcomes. This
should correlate with the listed gaps and your learning objectives. As a general rule, Outcomes
Measures are conducted 3-6 months after the program, or for an RSS, annually.
Copy of proposed brochure, flyer or announcement – this piece must be approved before it is
printed and distributed if CME credit is mentioned. If you are unsure of the appropriate
accreditation and designation statements, allow the CME office to complete this for you.
Evaluation – Attach a copy of the evaluation form to be used during this activity (use template
provided).
Attach a full list of topics, presenters and dates (this does not apply for Tumor Board as patient
cases are selected weekly)
Budget – contact CME Office for more information
Faculty Disclosure(s) – attach a completed disclosure statement from each planner and presenter
(use template provided)
Curriculum Vitae – attach CV's for all presenters
Content Validation/Attestation form – attach completed validation form from each presenter
Note: All commercial support will be managed by the CME Office.