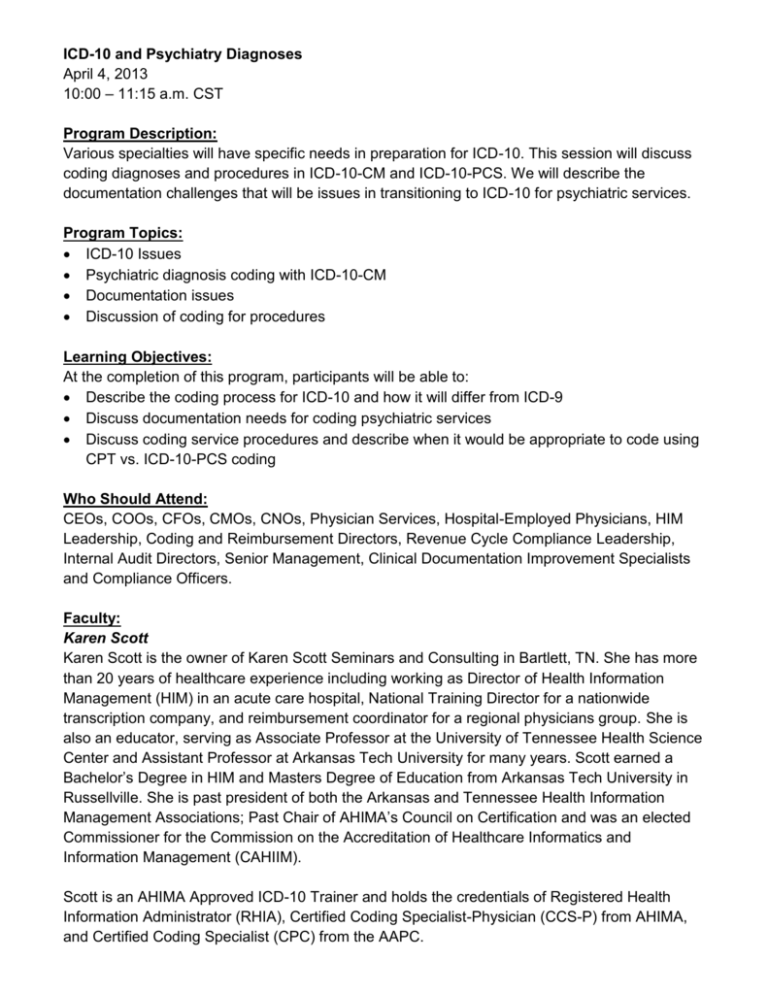 ICD-10 and Psychiatry Diagnoses
April 4, 2013
10:00 – 11:15 a.m. CST
Program Description:
Various specialties will have specific needs in preparation for ICD-10. This session will discuss
coding diagnoses and procedures in ICD-10-CM and ICD-10-PCS. We will describe the
documentation challenges that will be issues in transitioning to ICD-10 for psychiatric services.
Program Topics:
 ICD-10 Issues
 Psychiatric diagnosis coding with ICD-10-CM
 Documentation issues
 Discussion of coding for procedures
Learning Objectives:
At the completion of this program, participants will be able to:
 Describe the coding process for ICD-10 and how it will differ from ICD-9
 Discuss documentation needs for coding psychiatric services
 Discuss coding service procedures and describe when it would be appropriate to code using
CPT vs. ICD-10-PCS coding
Who Should Attend:
CEOs, COOs, CFOs, CMOs, CNOs, Physician Services, Hospital-Employed Physicians, HIM
Leadership, Coding and Reimbursement Directors, Revenue Cycle Compliance Leadership,
Internal Audit Directors, Senior Management, Clinical Documentation Improvement Specialists
and Compliance Officers.
Faculty:
Karen Scott
Karen Scott is the owner of Karen Scott Seminars and Consulting in Bartlett, TN. She has more
than 20 years of healthcare experience including working as Director of Health Information
Management (HIM) in an acute care hospital, National Training Director for a nationwide
transcription company, and reimbursement coordinator for a regional physicians group. She is
also an educator, serving as Associate Professor at the University of Tennessee Health Science
Center and Assistant Professor at Arkansas Tech University for many years. Scott earned a
Bachelor's Degree in HIM and Masters Degree of Education from Arkansas Tech University in
Russellville. She is past president of both the Arkansas and Tennessee Health Information
Management Associations; Past Chair of AHIMA's Council on Certification and was an elected
Commissioner for the Commission on the Accreditation of Healthcare Informatics and
Information Management (CAHIIM).
Scott is an AHIMA Approved ICD-10 Trainer and holds the credentials of Registered Health
Information Administrator (RHIA), Certified Coding Specialist-Physician (CCS-P) from AHIMA,
and Certified Coding Specialist (CPC) from the AAPC.