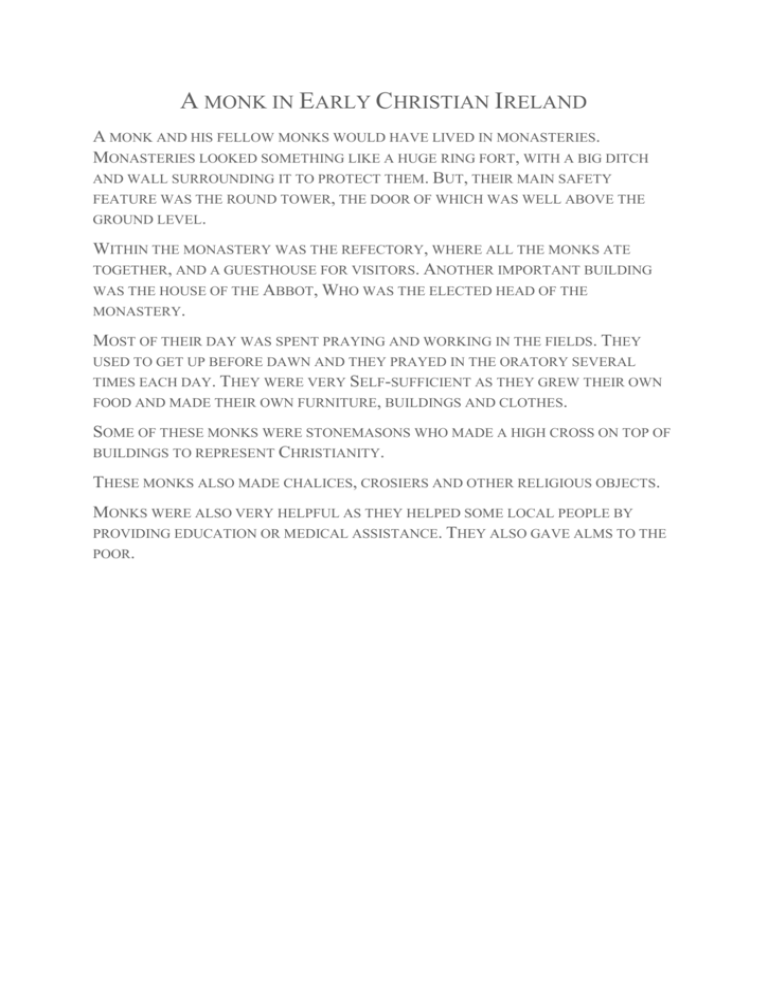 A MONK IN EARLY CHRISTIAN IRELAND
A MONK AND HIS FELLOW MONKS WOULD HAVE LIVED IN MONASTERIES.
MONASTERIES LOOKED SOMETHING LIKE A HUGE RING FORT, WITH A BIG DITCH
AND WALL SURROUNDING IT TO PROTECT THEM. BUT, THEIR MAIN SAFETY
FEATURE WAS THE ROUND TOWER, THE DOOR OF WHICH WAS WELL ABOVE THE
GROUND LEVEL.
WITHIN THE MONASTERY WAS THE REFECTORY, WHERE ALL THE MONKS ATE
TOGETHER, AND A GUESTHOUSE FOR VISITORS. ANOTHER IMPORTANT BUILDING
WAS THE HOUSE OF THE ABBOT, WHO WAS THE ELECTED HEAD OF THE
MONASTERY.
MOST OF THEIR DAY WAS SPENT PRAYING AND WORKING IN THE FIELDS. THEY
USED TO GET UP BEFORE DAWN AND THEY PRAYED IN THE ORATORY SEVERAL
TIMES EACH DAY. THEY WERE VERY SELF-SUFFICIENT AS THEY GREW THEIR OWN
FOOD AND MADE THEIR OWN FURNITURE, BUILDINGS AND CLOTHES.
SOME OF THESE MONKS WERE STONEMASONS WHO MADE A HIGH CROSS ON TOP OF
BUILDINGS TO REPRESENT CHRISTIANITY.
THESE MONKS ALSO MADE CHALICES, CROSIERS AND OTHER RELIGIOUS OBJECTS.
MONKS WERE ALSO VERY HELPFUL AS THEY HELPED SOME LOCAL PEOPLE BY
PROVIDING EDUCATION OR MEDICAL ASSISTANCE. THEY ALSO GAVE ALMS TO THE
POOR.