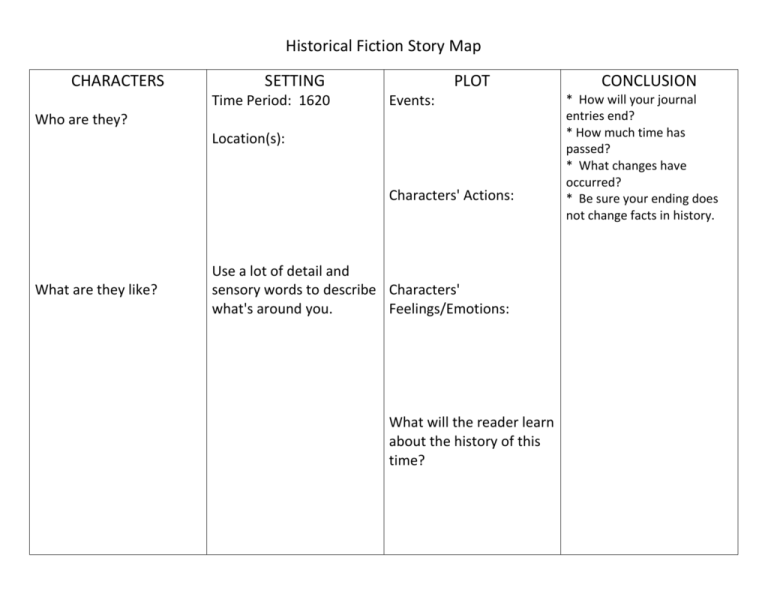 Historical Fiction Story Map
CHARACTERS
SETTING
Time Period: 1620
PLOT
Events:
Who are they?
Location(s):
Characters' Actions:
What are they like?
Use a lot of detail and
sensory words to describe Characters'
what's around you.
Feelings/Emotions:
What will the reader learn
about the history of this
time?
CONCLUSION
* How will your journal
entries end?
* How much time has
passed?
* What changes have
occurred?
* Be sure your ending does
not change facts in history.
Elements of Historical Fiction
form of fiction (not true)
* based on historical events
* authentic settings
* characters portrayed in realistic
manner
* some characters may be actual people
from history, but the story is fictional
* artistic mix of fiction and historical fact
*






Characters:All characters must behave in realistic
ways.
Problem:The characters are involved in a dilemma that
is realistic for that period.
Description:Places and events are vividly described.
Setting:The setting is a definite time in history and a
very real place.
Plot:Real events are mixed with fictional happenings.
The plot makes sense and ends with a logical solution.
Dialogue:The characters' words reflect what people
knew and thought about in those times.