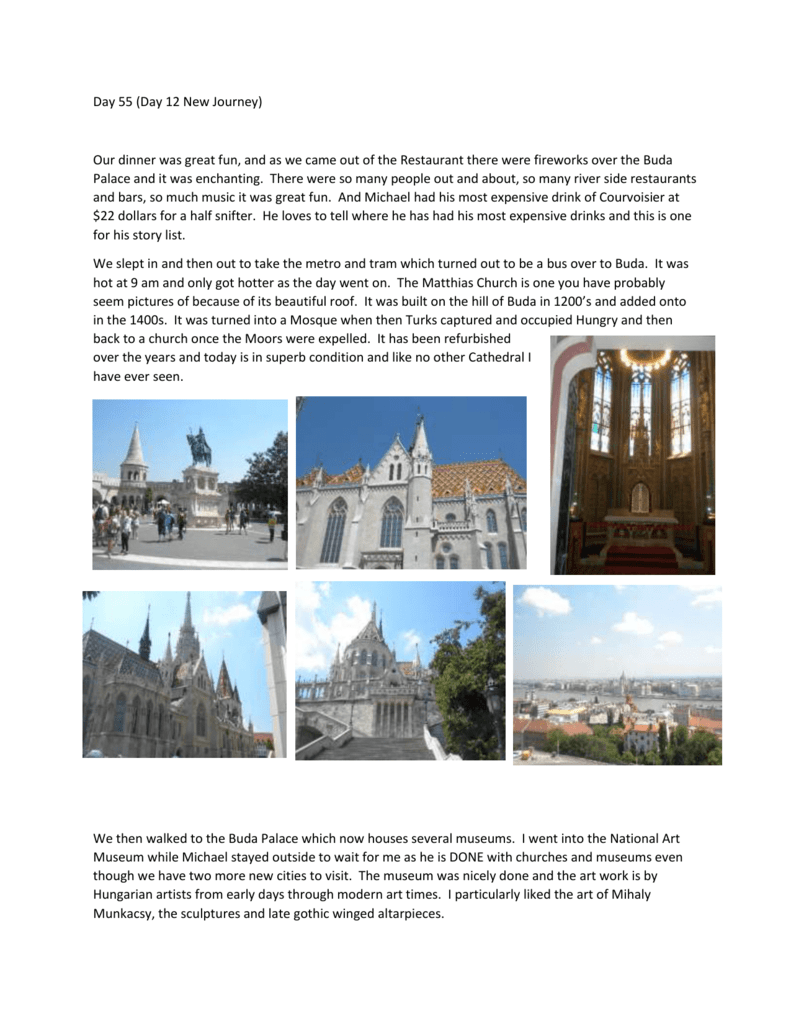 Day 55 (Day 12 New Journey)
Our dinner was great fun, and as we came out of the Restaurant there were fireworks over the Buda
Palace and it was enchanting. There were so many people out and about, so many river side restaurants
and bars, so much music it was great fun. And Michael had his most expensive drink of Courvoisier at
$22 dollars for a half snifter. He loves to tell where he has had his most expensive drinks and this is one
for his story list.
We slept in and then out to take the metro and tram which turned out to be a bus over to Buda. It was
hot at 9 am and only got hotter as the day went on. The Matthias Church is one you have probably
seem pictures of because of its beautiful roof. It was built on the hill of Buda in 1200's and added onto
in the 1400s. It was turned into a Mosque when then Turks captured and occupied Hungry and then
back to a church once the Moors were expelled. It has been refurbished
over the years and today is in superb condition and like no other Cathedral I
have ever seen.
We then walked to the Buda Palace which now houses several museums. I went into the National Art
Museum while Michael stayed outside to wait for me as he is DONE with churches and museums even
though we have two more new cities to visit. The museum was nicely done and the art work is by
Hungarian artists from early days through modern art times. I particularly liked the art of Mihaly
Munkacsy, the sculptures and late gothic winged altarpieces.
Then we were off to continue to explore the hill and this city like so many European cities has sooo
many statues everywhere and some are whimsical while others historical and others pure artist fancy.
We came back by metro as the bus was just too hot and too crowded so we got off at the Opera house
where we will attend the Opera tonight and then dinner. Tomorrow the Danube Bend River Tour, the
Danube River night trip and then ready to go on to Zagreb on Sunday. We are down to the last 13 days
of our then 68 day grand tour. We are ready to come home that is for sure. Budapest is a beautiful
city.
The opera house was beautiful but the Opera sucked. The singers were very good but the production of
Furnace was weird. The producers decided to stage it as an advent garde rendition of what Vivaldi's
opera was meant to be. And unfortunately it failed and was so distracting that you missed the beauty of
the story and the music. The orchestra was wonderful. The story was one of war and defeat, mother
against daughter, brother and sister working to help each other, a father wanting the wife/mother to kill
their son and herself if he was defeated against the Romans but she hide the boy and then when
Furnace the father found out he was so distraught that he would have wanted to kill his son he was in
agony. But in the Opera it all had a happy ending, The warring Mother spared her son-in-law and her
grandson and all was well in the world. We left after the second act because it was just too strange.
They had dead bodies (the soldiers who died) and they were taking parts out of them all the time,
undressing and redressing on stage behind a see through screen we just couldn't take any more.
Tomorrow should be a restful and relaxed day on the water the Blue (Brown) Danube in the afternoon
and evening. Glad we got to see the Opera house but hope someday to see this Opera in its intended
form. Michael said Vivaldi was turning over in his grave.