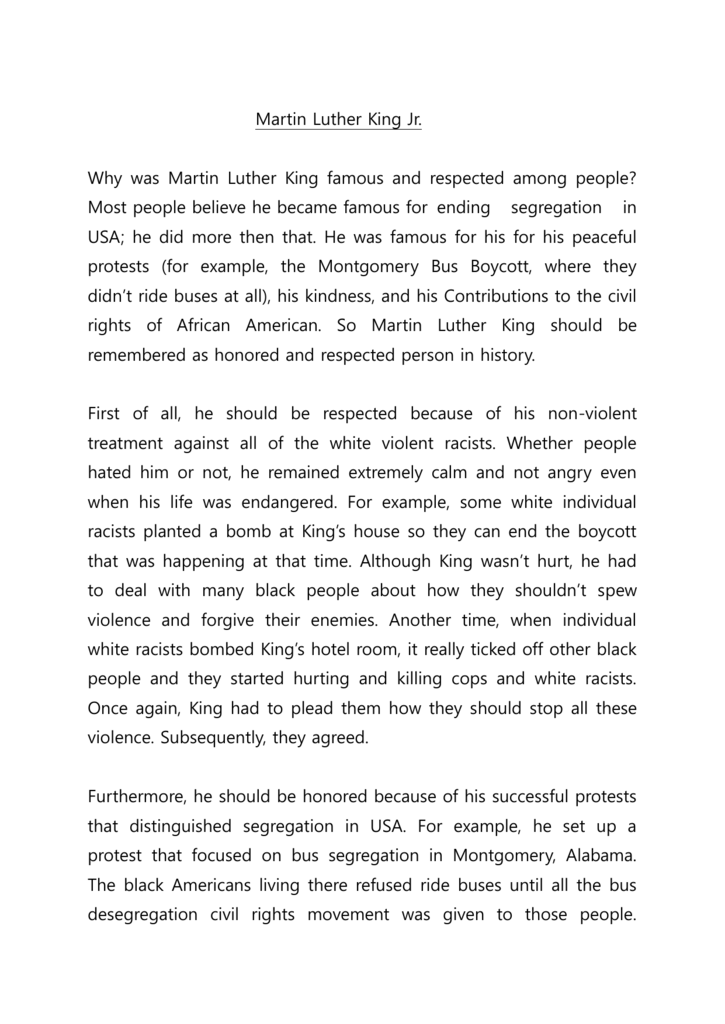 Martin Luther King Jr.
Why was Martin Luther King famous and respected among people?
Most people believe he became famous for ending
segregation
in
USA; he did more then that. He was famous for his for his peaceful
protests (for example, the Montgomery Bus Boycott, where they
didn't ride buses at all), his kindness, and his Contributions to the civil
rights of African American. So Martin Luther King should be
remembered as honored and respected person in history.
First of all, he should be respected because of his non-violent
treatment against all of the white violent racists. Whether people
hated him or not, he remained extremely calm and not angry even
when his life was endangered. For example, some white individual
racists planted a bomb at King's house so they can end the boycott
that was happening at that time. Although King wasn't hurt, he had
to deal with many black people about how they shouldn't spew
violence and forgive their enemies. Another time, when individual
white racists bombed King's hotel room, it really ticked off other black
people and they started hurting and killing cops and white racists.
Once again, King had to plead them how they should stop all these
violence. Subsequently, they agreed.
Furthermore, he should be honored because of his successful protests
that distinguished segregation in USA. For example, he set up a
protest that focused on bus segregation in Montgomery, Alabama.
The black Americans living there refused ride buses until all the bus
desegregation civil rights movement was given to those people.
Another time, King led a protest in Birmingham demanding equal civil
rights. Although the black protesters suffered through arrests and
pain, the protesters intervened and continued until the equal civil
rights movement was given to them. Another time, King led a protest
from Selma to Alabama wanting voting civil rights for black
Americans. This time, they suffered through much worst conditions
(bombing and killing), but the protesters still held on and the voting
civil rights movement was given to them.
Finally, he should be credited and thanked with his influence that had
all over the world. King gave black Americans equal civil rights and
made all races equal around the world. Thanks to him, every people
now can have many varieties of jobs (for example, engineering,
politics and economic). His nonviolent fights proving that racism was
wrong and people shouldn't be judged just because of their skin color.
So his belief eventually influenced the world and it is decreasing
racism lesser and lesser. And all this happened because of King's
desire to end racism when he was a child. And the peaceful protests
happened because King wanted to be like Jesus.
So Martin Luther King Jr. should be respected and honored because
of his nonviolent belief, peaceful mind, his successful protests and his
influence it had to entire world. What would've happened if Martin
Luther King never existed? Would racism still continue? Despite all
that, he was a great man who changed the world.