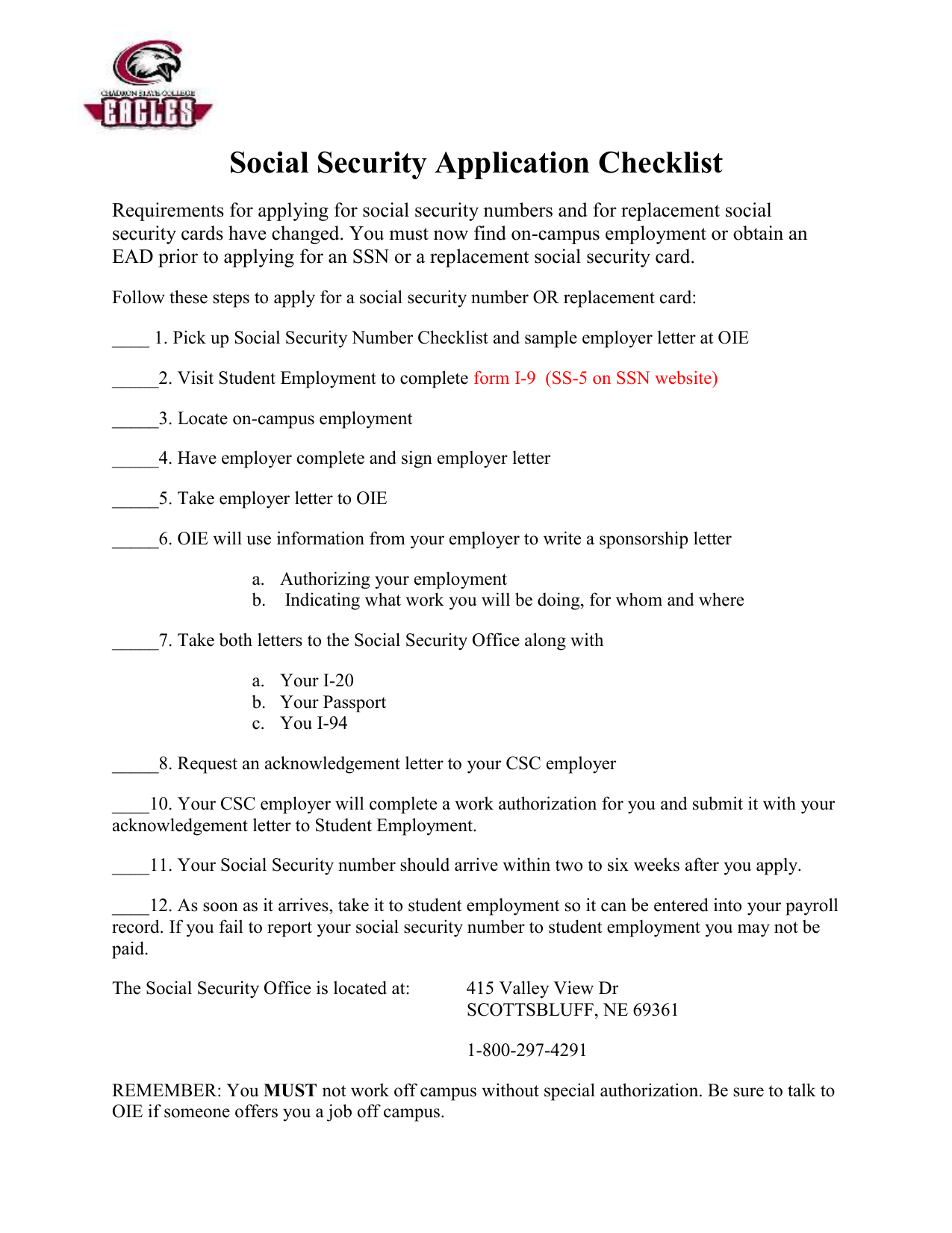 Social Security Application Checklist
Requirements for applying for social security numbers and for replacement social
security cards have changed. You must now find on-campus employment or obtain an
EAD prior to applying for an SSN or a replacement social security card.
Follow these steps to apply for a social security number OR replacement card:
____ 1. Pick up Social Security Number Checklist and sample employer letter at OIE
_____2. Visit Student Employment to complete form I-9 (SS-5 on SSN website)
_____3. Locate on-campus employment
_____4. Have employer complete and sign employer letter
_____5. Take employer letter to OIE
_____6. OIE will use information from your employer to write a sponsorship letter
a. Authorizing your employment
b. Indicating what work you will be doing, for whom and where
_____7. Take both letters to the Social Security Office along with
a. Your I-20
b. Your Passport
c. You I-94
_____8. Request an acknowledgement letter to your CSC employer
____10. Your CSC employer will complete a work authorization for you and submit it with your
acknowledgement letter to Student Employment.
____11. Your Social Security number should arrive within two to six weeks after you apply.
____12. As soon as it arrives, take it to student employment so it can be entered into your payroll
record. If you fail to report your social security number to student employment you may not be
paid.
The Social Security Office is located at:
415 Valley View Dr
SCOTTSBLUFF, NE 69361
1-800-297-4291
REMEMBER: You MUST not work off campus without special authorization. Be sure to talk to
OIE if someone offers you a job off campus.
Some tips for your application:
Wait to apply until at least two weeks after entering the U.S. This will ensure that your
information is in the Social Security system.
Be sure to ask for a letter acknowledging your application. Processing your application
will take from two to six weeks.
You can work on campus for up to 20 hours per week when school is in session if you
can provide proof that you have applied for the social security card.
Once you receive your card, Social Security recommends that you carry it ONLY when
you need it – identify theft is very common in the United States.
GUARD YOUR SOCIAL SECURITY CARD AS YOU DO YOUR PASSPORT. IT
MAY BE VERY DIFFICULT TO OBTAIN A REPLACEMNT CARD.