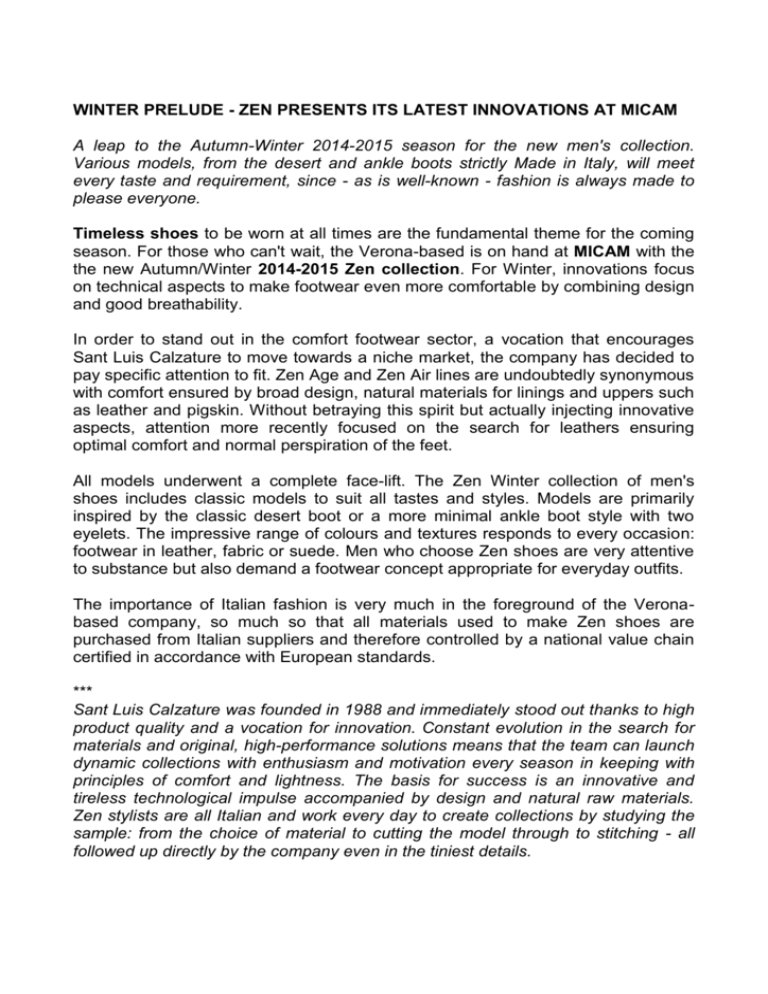 WINTER PRELUDE - ZEN PRESENTS ITS LATEST INNOVATIONS AT MICAM
A leap to the Autumn-Winter 2014-2015 season for the new men's collection.
Various models, from the desert and ankle boots strictly Made in Italy, will meet
every taste and requirement, since - as is well-known - fashion is always made to
please everyone.
Timeless shoes to be worn at all times are the fundamental theme for the coming
season. For those who can't wait, the Verona-based is on hand at MICAM with the
the new Autumn/Winter 2014-2015 Zen collection. For Winter, innovations focus
on technical aspects to make footwear even more comfortable by combining design
and good breathability.
In order to stand out in the comfort footwear sector, a vocation that encourages
Sant Luis Calzature to move towards a niche market, the company has decided to
pay specific attention to fit. Zen Age and Zen Air lines are undoubtedly synonymous
with comfort ensured by broad design, natural materials for linings and uppers such
as leather and pigskin. Without betraying this spirit but actually injecting innovative
aspects, attention more recently focused on the search for leathers ensuring
optimal comfort and normal perspiration of the feet.
All models underwent a complete face-lift. The Zen Winter collection of men's
shoes includes classic models to suit all tastes and styles. Models are primarily
inspired by the classic desert boot or a more minimal ankle boot style with two
eyelets. The impressive range of colours and textures responds to every occasion:
footwear in leather, fabric or suede. Men who choose Zen shoes are very attentive
to substance but also demand a footwear concept appropriate for everyday outfits.
The importance of Italian fashion is very much in the foreground of the Veronabased company, so much so that all materials used to make Zen shoes are
purchased from Italian suppliers and therefore controlled by a national value chain
certified in accordance with European standards.
***
Sant Luis Calzature was founded in 1988 and immediately stood out thanks to high
product quality and a vocation for innovation. Constant evolution in the search for
materials and original, high-performance solutions means that the team can launch
dynamic collections with enthusiasm and motivation every season in keeping with
principles of comfort and lightness. The basis for success is an innovative and
tireless technological impulse accompanied by design and natural raw materials.
Zen stylists are all Italian and work every day to create collections by studying the
sample: from the choice of material to cutting the model through to stitching - all
followed up directly by the company even in the tiniest details.