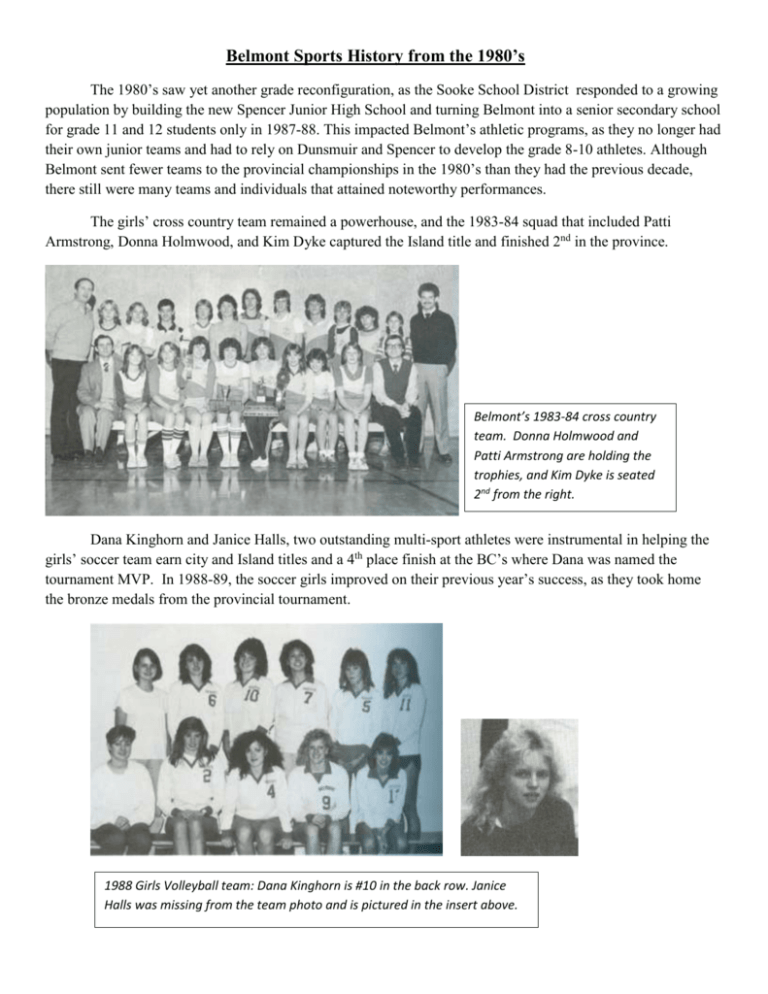 Belmont Sports History from the 1980's
The 1980's saw yet another grade reconfiguration, as the Sooke School District responded to a growing
population by building the new Spencer Junior High School and turning Belmont into a senior secondary school
for grade 11 and 12 students only in 1987-88. This impacted Belmont's athletic programs, as they no longer had
their own junior teams and had to rely on Dunsmuir and Spencer to develop the grade 8-10 athletes. Although
Belmont sent fewer teams to the provincial championships in the 1980's than they had the previous decade,
there still were many teams and individuals that attained noteworthy performances.
The girls' cross country team remained a powerhouse, and the 1983-84 squad that included Patti
Armstrong, Donna Holmwood, and Kim Dyke captured the Island title and finished 2nd in the province.
Belmont's 1983-84 cross country
team. Donna Holmwood and
Patti Armstrong are holding the
trophies, and Kim Dyke is seated
2nd from the right.
Dana Kinghorn and Janice Halls, two outstanding multi-sport athletes were instrumental in helping the
girls' soccer team earn city and Island titles and a 4th place finish at the BC's where Dana was named the
tournament MVP. In 1988-89, the soccer girls improved on their previous year's success, as they took home
the bronze medals from the provincial tournament.
1988 Girls Volleyball team: Dana Kinghorn is #10 in the back row. Janice
Halls was missing from the team photo and is pictured in the insert above.
The 1981 golf team of Neil O'Leary, Harry Christ, Guy Spencer and Brian McLean, also medaled at
provincials, placing 2nd in the BC tournament.
1981 Golf Team: Guy Spencer, Brian McLean, Harry
Christ, Neil O-Leary, Rex Johnson (coach)
The Segato cousins, Luca and Massimo, both were standouts in their respective sports. Luca was
an outstanding cyclist who competed in the 1988 Olympics, while Massimo was a terrific basketball player who
was a first team Island all star and played in the BC all star game. Another all-rounder was current Belmont
teacher and coach Kevin Harrington, a standout high school basketball and volleyball player who later played
for the UVic Vikings basketball and the Westshore Rebels football teams. Siblings Rob and Kim Dyke both
rose to national prominence in distance swimming.
Luca Segato
1985 Swim Team: Kim Dyke is standing 3rd
from the left and Rob is right beside her.
Kevin Harrington
The school produced some strong male soccer players during this decade, many of whom came up
through the Juan de Fuca community program. Belmont teacher and soccer academy coordinator Troy Harris
won a national championship with Uvic during his 5 year career with the Vikes, while team-mate Steve Meikle,
did a two year stint with Uvic. Gord Johnson was another soccer standout of this era and became a three time
provincial champion with Gorge FC.
By the late 1980's, both Dunsmuir and Spencer had developed powerful basketball programs. The
Dunsmuir girls' team, coached by former Belmont star Kevin Harrington, captured their first provincial title in
1989-90, while Peter Songhurst and Gary Mols guided the Spencer boys to their first provincial championship.
In both instances, the core nucleus of these junior teams would propel the Belmont teams to top three finishes in
the province two years later.