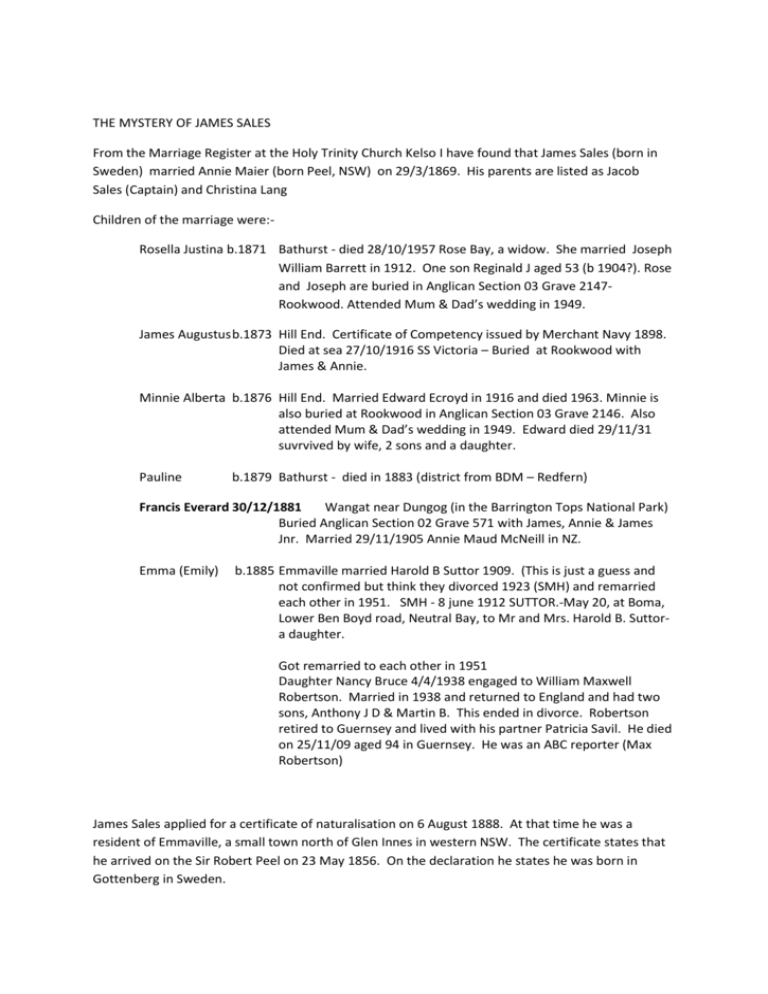 THE MYSTERY OF JAMES SALES
From the Marriage Register at the Holy Trinity Church Kelso I have found that James Sales (born in
Sweden) married Annie Maier (born Peel, NSW) on 29/3/1869. His parents are listed as Jacob
Sales (Captain) and Christina Lang
Children of the marriage were:Rosella Justina b.1871 Bathurst - died 28/10/1957 Rose Bay, a widow. She married Joseph
William Barrett in 1912. One son Reginald J aged 53 (b 1904?). Rose
and Joseph are buried in Anglican Section 03 Grave 2147Rookwood. Attended Mum & Dad's wedding in 1949.
James Augustus b.1873 Hill End. Certificate of Competency issued by Merchant Navy 1898.
Died at sea 27/10/1916 SS Victoria – Buried at Rookwood with
James & Annie.
Minnie Alberta b.1876 Hill End. Married Edward Ecroyd in 1916 and died 1963. Minnie is
also buried at Rookwood in Anglican Section 03 Grave 2146. Also
attended Mum & Dad's wedding in 1949. Edward died 29/11/31
suvrvived by wife, 2 sons and a daughter.
Pauline
b.1879 Bathurst - died in 1883 (district from BDM – Redfern)
Francis Everard 30/12/1881
Wangat near Dungog (in the Barrington Tops National Park)
Buried Anglican Section 02 Grave 571 with James, Annie & James
Jnr. Married 29/11/1905 Annie Maud McNeill in NZ.
Emma (Emily)
b.1885 Emmaville married Harold B Suttor 1909. (This is just a guess and
not confirmed but think they divorced 1923 (SMH) and remarried
each other in 1951. SMH - 8 june 1912 SUTTOR.-May 20, at Boma,
Lower Ben Boyd road, Neutral Bay, to Mr and Mrs. Harold B. Suttora daughter.
Got remarried to each other in 1951
Daughter Nancy Bruce 4/4/1938 engaged to William Maxwell
Robertson. Married in 1938 and returned to England and had two
sons, Anthony J D & Martin B. This ended in divorce. Robertson
retired to Guernsey and lived with his partner Patricia Savil. He died
on 25/11/09 aged 94 in Guernsey. He was an ABC reporter (Max
Robertson)
James Sales applied for a certificate of naturalisation on 6 August 1888. At that time he was a
resident of Emmaville, a small town north of Glen Innes in western NSW. The certificate states that
he arrived on the Sir Robert Peel on 23 May 1856. On the declaration he states he was born in
Gottenberg in Sweden.
From the Electoral Rolls in 1903 James, Annie, Rose & Minnie were all living at 14 Hampstead Road,
Lewisham.
James Sales died 11/3/1908, age 73,at his home 'Glenbrook" 109 Dudley Street, Marrickville. This
would mean he was born around 1835. His death certificate states he was a Mining Manager and
retired reporter. His father is listed as Julius Sales (mariner) and his mother is Justina Lang. The
informant was his daughter Rosella who also lived at Glenbrook at that time. It states he was born in
Lysekil, Sweden and had been in Australia approx 53 years in WA, Qld, Vic, NSW & NZ. The death
certificate says he was age 36 when he married Annie Myers at Kelso. This would mean he was born
in approximately 1833. Children of the marriage were Rosella Justina (35) James August (33), Minnie
Alberta (31), Francis Eberard (26) and Emily Louise (23) and 1 female deceased.
Annie Elizabeth Maier was born in 1851 at "Brucedale" Bathurst. She was the daughter of Eberhard
& Rosalia Maier. They arrived from Germany via "Parland" 1849. She died 22/8/1939 at 7
Wilberforce Avenue, Rose Bay, aged 88. Annie is buried in the Anglican Section 02 at Rookwood
Grave 572.