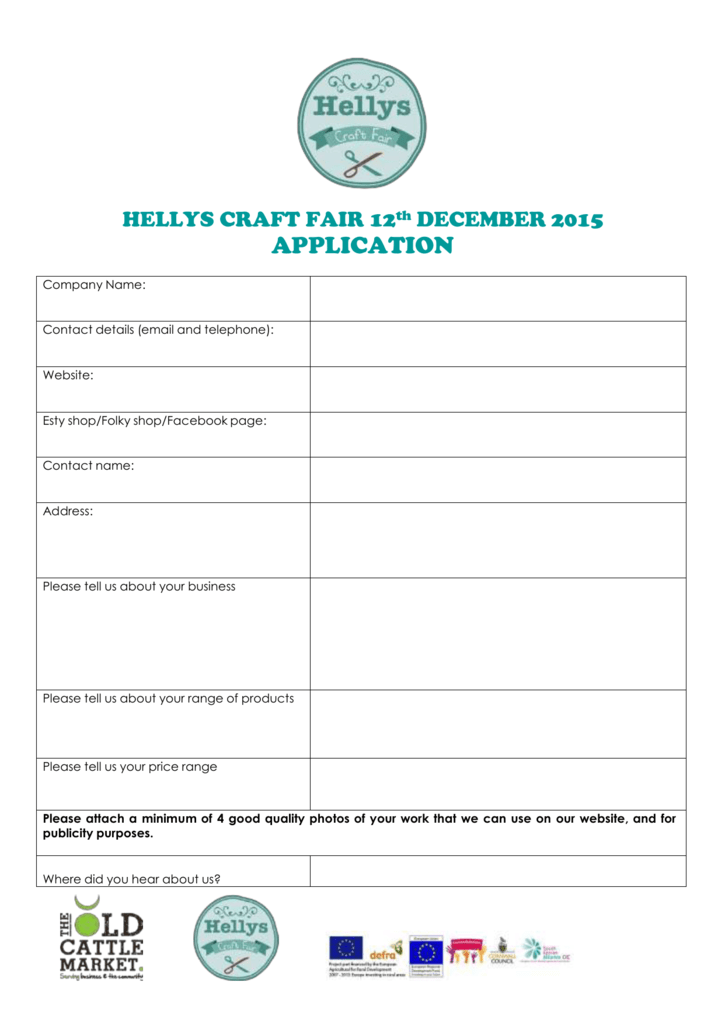 HELLYS CRAFT FAIR 12th DECEMBER 2015
APPLICATION
Company Name:
Contact details (email and telephone):
Website:
Esty shop/Folky shop/Facebook page:
Contact name:
Address:
Please tell us about your business
Please tell us about your range of products
Please tell us your price range
Please attach a minimum of 4 good quality photos of your work that we can use on our website, and for
publicity purposes.
Where did you hear about us?
SPACE
Single Space
£10
Y/N
Double Space
£20
Y/N
Y/N
Electric
£2
Y/N
EXTRAS
Table 6ft x 3ft
£2 (per table)
Any additional information or set-up
requirements we should to be aware of?
Once completed, please return this form by post or email to: The Old Cattle Market, Porthleven Road, Helston, Cornwall, TR13 0SR;
email [email protected] Please call 01326 560606 if you have any queries.
Deadline for application is 30th September 2015. All decisions made by the Hellys Craft Fair Team are final. If
your application is successful, you will be contacted by email within 10 days of the deadline date. Your
invoice will also be sent at this time and we will require payment within 7 days. If payment is not received in
time, your space will be allocated to another maker. All payments are non-refundable.
I (The Hirer) hereby agree to hire the stand as described above
The hirer agrees not to vacate their stand before the end of trading hours (trading hours are11am - 4pm).
a) No liability will attach to Hellys Craft Fair or The Old Cattle Market in respect of any loss or
damage for anything brought onto the site by the hirer or person coming onto the site at the
request of the hirer.
b) The hirer will be responsible for loss or damage to property at the premises or brought onto
the site and for any injury to person, animals and things caused by or in consequences of any
act or omission on the part of the hirer, its servants or agents and to keep Hellys Craft Fair and
The Old Cattle Market indemnified in respect of any such loss, damage or injury.
c) The hirer is responsible for any damage to the equipment and/or fittings.
d) The hirer is responsible for the removal of their waste during and after the event.
e) The hirer must provide a copy of their Public Liability Insurance.
f) If the hirer provides their own table, the table must not exceed 6ft x 3ft
I have read and understood the terms and booking conditions below and I hereby agree to comply with
them
Signed………………………………………………………………………………………………………………………………… Date………………………………………..