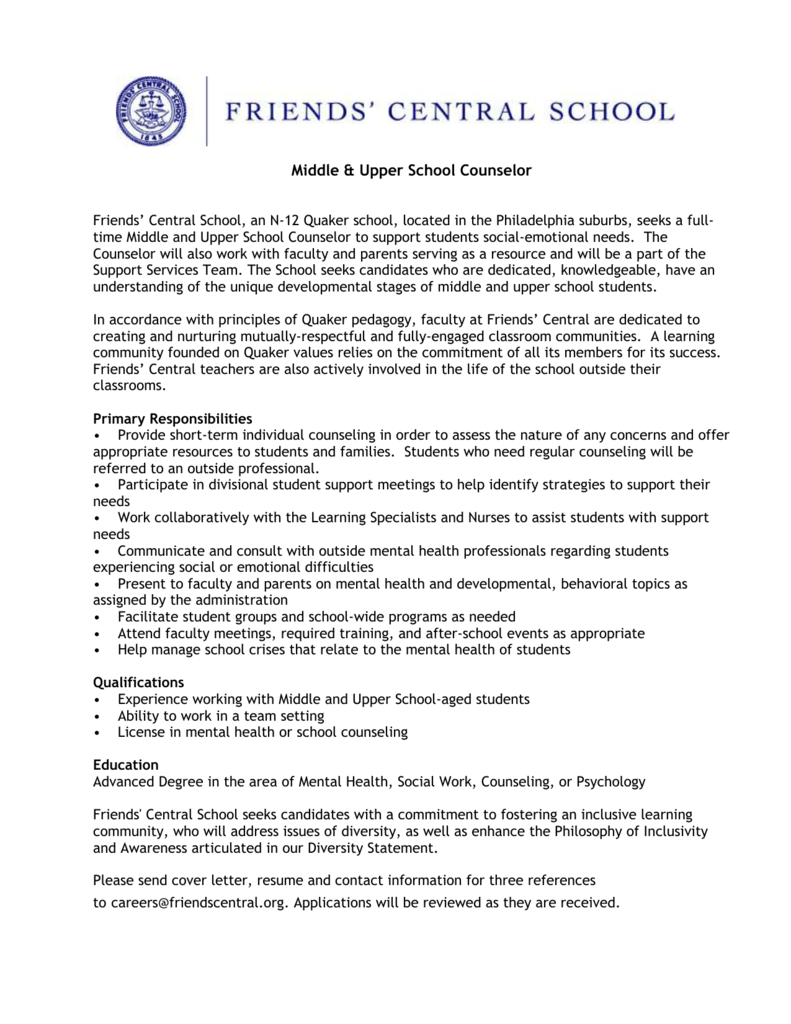 Middle & Upper School Counselor
Friends' Central School, an N-12 Quaker school, located in the Philadelphia suburbs, seeks a fulltime Middle and Upper School Counselor to support students social-emotional needs. The
Counselor will also work with faculty and parents serving as a resource and will be a part of the
Support Services Team. The School seeks candidates who are dedicated, knowledgeable, have an
understanding of the unique developmental stages of middle and upper school students.
In accordance with principles of Quaker pedagogy, faculty at Friends' Central are dedicated to
creating and nurturing mutually-respectful and fully-engaged classroom communities. A learning
community founded on Quaker values relies on the commitment of all its members for its success.
Friends' Central teachers are also actively involved in the life of the school outside their
classrooms.
Primary Responsibilities
• Provide short-term individual counseling in order to assess the nature of any concerns and offer
appropriate resources to students and families. Students who need regular counseling will be
referred to an outside professional.
• Participate in divisional student support meetings to help identify strategies to support their
needs
• Work collaboratively with the Learning Specialists and Nurses to assist students with support
needs
• Communicate and consult with outside mental health professionals regarding students
experiencing social or emotional difficulties
• Present to faculty and parents on mental health and developmental, behavioral topics as
assigned by the administration
• Facilitate student groups and school-wide programs as needed
• Attend faculty meetings, required training, and after-school events as appropriate
• Help manage school crises that relate to the mental health of students
Qualifications
• Experience working with Middle and Upper School-aged students
• Ability to work in a team setting
• License in mental health or school counseling
Education
Advanced Degree in the area of Mental Health, Social Work, Counseling, or Psychology
Friends' Central School seeks candidates with a commitment to fostering an inclusive learning
community, who will address issues of diversity, as well as enhance the Philosophy of Inclusivity
and Awareness articulated in our Diversity Statement.
Please send cover letter, resume and contact information for three references
to [email protected] Applications will be reviewed as they are received.