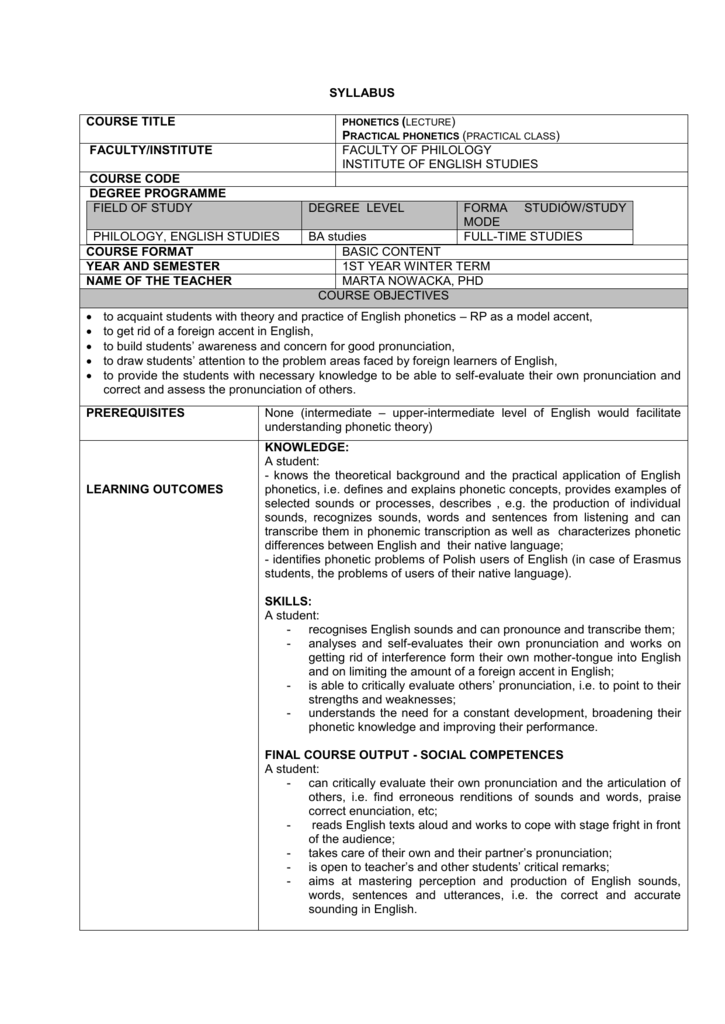 SYLLABUS
COURSE TITLE
PHONETICS (LECTURE)
PRACTICAL PHONETICS (PRACTICAL CLASS)
FACULTY/INSTITUTE
FACULTY OF PHILOLOGY
INSTITUTE OF ENGLISH STUDIES
COURSE CODE
DEGREE PROGRAMME
FIELD OF STUDY
DEGREE LEVEL
PHILOLOGY, ENGLISH STUDIES
COURSE FORMAT
YEAR AND SEMESTER
NAME OF THE TEACHER





FORMA STUDIÓW/STUDY
MODE
FULL-TIME STUDIES
BA studies
BASIC CONTENT
1ST YEAR WINTER TERM
MARTA NOWACKA, PHD
COURSE OBJECTIVES
to acquaint students with theory and practice of English phonetics – RP as a model accent,
to get rid of a foreign accent in English,
to build students' awareness and concern for good pronunciation,
to draw students' attention to the problem areas faced by foreign learners of English,
to provide the students with necessary knowledge to be able to self-evaluate their own pronunciation and
correct and assess the pronunciation of others.
PREREQUISITES
LEARNING OUTCOMES
None (intermediate – upper-intermediate level of English would facilitate
understanding phonetic theory)
KNOWLEDGE:
A student:
- knows the theoretical background and the practical application of English
phonetics, i.e. defines and explains phonetic concepts, provides examples of
selected sounds or processes, describes , e.g. the production of individual
sounds, recognizes sounds, words and sentences from listening and can
transcribe them in phonemic transcription as well as characterizes phonetic
differences between English and their native language;
- identifies phonetic problems of Polish users of English (in case of Erasmus
students, the problems of users of their native language).
SKILLS:
A student:
- recognises English sounds and can pronounce and transcribe them;
- analyses and self-evaluates their own pronunciation and works on
getting rid of interference form their own mother-tongue into English
and on limiting the amount of a foreign accent in English;
- is able to critically evaluate others' pronunciation, i.e. to point to their
strengths and weaknesses;
- understands the need for a constant development, broadening their
phonetic knowledge and improving their performance.
FINAL COURSE OUTPUT - SOCIAL COMPETENCES
A student:
- can critically evaluate their own pronunciation and the articulation of
others, i.e. find erroneous renditions of sounds and words, praise
correct enunciation, etc;
reads English texts aloud and works to cope with stage fright in front
of the audience;
- takes care of their own and their partner's pronunciation;
- is open to teacher's and other students' critical remarks;
- aims at mastering perception and production of English sounds,
words, sentences and utterances, i.e. the correct and accurate
sounding in English.
COURSE ORGANISATION – LEARNING FORMAT AND NUMBER OF HOURS
LECTURE: 30 HOURS
PRACTICAL CLASS: 60 HOURS
COURSE DESCRIPTION
A
No.
Lecture
COURSE CONTENT
1.
2.
3.
NUMBER OF
HOURS
General Introduction to the course: syllabus, list of books, requirements, etc.
1
Introduction of basic phonetic concepts: phonetics, phonology, phoneme, RP, GA etc.
1
2
Introduction to phonetic Internet resources.
4.
The production of speech sounds:
5.
6.
7.
8.
B
No.
- speech as a means of vocal communication,
- the description of speech organs.
The production and description of English pure vowels, diphthongs and triphthongs.
Theory:
- the cardinal vowel diagram,
- the vowel systems of English and Polish: English/Polish substitutions,
- vowel duration in a different context in a word.
1
2
2
Transcription:
- the phonetic chart (IPA): transcription and symbols.
- writing and reading transcription,
The classification of English and Polish consonants: English/Polish substitutions.
- Plosives: Aspiration: exercises on aspiration of /p/, /t/ and /k/.
- Fricatives and affricates.
- Approximants, nasals and laterals, nasal and lateral release.
Final test
TOTAL NUMBER OF HOURS
PRACTICAL CLASS
COURSE CONTENT
1.
2.
3.
4.
5
1
15
NUMBER OF
HOURS
1
10
18
1
30
General Introduction to the course: syllabus, list of books, requirements, etc.
Transcription: reading and writing phonemic symbols.
Production and perception of English vowels.
Tests
Total number of hours:
METHODS OF INSTRUCTION
Lecture: PowerPoint presentation.
Student's individual work and pairwork in a language laboratory
supervised by the teacher.
Activities with a focus on perception and production.
Types of exercises: individual and choral repetition drills, imitating
the model pronunciation, minimal pairs, transcribing from listening
(sounds, words and sentences), writing texts in phonetic transcription
and reading transcription.
Teacher and peer correction and self-evaluation.
REQUIREMENTS AND
Lecture:
ASSESSMENTS
1 term – test: close and open-ended questions (60% for a pass);
credit,
Practical class:
The final grade is based on up to 4 practical transcription tests and
student' pronunciation.
GRADING SYSTEM
Students are obliged to take and pass all tests during the
course. 60% is required for a pass.
There are the following tests throughout the whole semester:
a) written ones:
- perception tests,
- transcription test (of a written texts and/or from
listening),
- testing theory and its practical application.
b) oral ones:
- diagnostic test (spontaneous speaking and reading – at
the beginning of the academic year)
- progress test (spontaneous speaking and reading – at
the end of the academic year).
To receive the credit it is important that the students:
 pass tests,
 attend the classes regularly (one absence i.e. two hours
without the justification is acceptable)
 do regular home assignments,
 participate in the class activities in an active way.
TOTAL STUDENT WORKLOAD
NEEDED TO ACHIEVE EXPECTED
LEARNING OUTCOMES
EXPRESSED
IN TIME AND ECTS CREDIT POINTS
LANGUAGE OF INSTRUCTION
INTERNSHIP
MATERIALS
Type of task
Number of hours/
student's workload
15 godz.
30 godz.
35 godz.
Lecture
practical class
preparation for a
practical class
teacher consultation
4 godz.
preparation for a theory
15 godz.
test and exam
Review
1 godz.
NUMBER OF HOURS
100 godz.
TOTAL ECTS POINTS
4
ENGLISH
N/A
PRIMARY OR REQUIRED BOOKS/READINGS:
LECTURE:
1. Roach, P. (1995) English Phonetics and Phonology: a Practical
Course, Cambridge: Cambridge University Press
2. Sobkowiak, W. & Szpyra, J. (1995) Workbook in English
Phonetics, Poznań: Nakom.
PRACTICAL CLASS:
1. Mańkowska A., M. Nowacka, M. Kłoczowska. 2009. "How Much
Wood Would a Woodchuck Chuck?": English Pronunciation Practice
Book, Rzeszów: Konsorcjum Akademickie.
2. Wells, J. C. (2000) Pronunciation Dictionary, Essex: Longman.
SUPPLEMENTAL OR OPTIONAL BOOKS/READINGS:
1. Jones, D. (1997) English Pronouncing Dictionary, Cambridge:
Cambridge University Press.
2. Nowacka, M. et al. (2011) Sally Meets Harry: Practical Primer to
English Pronunciation and Spelling, Rzeszów: Wydawnictwo
Uniwersytetu Rzeszowskiego.
3. Sobkowiak, W. (1996) English Phonetics For Poles, Poznań: Bene
Nati.