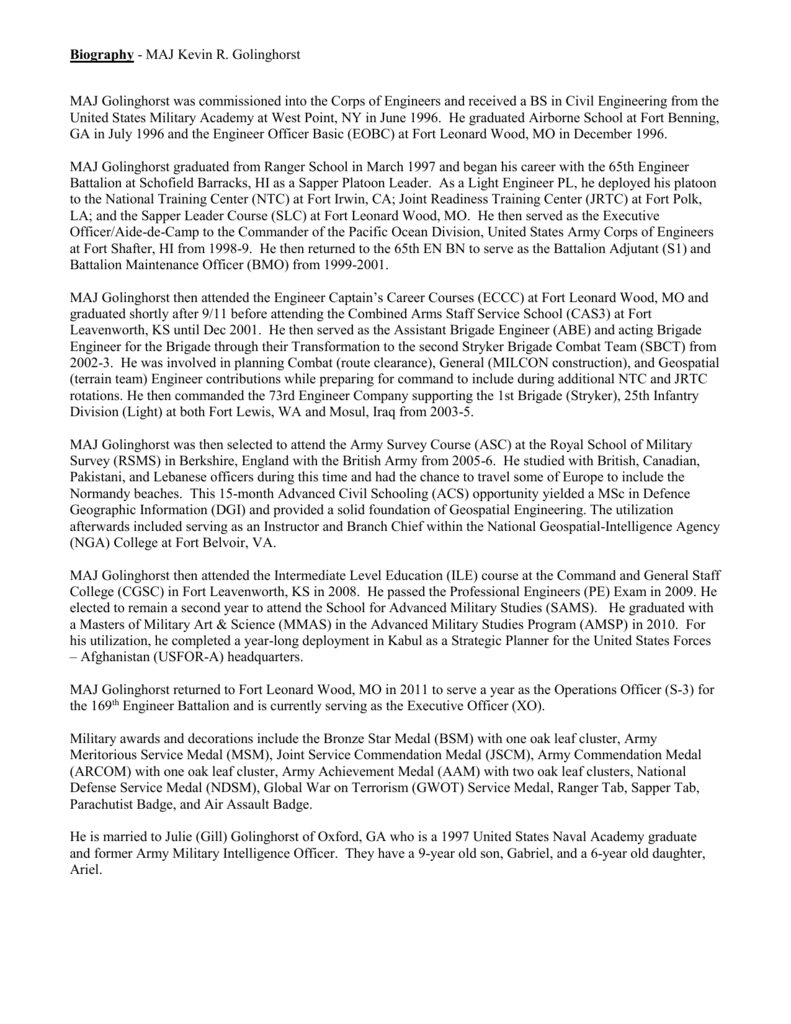 Biography - MAJ Kevin R. Golinghorst
MAJ Golinghorst was commissioned into the Corps of Engineers and received a BS in Civil Engineering from the
United States Military Academy at West Point, NY in June 1996. He graduated Airborne School at Fort Benning,
GA in July 1996 and the Engineer Officer Basic (EOBC) at Fort Leonard Wood, MO in December 1996.
MAJ Golinghorst graduated from Ranger School in March 1997 and began his career with the 65th Engineer
Battalion at Schofield Barracks, HI as a Sapper Platoon Leader. As a Light Engineer PL, he deployed his platoon
to the National Training Center (NTC) at Fort Irwin, CA; Joint Readiness Training Center (JRTC) at Fort Polk,
LA; and the Sapper Leader Course (SLC) at Fort Leonard Wood, MO. He then served as the Executive
Officer/Aide-de-Camp to the Commander of the Pacific Ocean Division, United States Army Corps of Engineers
at Fort Shafter, HI from 1998-9. He then returned to the 65th EN BN to serve as the Battalion Adjutant (S1) and
Battalion Maintenance Officer (BMO) from 1999-2001.
MAJ Golinghorst then attended the Engineer Captain's Career Courses (ECCC) at Fort Leonard Wood, MO and
graduated shortly after 9/11 before attending the Combined Arms Staff Service School (CAS3) at Fort
Leavenworth, KS until Dec 2001. He then served as the Assistant Brigade Engineer (ABE) and acting Brigade
Engineer for the Brigade through their Transformation to the second Stryker Brigade Combat Team (SBCT) from
2002-3. He was involved in planning Combat (route clearance), General (MILCON construction), and Geospatial
(terrain team) Engineer contributions while preparing for command to include during additional NTC and JRTC
rotations. He then commanded the 73rd Engineer Company supporting the 1st Brigade (Stryker), 25th Infantry
Division (Light) at both Fort Lewis, WA and Mosul, Iraq from 2003-5.
MAJ Golinghorst was then selected to attend the Army Survey Course (ASC) at the Royal School of Military
Survey (RSMS) in Berkshire, England with the British Army from 2005-6. He studied with British, Canadian,
Pakistani, and Lebanese officers during this time and had the chance to travel some of Europe to include the
Normandy beaches. This 15-month Advanced Civil Schooling (ACS) opportunity yielded a MSc in Defence
Geographic Information (DGI) and provided a solid foundation of Geospatial Engineering. The utilization
afterwards included serving as an Instructor and Branch Chief within the National Geospatial-Intelligence Agency
(NGA) College at Fort Belvoir, VA.
MAJ Golinghorst then attended the Intermediate Level Education (ILE) course at the Command and General Staff
College (CGSC) in Fort Leavenworth, KS in 2008. He passed the Professional Engineers (PE) Exam in 2009. He
elected to remain a second year to attend the School for Advanced Military Studies (SAMS). He graduated with
a Masters of Military Art & Science (MMAS) in the Advanced Military Studies Program (AMSP) in 2010. For
his utilization, he completed a year-long deployment in Kabul as a Strategic Planner for the United States Forces
– Afghanistan (USFOR-A) headquarters.
MAJ Golinghorst returned to Fort Leonard Wood, MO in 2011 to serve a year as the Operations Officer (S-3) for
the 169th Engineer Battalion and is currently serving as the Executive Officer (XO).
Military awards and decorations include the Bronze Star Medal (BSM) with one oak leaf cluster, Army
Meritorious Service Medal (MSM), Joint Service Commendation Medal (JSCM), Army Commendation Medal
(ARCOM) with one oak leaf cluster, Army Achievement Medal (AAM) with two oak leaf clusters, National
Defense Service Medal (NDSM), Global War on Terrorism (GWOT) Service Medal, Ranger Tab, Sapper Tab,
Parachutist Badge, and Air Assault Badge.
He is married to Julie (Gill) Golinghorst of Oxford, GA who is a 1997 United States Naval Academy graduate
and former Army Military Intelligence Officer. They have a 9-year old son, Gabriel, and a 6-year old daughter,
Ariel.