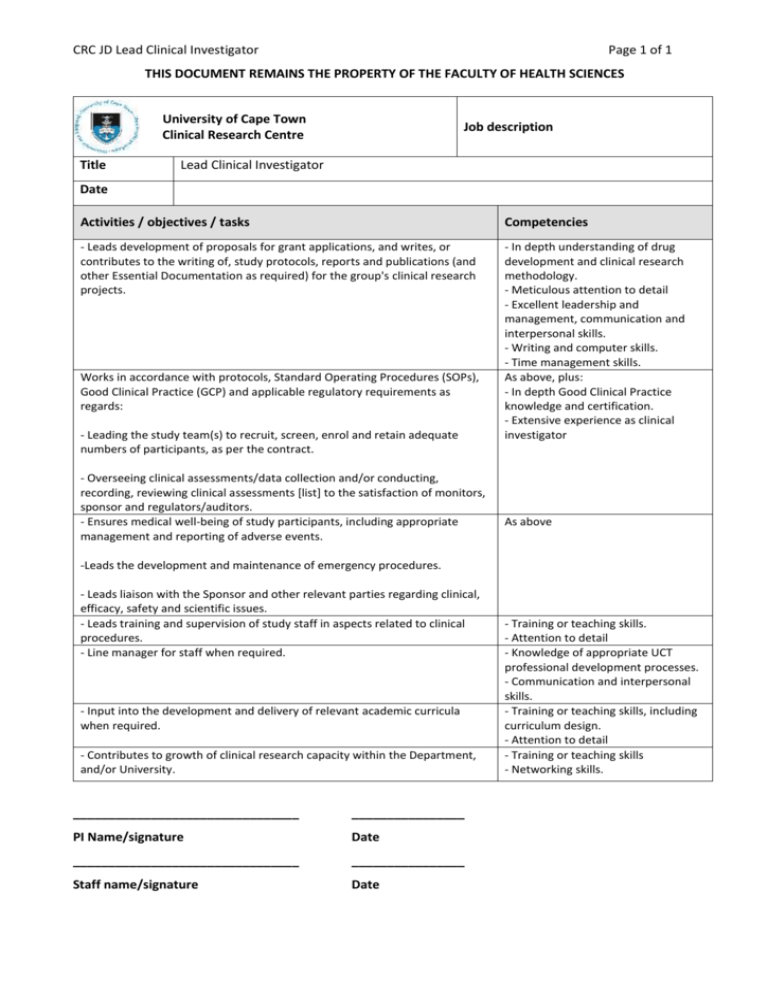 CRC JD Lead Clinical Investigator
Page 1 of 1
THIS DOCUMENT REMAINS THE PROPERTY OF THE FACULTY OF HEALTH SCIENCES
University of Cape Town
Clinical Research Centre
Title
Job description
Lead Clinical Investigator
Date
Activities / objectives / tasks
Competencies
- Leads development of proposals for grant applications, and writes, or
contributes to the writing of, study protocols, reports and publications (and
other Essential Documentation as required) for the group's clinical research
projects.
- In depth understanding of drug
development and clinical research
methodology.
- Meticulous attention to detail
- Excellent leadership and
management, communication and
interpersonal skills.
- Writing and computer skills.
- Time management skills.
As above, plus:
- In depth Good Clinical Practice
knowledge and certification.
- Extensive experience as clinical
investigator
Works in accordance with protocols, Standard Operating Procedures (SOPs),
Good Clinical Practice (GCP) and applicable regulatory requirements as
regards:
- Leading the study team(s) to recruit, screen, enrol and retain adequate
numbers of participants, as per the contract.
- Overseeing clinical assessments/data collection and/or conducting,
recording, reviewing clinical assessments [list] to the satisfaction of monitors,
sponsor and regulators/auditors.
- Ensures medical well-being of study participants, including appropriate
management and reporting of adverse events.
As above
-Leads the development and maintenance of emergency procedures.
- Leads liaison with the Sponsor and other relevant parties regarding clinical,
efficacy, safety and scientific issues.
- Leads training and supervision of study staff in aspects related to clinical
procedures.
- Line manager for staff when required.
- Input into the development and delivery of relevant academic curricula
when required.
- Contributes to growth of clinical research capacity within the Department,
and/or University.
________________________________
________________
PI Name/signature
Date
________________________________
________________
Staff name/signature
Date
- Training or teaching skills.
- Attention to detail
- Knowledge of appropriate UCT
professional development processes.
- Communication and interpersonal
skills.
- Training or teaching skills, including
curriculum design.
- Attention to detail
- Training or teaching skills
- Networking skills.