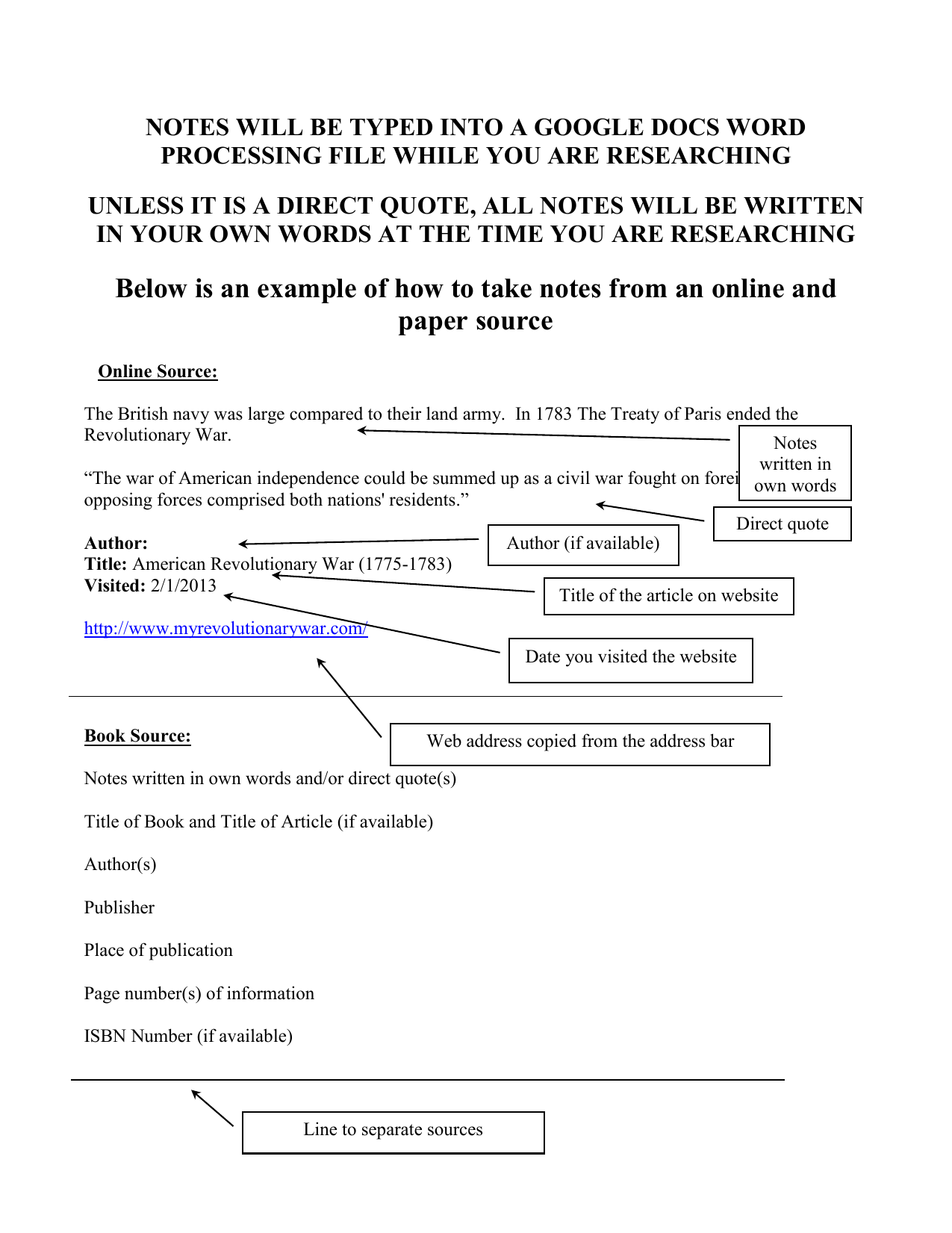 NOTES WILL BE TYPED INTO A GOOGLE DOCS WORD
PROCESSING FILE WHILE YOU ARE RESEARCHING
UNLESS IT IS A DIRECT QUOTE, ALL NOTES WILL BE WRITTEN
IN YOUR OWN WORDS AT THE TIME YOU ARE RESEARCHING
Below is an example of how to take notes from an online and
paper source
Online Source:
The British navy was large compared to their land army. In 1783 The Treaty of Paris ended the
Revolutionary War.
Notes
written in
"The war of American independence could be summed up as a civil war fought on foreignown
soil,words
as
opposing forces comprised both nations' residents."
Direct quote
Author:
Author (if available)
Title: American Revolutionary War (1775-1783)
Visited: 2/1/2013
Title of the article on website
http://www.myrevolutionarywar.com/
Date you visited the website
Book Source:
Web address copied from the address bar
Notes written in own words and/or direct quote(s)
Title of Book and Title of Article (if available)
Author(s)
Publisher
Place of publication
Page number(s) of information
ISBN Number (if available)
Line to separate sources
How to put information in your own words:
 Read, read, and re-read the information
 Look up definitions to words you do not
understand
 Learn the information well enough to be able
tell someone else about it
When to Use Direct Quotes:
 When those exact words are that important
 When the words are "entertaining" to the reader
 When the author is an expert
Direct quote use should be at a minimum and only
have a maximum of three (3) lines of text. Direct
quotes must have quotation marks around them.