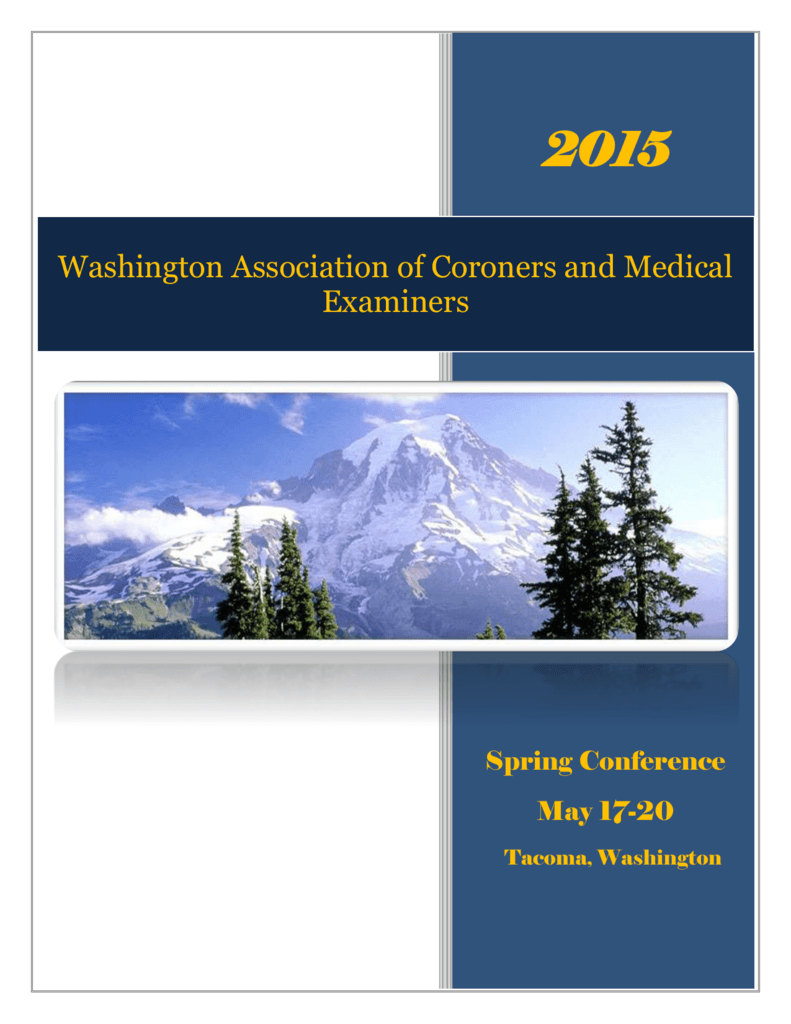 2015
Washington Association of Coroners and Medical
Examiners
Spring Conference
May 17-20
Tacoma, Washington
WACME
Training
Conference
WASHINGTON
ASSOCIATION
OF
CORONERS2015
AND MEDICAL
EXAMINERS
This year's training Conference is being held in
Tacoma, scheduled May 17th-20rd. Please see
attached addendum for the training schedule.
Washington State Association of Coroners
and Medical Examiners is a professional organization
created to support death investigation agencies by:
•
Facilitating the prompt exchange of
information pertaining to the laws, duties methods
and official practices of members.
•
Providing continuing education in all
matters relating to medicolegal death investigation
and the safety and welfare of the public.
•
Promoting communication and
cooperation with law enforcement, the medical
community and other agencies and individuals
involved in death investigations.
•
Serving the public by respectfully
caring for the deceased, providing compassionate
support for the living and safeguarding of property.
This conference will bring together leaders in
the medicolegal investigations to one location for
training, education, and a valuable opportunity to
network with other Medicolegal Practitioners.
Annual Training Conference
May 17-20, 2015
Please make note that the deadline for WACME
registration and Hotel registration is:
April 29, 2015
Register early so you DON'T miss out!
La Quinta Inn & Suites
1425 East 27th Street
Tacoma, WA. 98421
1.253-383-0146 Ext: #6
$99.00 1 King Bed w/Queen sofa/bed
$99.00 2 Full Beds
Ask for the WACME rate when making
reservations. Special rate valid until April 29,
2015
WACME
Conference
WACMETraining
Training
Conference
2015
Preregistration:
Preregistration is required. Registration deadline is April 29th, 2015
(Hotel reservation MUST be also made by this date in order to receive conference rate)
Please Complete application and send to:
Dana Tucker
WACME Executive Assistant
CO: Cowlitz County Coroner's Office
1946-B 3rd Avenue, Longview, WA. 98632
Phone: 360-577-3079, Fax: 360-575-1458
[email protected]
General Course Application
Applicants Name (Last)
(First)
(Middle)
Title/Rank
Las t four of Social Sec #
Agency
Agency Mailing Address
(City)
Agency Phone
(State)
(Zip)
Agency Fax
Email Address
Applicants Names
Title
E-Mail
Applicants Name
Title
E-Mail
Applicants Name
Title
E-Mail
Additional Applicants
Each attendee will be required to sign in and out at the beginning and end of each day to receive full credit for the training and to
be eligible for reimbursement. Attendees must attend the entire conference to qualify for reimbursement
Please check one for RSVP
______ I will be there for the Sunday May 17 Welcoming Reception from 5-7pm
______ I will NOT be there for the Sunday night Welcome Reception
If dietary restrictions are required, please specify:_______________________________________________
Tuition:
There are no registration or tuition fees associated with this training.
Reimbursement:
Claim vouchers will be provided to attendees that work for a coroner, coroner-prosecutor, or medical
examiner offices.
LODGING:
Attendees will be reimbursed for lodging on Sunday (5/17/2015), Monday (5/18/2015), and Tuesday
(5/19/2015) at the conference rate of $99 + tax, per night only, room sharing is Highly Recommended if
attendee genders allow.
MEALS:
Per diem meal rates will not be reimbursed. However, the following meals will be provided:
Sunday ("Hors d' oeuvres") at the Welcome Reception,
Monday (breakfast and lunch)
Tuesday (breakfast, lunch, and dinner at the annual business meeting)
Wednesday (breakfast and lunch)
MILAGE:
Mileage reimbursement will be at the current Washington State per diem rate. Carpooling is
recommended as reimbursement shall only be allowed at one mileage reimbursement per every two
county attendees.
In addition, attendee MUST attend all blocks of instruction and its entirety. Each attendee will be
required to sign in each morning, and out at the end of each day, to receive reimbursement. Sign-in/out
sheets will be used to verify attendance.
As with all agencies, the WACME training budget is fixed, and the monies allowed for training, remain
the same as in previous years. Even though our budget remains the same, the current economic trends
have created an increase in all expenditures.
As always, the WACME Executive Board strives to provide a higher level of training for all counties,
and appreciates everyone's participation to make this a success. We would like to thank all attendees in
advance for his or her attendance and the conscious effort to reduce conference reimbursement costs.