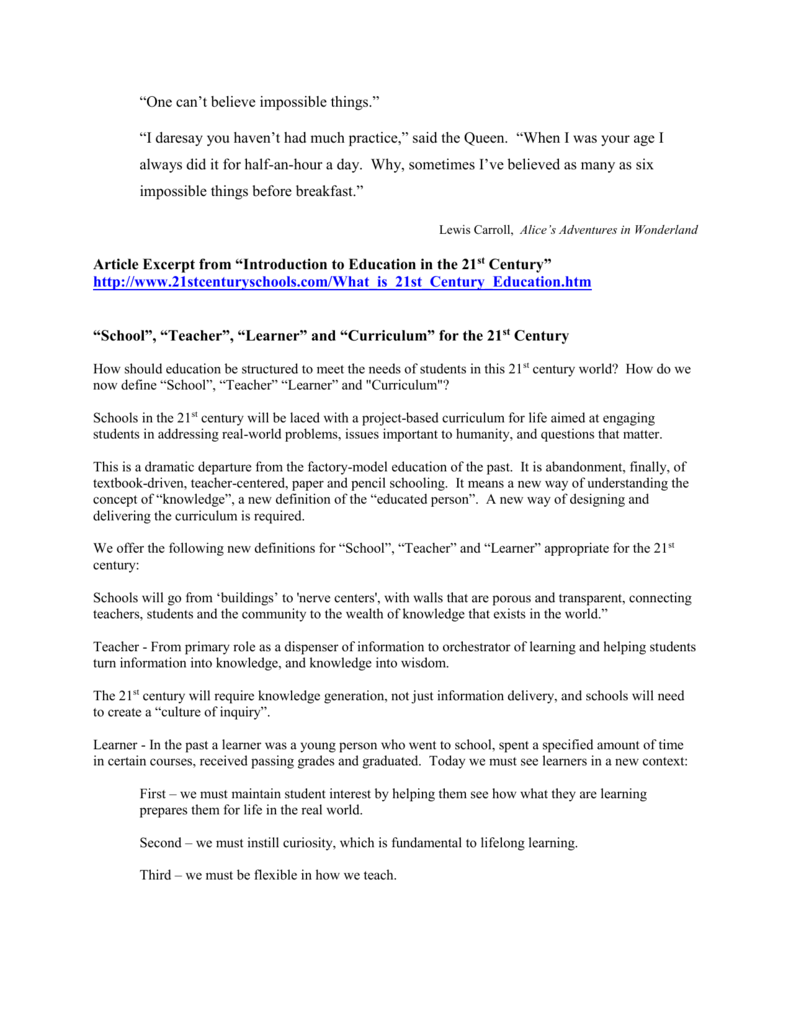 "One can't believe impossible things."
"I daresay you haven't had much practice," said the Queen. "When I was your age I
always did it for half-an-hour a day. Why, sometimes I've believed as many as six
impossible things before breakfast."
Lewis Carroll, Alice's Adventures in Wonderland
Article Excerpt from "Introduction to Education in the 21st Century"
http://www.21stcenturyschools.com/What_is_21st_Century_Education.htm
"School", "Teacher", "Learner" and "Curriculum" for the 21st Century
How should education be structured to meet the needs of students in this 21st century world? How do we
now define "School", "Teacher" "Learner" and "Curriculum"?
Schools in the 21st century will be laced with a project-based curriculum for life aimed at engaging
students in addressing real-world problems, issues important to humanity, and questions that matter.
This is a dramatic departure from the factory-model education of the past. It is abandonment, finally, of
textbook-driven, teacher-centered, paper and pencil schooling. It means a new way of understanding the
concept of "knowledge", a new definition of the "educated person". A new way of designing and
delivering the curriculum is required.
We offer the following new definitions for "School", "Teacher" and "Learner" appropriate for the 21st
century:
Schools will go from 'buildings' to 'nerve centers', with walls that are porous and transparent, connecting
teachers, students and the community to the wealth of knowledge that exists in the world."
Teacher - From primary role as a dispenser of information to orchestrator of learning and helping students
turn information into knowledge, and knowledge into wisdom.
The 21st century will require knowledge generation, not just information delivery, and schools will need
to create a "culture of inquiry".
Learner - In the past a learner was a young person who went to school, spent a specified amount of time
in certain courses, received passing grades and graduated. Today we must see learners in a new context:
First – we must maintain student interest by helping them see how what they are learning
prepares them for life in the real world.
Second – we must instill curiosity, which is fundamental to lifelong learning.
Third – we must be flexible in how we teach.
Fourth – we must excite learners to become even more resourceful so that they will continue to
learn outside the formal school day."
So what will schools look like, exactly? What will the curriculum look like? How will this 21st century
curriculum be organized, and how will it impact the way we design and build schools, how we assess
students, how we purchase resources, how we acquire and utilize the new technologies, and what does all
this mean for us in an era of standardized testing and accountability?
Imagine a school in which the students – all of them – are so excited about school that they can hardly
wait to get there. Imagine having little or no "discipline problems" because the students are so engaged in
their studies that those problems disappear. Imagine having parents calling, sending notes, or coming up
to the school to tell you about the dramatic changes they are witnessing in their children: newly found
enthusiasm and excitement for school, a desire to work on projects, research and write after school and on
weekends. Imagine your students making nearly exponential growth in their basic skills of reading,
writing, speaking, listening, researching, scientific explorations, math, multimedia skills and more!
It is possible. It has happened, and is happening, in schools across the country. I have seen this first-hand
with my classes, and I have seen it at other schools with whom I have worked. And there is growing
evidence of schools everywhere having the same results when they implement a 21st century curriculum.
20th Century Classroom vs. the 21st Century Classroom
USA 1960's typical classroom – teacher-centered, fragmented
curriculum, students working in isolation, memorizing facts.
A classroom at the School of Environmental Studies, aka the Zoo School, in
Minneapolis. A perfect example of real-life, relevant, project-based 21st century
education.
Time-based
Outcome-based
Focus: memorization of discrete facts
Focus: what students Know, Can Do and Are Like after all the
details are forgotten.
Lessons focus on the lower level of Bloom's Taxonomy
– knowledge, comprehension and application.
Learning is designed on upper levels of Blooms' – synthesis,
analysis and evaluation (and include lower levels as curriculum is
designed down from the top.)
Textbook-driven
Research-driven
Passive learning
Active Learning
Learners work in isolation – classroom within 4 walls
Learners work collaboratively with classmates and others around the
world – the Global Classroom
Teacher-centered: teacher is center of attention and
provider of information
Student-centered: teacher is facilitator/coach
Little to no student freedom
Great deal of student freedom
"Discipline problems – educators do not trust students
and vice versa. No student motivation.
No "discipline problems" – students and teaches have mutually
respectful relationship as co-learners; students are highly motivated.
Fragmented curriculum
Integrated and Interdisciplinary curriculum
Grades averaged
Grades based on what was learned
Low expectations
High expectations – "If it isn't good it isn't done." We expect, and
ensure, that all students succeed in learning at high levels. Some
may go higher – we get out of their way to let them do that.
Teacher is judge. No one else sees student work.
Self, Peer and Other assessments. Public audience, authentic
assessments.
Curriculum/School is irrelevant and meaningless to the
students.
Curriculum is connected to students' interests, experiences, talents
and the real world.
Print is the primary vehicle of learning and assessment.
Performances, projects and multiple forms of media are used for
learning and assessment
Diversity in students is ignored.
Curriculum and instruction address student diversity
Literacy is the 3 R's – reading, writing and math
Multiple literacies of the 21st century – aligned to living and
working in a globalized new millennium.
Factory model, based upon the needs of employers for
the Industrial Age of the 19th century. Scientific
management.
Global model, based upon the needs of a globalized, high-tech
society.
Driven by the NCLB and standardized testing mania.
Standardized testing has its place. Education is not driven by the
NCLB and standardized testing mania.