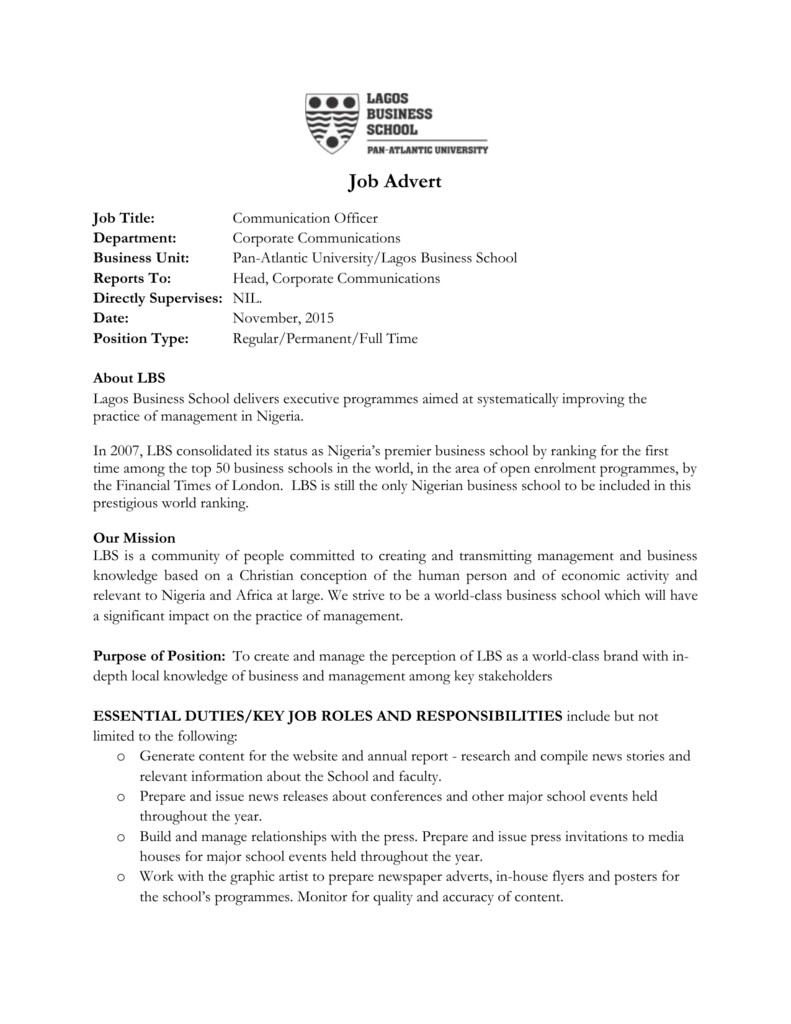 Job Advert
Job Title:
Department:
Business Unit:
Reports To:
Directly Supervises:
Date:
Position Type:
Communication Officer
Corporate Communications
Pan-Atlantic University/Lagos Business School
Head, Corporate Communications
NIL.
November, 2015
Regular/Permanent/Full Time
About LBS
Lagos Business School delivers executive programmes aimed at systematically improving the
practice of management in Nigeria.
In 2007, LBS consolidated its status as Nigeria's premier business school by ranking for the first
time among the top 50 business schools in the world, in the area of open enrolment programmes, by
the Financial Times of London. LBS is still the only Nigerian business school to be included in this
prestigious world ranking.
Our Mission
LBS is a community of people committed to creating and transmitting management and business
knowledge based on a Christian conception of the human person and of economic activity and
relevant to Nigeria and Africa at large. We strive to be a world-class business school which will have
a significant impact on the practice of management.
Purpose of Position: To create and manage the perception of LBS as a world-class brand with indepth local knowledge of business and management among key stakeholders
ESSENTIAL DUTIES/KEY JOB ROLES AND RESPONSIBILITIES include but not
limited to the following:
o Generate content for the website and annual report - research and compile news stories and
relevant information about the School and faculty.
o Prepare and issue news releases about conferences and other major school events held
throughout the year.
o Build and manage relationships with the press. Prepare and issue press invitations to media
houses for major school events held throughout the year.
o Work with the graphic artist to prepare newspaper adverts, in-house flyers and posters for
the school's programmes. Monitor for quality and accuracy of content.
o Staff newsletter project management - work with the graphic artist to prepare the monthly
staff newsletter after researching and compiling stories and relevant information.
o Manage internal communications
o Assist in executing cross functional projects such as the career fair, alumni exhibitions,
graduation ceremonies, etc.
o Manage the store of branded items
o Manage relationships with and prepare payments for vendors; keep records of all payments
made.
KEY PERFORMANCE INDICATORS
o Monthly development and circulation of internal newsletter.
o Generation of two news stories per week for the website and e-newsletter.
o Efficient Agency, Media and vendor relationship management
o Brand guidelines and verbal quality control enforcement
o Sustained cordial relationship maintained with all external stakeholders
o Operational efficiency
SKILLS REQUIREMENTS
o Excellent interpersonal skills and ability to interact at all levels in the organization.
o Ability to manage multiple projects and work under tight deadlines.
o Self-motivated with a zeal for continuous professional improvement.
o Results-focused, a self-starter, energetic and able to work with minimum supervision
o Business writing, journalistic and administrative skills
o Organizational and planning skills.
o Good knowledge of corporate communication/ public relations
o Excellent written and verbal communication skills
o Creative writing skills and conceptualization
QUALIFICATIONS
Bachelors' degree in any discipline (preferably Mass Communication or English)
Professional Qualification
EXPERIENCE
Should have at least 2-3 years' experience working in similar role
APPLICATION
Interested candidates should forward their CVs to: [email protected]
Only short-listed candidates shall be contacted. LBS offers equal employment opportunity to all
applicants.