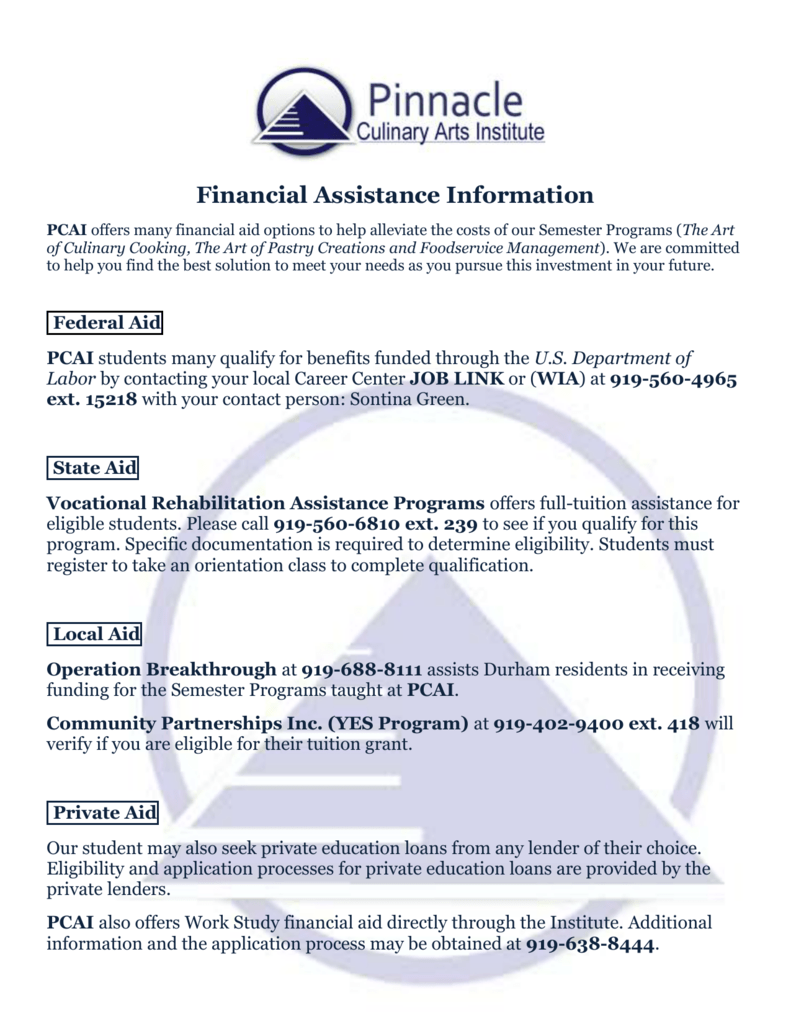 Financial Assistance Information
PCAI offers many financial aid options to help alleviate the costs of our Semester Programs (The Art
of Culinary Cooking, The Art of Pastry Creations and Foodservice Management). We are committed
to help you find the best solution to meet your needs as you pursue this investment in your future.
Federal Aid
PCAI students many qualify for benefits funded through the U.S. Department of
Labor by contacting your local Career Center JOB LINK or (WIA) at 919-560-4965
ext. 15218 with your contact person: Sontina Green.
State Aid
Vocational Rehabilitation Assistance Programs offers full-tuition assistance for
eligible students. Please call 919-560-6810 ext. 239 to see if you qualify for this
program. Specific documentation is required to determine eligibility. Students must
register to take an orientation class to complete qualification.
Local Aid
Operation Breakthrough at 919-688-8111 assists Durham residents in receiving
funding for the Semester Programs taught at PCAI.
Community Partnerships Inc. (YES Program) at 919-402-9400 ext. 418 will
verify if you are eligible for their tuition grant.
Private Aid
Our student may also seek private education loans from any lender of their choice.
Eligibility and application processes for private education loans are provided by the
private lenders.
PCAI also offers Work Study financial aid directly through the Institute. Additional
information and the application process may be obtained at 919-638-8444.