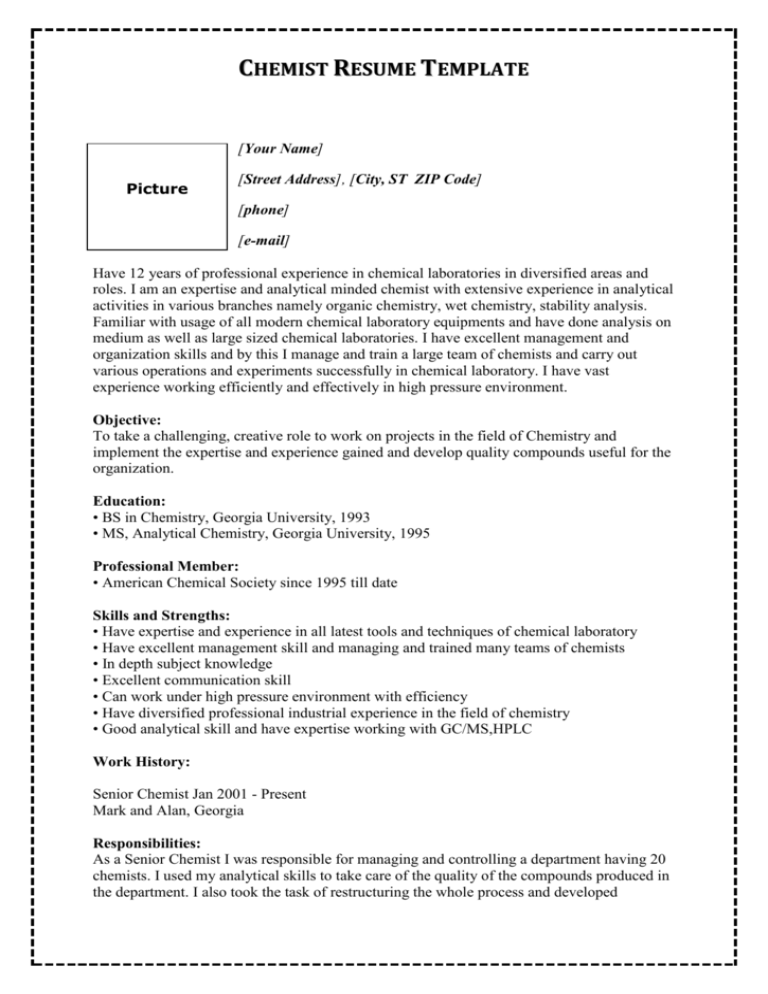 CHEMIST RESUME TEMPLATE
[Your Name]
Picture
[Street Address], [City, ST ZIP Code]
[phone]
[e-mail]
Have 12 years of professional experience in chemical laboratories in diversified areas and
roles. I am an expertise and analytical minded chemist with extensive experience in analytical
activities in various branches namely organic chemistry, wet chemistry, stability analysis.
Familiar with usage of all modern chemical laboratory equipments and have done analysis on
medium as well as large sized chemical laboratories. I have excellent management and
organization skills and by this I manage and train a large team of chemists and carry out
various operations and experiments successfully in chemical laboratory. I have vast
experience working efficiently and effectively in high pressure environment.
Objective:
To take a challenging, creative role to work on projects in the field of Chemistry and
implement the expertise and experience gained and develop quality compounds useful for the
organization.
Education:
• BS in Chemistry, Georgia University, 1993
• MS, Analytical Chemistry, Georgia University, 1995
Professional Member:
• American Chemical Society since 1995 till date
Skills and Strengths:
• Have expertise and experience in all latest tools and techniques of chemical laboratory
• Have excellent management skill and managing and trained many teams of chemists
• In depth subject knowledge
• Excellent communication skill
• Can work under high pressure environment with efficiency
• Have diversified professional industrial experience in the field of chemistry
• Good analytical skill and have expertise working with GC/MS,HPLC
Work History:
Senior Chemist Jan 2001 - Present
Mark and Alan, Georgia
Responsibilities:
As a Senior Chemist I was responsible for managing and controlling a department having 20
chemists. I used my analytical skills to take care of the quality of the compounds produced in
the department. I also took the task of restructuring the whole process and developed
guidelines and procedures to follow while developing new products and using new
equipments. I also maintain task sheet of chemists to monitor their activity and results. I took
the responsibility of analyzing and interpreting final results from the results given by
chemists on various tests conducted in chemical laboratories as specified under my guidance.
I also help chemists and associate chemists in times of difficulty in troubleshooting the
experiment and take care that the whole process is carried out efficiently and effectively on
time.
Consulting Chemist Oct 1999 - Jan 2001
Some Chemicals Inc, Georgia
Responsibilities:
Being a Consulting Chemist I operated on diversified areas and projects related to chemicals
and this gave me a wide industry exposure in various areas. I extensively made use of
analytical techniques, chemical analysis equipments to solve the customer's problems in
chemical laboratory and to arrive at an efficient and effective solution in minimum time.
Chemist Dec 1998 - Oct 1999
AABBCC Inc, Georgia
Responsibilities:
I took the task of testing the compound and product developed to determine whether they are
as per the product chart and record for discrepancy. I also took the responsibility of
developing new compounds and products and here I utilized my in depth knowledge in
subject and also learnt to use latest techniques and tools in chemical lab for my experiment.
Apart from this I also involved in handling tasks for problem solving in chemical department
whenever needed.
Associate Chemist Nov 1996 - Dec 1998
Homer Chemicals Put Ltd, Georgia
Responsibilities:
I took the responsibility of preparing solutions, compounds, equipments needed for
conducting the test by chemists and senior persons in chemical laboratory. I also took the
tasks of analyzing data of chemical compound results given to me and interpreting the results
and recording the same. I underwent training in using techniques and equipments in chemical
lab from chemists in the department.