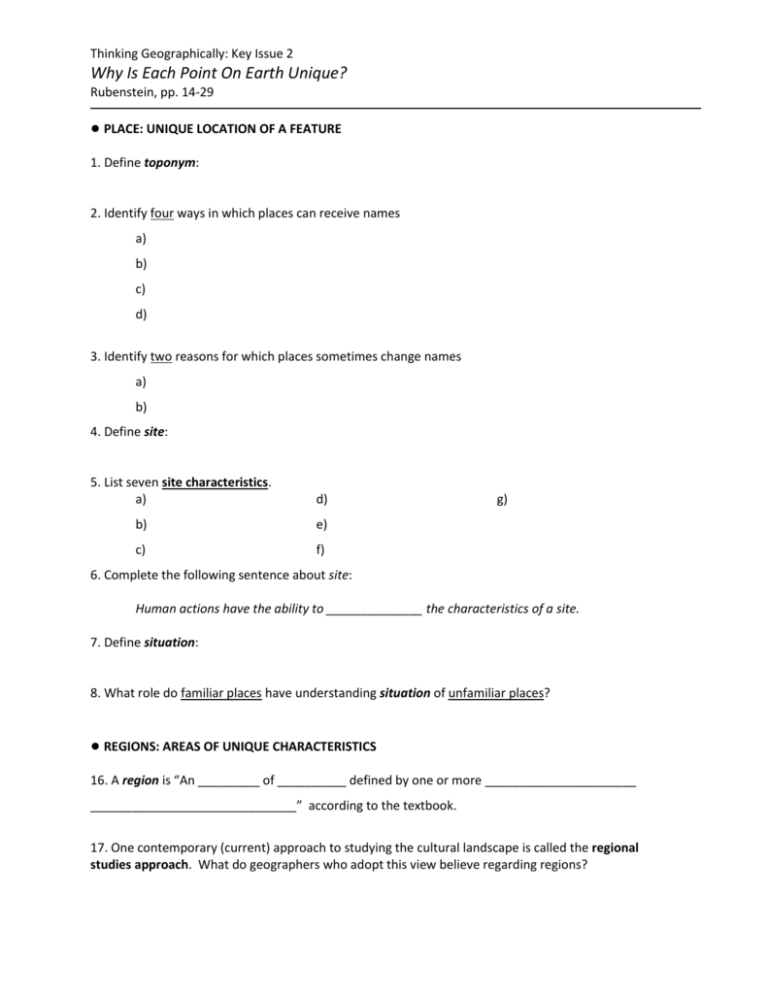 Thinking Geographically: Key Issue 2
Why Is Each Point On Earth Unique?
Rubenstein, pp. 14-29
● PLACE: UNIQUE LOCATION OF A FEATURE
1. Define toponym:
2. Identify four ways in which places can receive names
a)
b)
c)
d)
3. Identify two reasons for which places sometimes change names
a)
b)
4. Define site:
5. List seven site characteristics.
a)
d)
b)
e)
c)
f)
g)
6. Complete the following sentence about site:
Human actions have the ability to ______________ the characteristics of a site.
7. Define situation:
8. What role do familiar places have understanding situation of unfamiliar places?
● REGIONS: AREAS OF UNIQUE CHARACTERISTICS
16. A region is "An _________ of __________ defined by one or more ______________________
______________________________" according to the textbook.
17. One contemporary (current) approach to studying the cultural landscape is called the regional
studies approach. What do geographers who adopt this view believe regarding regions?
18. Complete the chart below which details types of regions identified by geographers.
FUNCTIONAL REGION
VERNACULAR REGION
example
definition
also
called
FORMAL REGION
20.
21. Prepare a bullet chart about the word CULTURE
22. How does a geographer conclude that two (or more) phenomena are "spatially associated," that is,
that they bear some sort of cause and effect relationship?