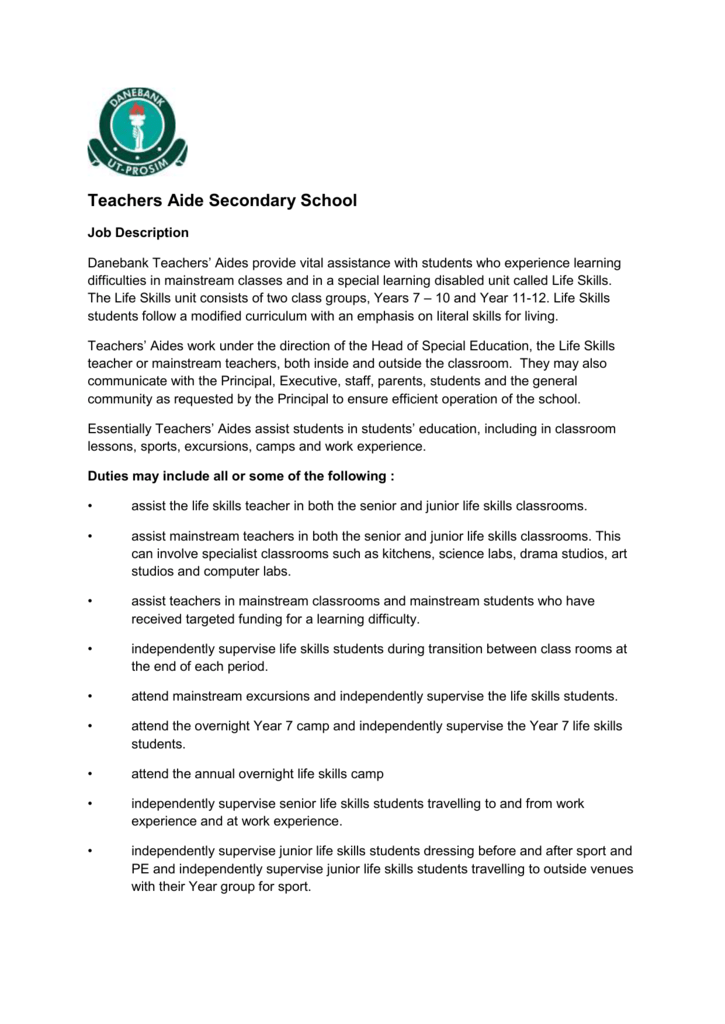 Teachers Aide Secondary School
Job Description
Danebank Teachers' Aides provide vital assistance with students who experience learning
difficulties in mainstream classes and in a special learning disabled unit called Life Skills.
The Life Skills unit consists of two class groups, Years 7 – 10 and Year 11-12. Life Skills
students follow a modified curriculum with an emphasis on literal skills for living.
Teachers' Aides work under the direction of the Head of Special Education, the Life Skills
teacher or mainstream teachers, both inside and outside the classroom. They may also
communicate with the Principal, Executive, staff, parents, students and the general
community as requested by the Principal to ensure efficient operation of the school.
Essentially Teachers' Aides assist students in students' education, including in classroom
lessons, sports, excursions, camps and work experience.
Duties may include all or some of the following :
•
assist the life skills teacher in both the senior and junior life skills classrooms.
•
assist mainstream teachers in both the senior and junior life skills classrooms. This
can involve specialist classrooms such as kitchens, science labs, drama studios, art
studios and computer labs.
•
assist teachers in mainstream classrooms and mainstream students who have
received targeted funding for a learning difficulty.
•
independently supervise life skills students during transition between class rooms at
the end of each period.
•
attend mainstream excursions and independently supervise the life skills students.
•
attend the overnight Year 7 camp and independently supervise the Year 7 life skills
students.
•
attend the annual overnight life skills camp
•
independently supervise senior life skills students travelling to and from work
experience and at work experience.
•
independently supervise junior life skills students dressing before and after sport and
PE and independently supervise junior life skills students travelling to outside venues
with their Year group for sport.
•
devise suitable activities if necessary and supervise junior life skills students
independently or assist teacher during sport and PE.
•
assist life skills teacher in supervising life skills students on regular trips to shopping
centres or on public transport.
•
undertake clerical duties for teaching staff if the aide's normal class is not taking
place.
•
independently supervise mainstream students who have missed tests, assessment
tasks or exams.
•
use initiative to meet any demands that result from supervising the life skills class.
•
attending professional development courses.
•
assist Life Skills students with personal care and hygiene if required.
•
Assist Life Skills students in Bond, Assembly, and Chapel if required.
•
Other tasks as may be required from time to time to assist in the smooth running of
the school
Qualifications and skills required:
•
Problem solving and thinking skills
•
Strong organizational skills
Kindness and patience with students
•
Excellent people skills and a strong desire to help people
•
Follow instructions accurately while also displaying initiative
•
Ability to use and operate a photocopier, iPAD , email, internet and word processing
(Word)
Required Licences/Certification
First Aid Certificate (renewed by the School annually)
Work Environment
Work is varied and will require walking, standing in class including kitchens, catching public
transport, attending outdoor sporting events, excursions, shopping trips and camps, and
some carrying (up to 5 kilos).