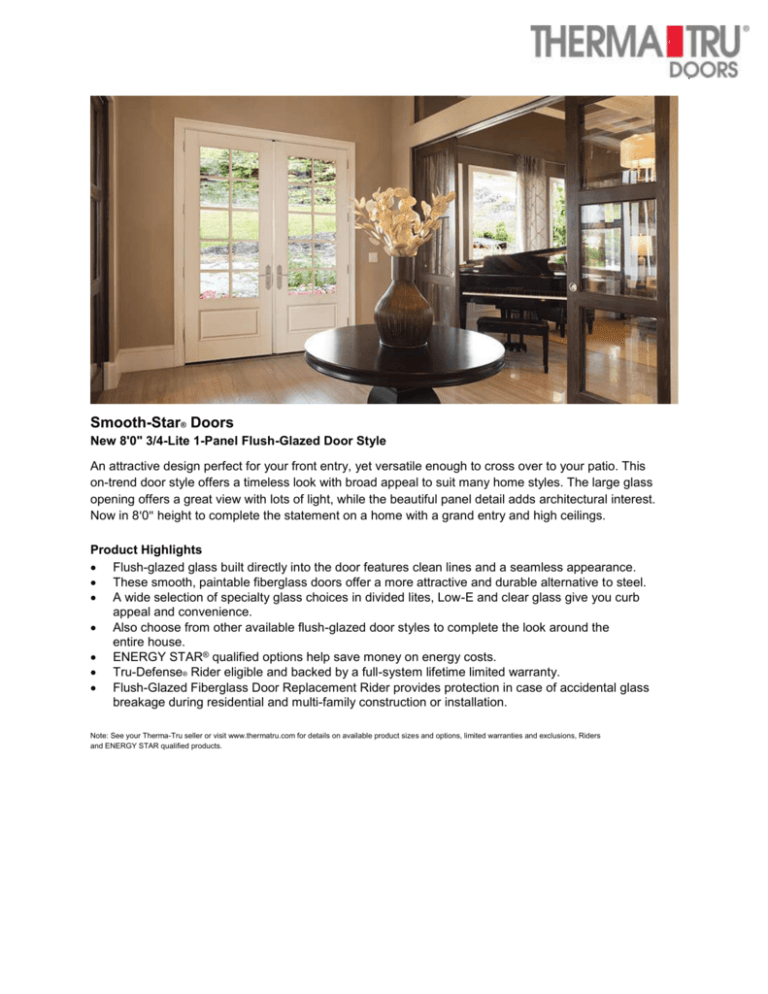 Smooth-Star® Doors
New 8'0" 3/4-Lite 1-Panel Flush-Glazed Door Style
An attractive design perfect for your front entry, yet versatile enough to cross over to your patio. This
on-trend door style offers a timeless look with broad appeal to suit many home styles. The large glass
opening offers a great view with lots of light, while the beautiful panel detail adds architectural interest.
Now in 8'0" height to complete the statement on a home with a grand entry and high ceilings.
Product Highlights
 Flush-glazed glass built directly into the door features clean lines and a seamless appearance.
 These smooth, paintable fiberglass doors offer a more attractive and durable alternative to steel.
 A wide selection of specialty glass choices in divided lites, Low-E and clear glass give you curb
appeal and convenience.
 Also choose from other available flush-glazed door styles to complete the look around the
entire house.
 ENERGY STAR® qualified options help save money on energy costs.
 Tru-Defense® Rider eligible and backed by a full-system lifetime limited warranty.
 Flush-Glazed Fiberglass Door Replacement Rider provides protection in case of accidental glass
breakage during residential and multi-family construction or installation.
Note: See your Therma-Tru seller or visit www.thermatru.com for details on available product sizes and options, limited warranties and exclusions, Riders
and ENERGY STAR qualified products.