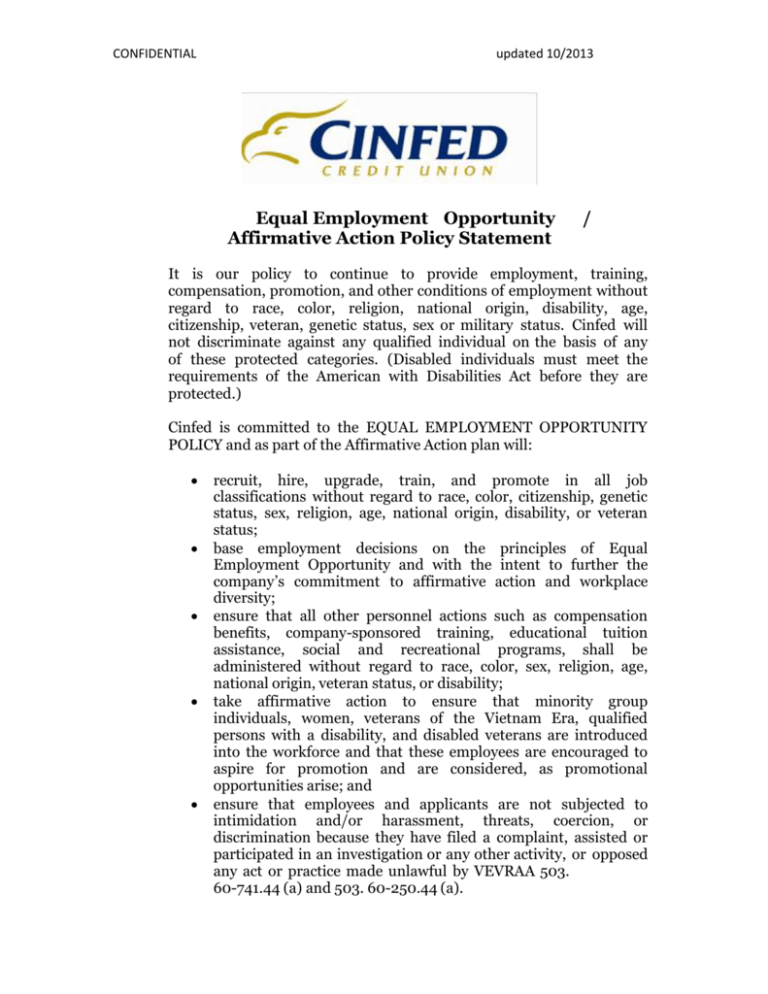 CONFIDENTIAL
updated 10/2013
Equal Employment Opportunity
Affirmative Action Policy Statement
/
It is our policy to continue to provide employment, training,
compensation, promotion, and other conditions of employment without
regard to race, color, religion, national origin, disability, age,
citizenship, veteran, genetic status, sex or military status. Cinfed will
not discriminate against any qualified individual on the basis of any
of these protected categories. (Disabled individuals must meet the
requirements of the American with Disabilities Act before they are
protected.)
Cinfed is committed to the EQUAL EMPLOYMENT OPPORTUNITY
POLICY and as part of the Affirmative Action plan will:





recruit, hire, upgrade, train, and promote in all job
classifications without regard to race, color, citizenship, genetic
status, sex, religion, age, national origin, disability, or veteran
status;
base employment decisions on the principles of Equal
Employment Opportunity and with the intent to further the
company's commitment to affirmative action and workplace
diversity;
ensure that all other personnel actions such as compensation
benefits, company-sponsored training, educational tuition
assistance, social and recreational programs, shall be
administered without regard to race, color, sex, religion, age,
national origin, veteran status, or disability;
take affirmative action to ensure that minority group
individuals, women, veterans of the Vietnam Era, qualified
persons with a disability, and disabled veterans are introduced
into the workforce and that these employees are encouraged to
aspire for promotion and are considered, as promotional
opportunities arise; and
ensure that employees and applicants are not subjected to
intimidation and/or harassment, threats, coercion, or
discrimination because they have filed a complaint, assisted or
participated in an investigation or any other activity, or opposed
any act or practice made unlawful by VEVRAA 503.
60-741.44 (a) and 503. 60-250.44 (a).