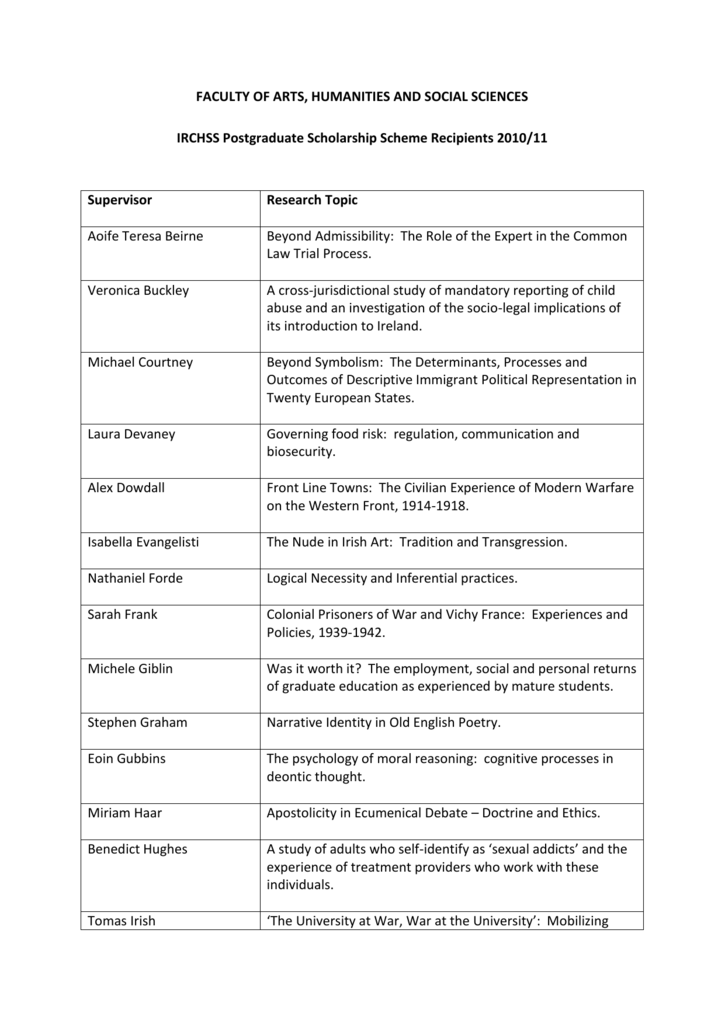 FACULTY OF ARTS, HUMANITIES AND SOCIAL SCIENCES
IRCHSS Postgraduate Scholarship Scheme Recipients 2010/11
Supervisor
Research Topic
Aoife Teresa Beirne
Beyond Admissibility: The Role of the Expert in the Common
Law Trial Process.
Veronica Buckley
A cross-jurisdictional study of mandatory reporting of child
abuse and an investigation of the socio-legal implications of
its introduction to Ireland.
Michael Courtney
Beyond Symbolism: The Determinants, Processes and
Outcomes of Descriptive Immigrant Political Representation in
Twenty European States.
Laura Devaney
Governing food risk: regulation, communication and
biosecurity.
Alex Dowdall
Front Line Towns: The Civilian Experience of Modern Warfare
on the Western Front, 1914-1918.
Isabella Evangelisti
The Nude in Irish Art: Tradition and Transgression.
Nathaniel Forde
Logical Necessity and Inferential practices.
Sarah Frank
Colonial Prisoners of War and Vichy France: Experiences and
Policies, 1939-1942.
Michele Giblin
Was it worth it? The employment, social and personal returns
of graduate education as experienced by mature students.
Stephen Graham
Narrative Identity in Old English Poetry.
Eoin Gubbins
The psychology of moral reasoning: cognitive processes in
deontic thought.
Miriam Haar
Apostolicity in Ecumenical Debate – Doctrine and Ethics.
Benedict Hughes
A study of adults who self-identify as 'sexual addicts' and the
experience of treatment providers who work with these
individuals.
Tomas Irish
'The University at War, War at the University': Mobilizing
Academics in Britain, France and the United States of
America, 1914-1925.
Damien Jackson
Undocumented Migrants and the Hegemonic Ideology of the
Territorial Sovereign State: A Critical Analysis of the
Domination of the Churches' Moral Imagination.
Paula Keatley
Theodicy in the Nineteenth-Century Novel.
Vladimir Kmec
The Impact of Immigration on Religious Identities and InterReligious Dialogue.
Margeret Lawler
Exploring the mechanisms through which peer relationships
can facilitate or discourage physically active lifestyles among
Irish youth.
Conor McCann
Odo of Deuil and intellectual life at the Abbey of St. Denis in
the twelfth century.
Ciska Neyts
The Irish commanders during the 1940s: importing the
'military revolution' into Ireland.
Carolina Plescia
Ticket Splitting in Subnational Elections: The Case of Italy.
Edana Richardson
The Integration of Islamic Finance into the Irish Legal System:
A study of Islamic Financial Products and Institutions.
Emma Riordan
The Language Teacher as Language Learner: A language
needs analysis of non-nativel speaker language teachers.
Justyna Salamonska
'Middling migration' – Polish migrants' careers in Ireland.
Patrick Theiner
Institutions for Global Public Health and Private Actor
Participation – A Comparative Case Study.
Eimhin Walsh
The intellectual worldview of Saint Peter Damian (1007-1072)
as expressed through his theological method and choice of
ancient sources.
Edmond Patrick Coughlan
Civil War in Sub-Saharan African Countries.