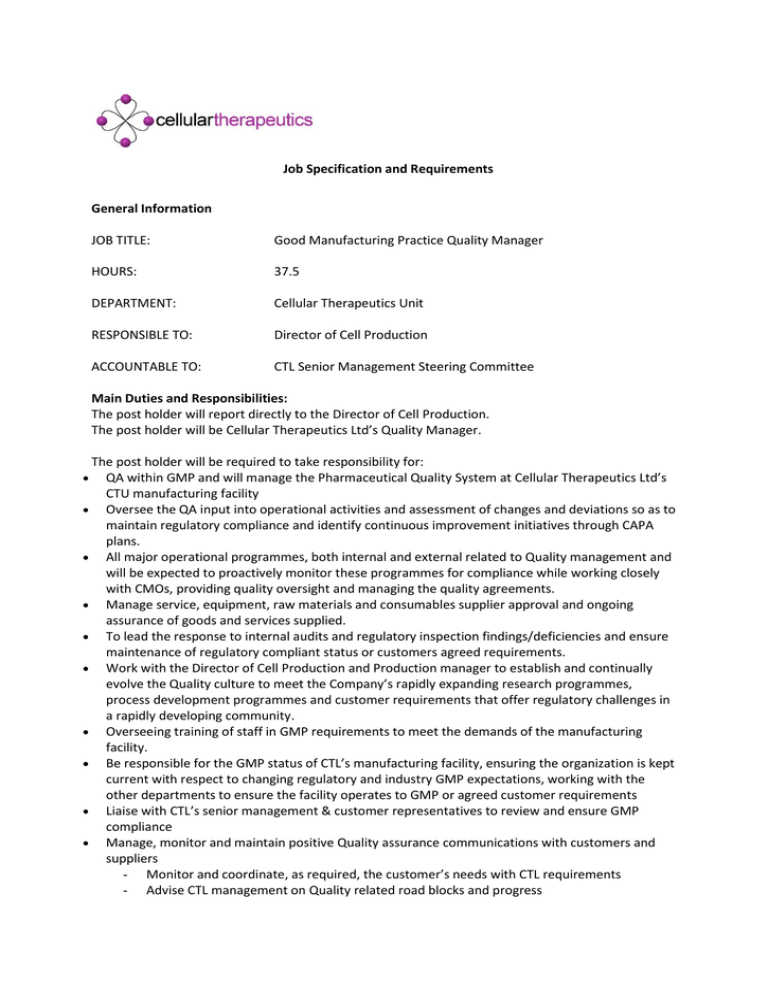 Job Specification and Requirements
General Information
JOB TITLE:
Good Manufacturing Practice Quality Manager
HOURS:
37.5
DEPARTMENT:
Cellular Therapeutics Unit
RESPONSIBLE TO:
Director of Cell Production
ACCOUNTABLE TO:
CTL Senior Management Steering Committee
Main Duties and Responsibilities:
The post holder will report directly to the Director of Cell Production.
The post holder will be Cellular Therapeutics Ltd's Quality Manager.
The post holder will be required to take responsibility for:
 QA within GMP and will manage the Pharmaceutical Quality System at Cellular Therapeutics Ltd's
CTU manufacturing facility
 Oversee the QA input into operational activities and assessment of changes and deviations so as to
maintain regulatory compliance and identify continuous improvement initiatives through CAPA
plans.
 All major operational programmes, both internal and external related to Quality management and
will be expected to proactively monitor these programmes for compliance while working closely
with CMOs, providing quality oversight and managing the quality agreements.
 Manage service, equipment, raw materials and consumables supplier approval and ongoing
assurance of goods and services supplied.
 To lead the response to internal audits and regulatory inspection findings/deficiencies and ensure
maintenance of regulatory compliant status or customers agreed requirements.
 Work with the Director of Cell Production and Production manager to establish and continually
evolve the Quality culture to meet the Company's rapidly expanding research programmes,
process development programmes and customer requirements that offer regulatory challenges in
a rapidly developing community.
 Overseeing training of staff in GMP requirements to meet the demands of the manufacturing
facility.
 Be responsible for the GMP status of CTL's manufacturing facility, ensuring the organization is kept
current with respect to changing regulatory and industry GMP expectations, working with the
other departments to ensure the facility operates to GMP or agreed customer requirements
 Liaise with CTL's senior management & customer representatives to review and ensure GMP
compliance
 Manage, monitor and maintain positive Quality assurance communications with customers and
suppliers
- Monitor and coordinate, as required, the customer's needs with CTL requirements
- Advise CTL management on Quality related road blocks and progress



Provide consultation to production teams as and when required training and training programmes
Maintain an awareness of current and emerging trends in Quality assurance practice and trends
by attending quality assurance workshops and training.
Work closely with GMP facility to help in the continual improvement and development of cell
therapies
Skills & Experience
Essential Requirements:

Good time management skills

Excellent communication skills – written and oral

Works well with others in a team environment

Management of budgets

Complex project planning, coordination and delivery

Evidence of continued professional development to maintain fitness to provide Quality assurance
responsibilities

Experience of computerised Document Management systems such as Q-Pulse

Experience in the planning and conduct of GMP self inspection, supplier audits and regulatory
inspections

In depth understanding of legislative framework of MHRA in Good Manufacturing Practice as
applied to small scale biopharmaceutical production for clinical trials.

Resilience and flexibility; able to contribute innovatively to solving problems.

Well motivated with evidence of an ability to work without direct supervision and to use own
initiative
Desirable Skills:





European Union Qualified Person (QP) (Investigational Medicinal Products) specifically Advanced
Therapeutic Medicinal Products (ATMPs) and /or biological therapies
Quality assurance experience in the manufacture of ATMPs
Quality assurance in Human Tissue Application specifically inn ATMPs
Experience in GMP production
High level of practical specialist Quality Management knowledge and expertise within cellular
therapy processes or small scale recombinant protein processes, or equivalent experience, or a
portfolio that demonstrates the acquisition and use of equivalent level of specialist knowledge
and experience.