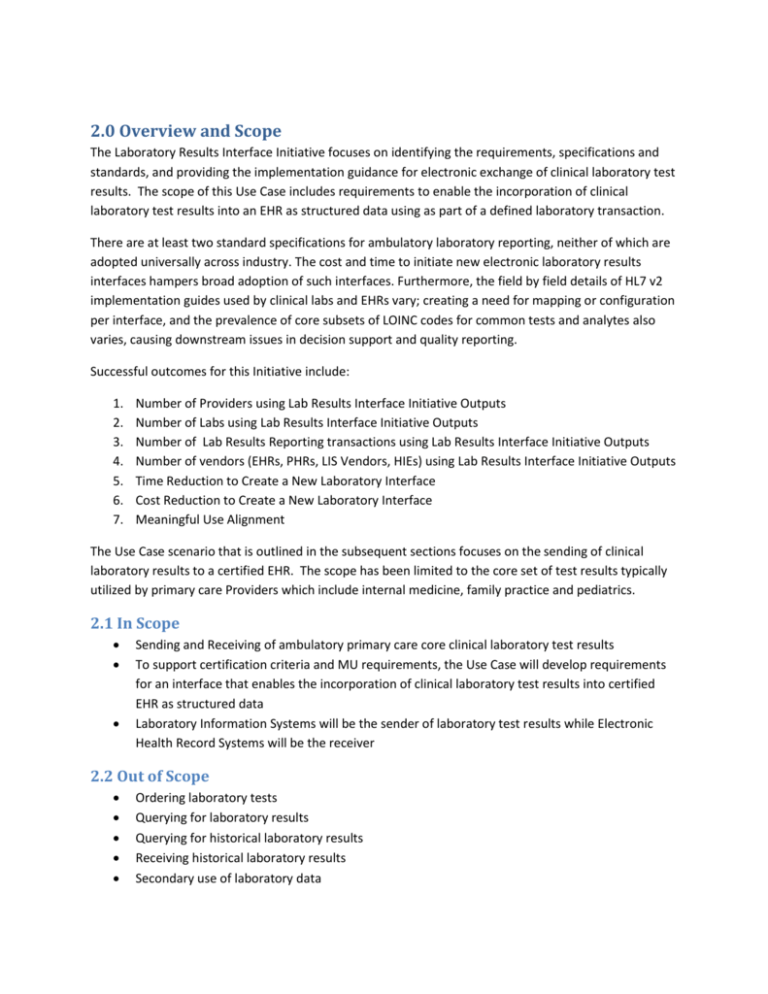 2.0 Overview and Scope
The Laboratory Results Interface Initiative focuses on identifying the requirements, specifications and
standards, and providing the implementation guidance for electronic exchange of clinical laboratory test
results. The scope of this Use Case includes requirements to enable the incorporation of clinical
laboratory test results into an EHR as structured data using as part of a defined laboratory transaction.
There are at least two standard specifications for ambulatory laboratory reporting, neither of which are
adopted universally across industry. The cost and time to initiate new electronic laboratory results
interfaces hampers broad adoption of such interfaces. Furthermore, the field by field details of HL7 v2
implementation guides used by clinical labs and EHRs vary; creating a need for mapping or configuration
per interface, and the prevalence of core subsets of LOINC codes for common tests and analytes also
varies, causing downstream issues in decision support and quality reporting.
Successful outcomes for this Initiative include:
1.
2.
3.
4.
5.
6.
7.
Number of Providers using Lab Results Interface Initiative Outputs
Number of Labs using Lab Results Interface Initiative Outputs
Number of Lab Results Reporting transactions using Lab Results Interface Initiative Outputs
Number of vendors (EHRs, PHRs, LIS Vendors, HIEs) using Lab Results Interface Initiative Outputs
Time Reduction to Create a New Laboratory Interface
Cost Reduction to Create a New Laboratory Interface
Meaningful Use Alignment
The Use Case scenario that is outlined in the subsequent sections focuses on the sending of clinical
laboratory results to a certified EHR. The scope has been limited to the core set of test results typically
utilized by primary care Providers which include internal medicine, family practice and pediatrics.
2.1 In Scope



Sending and Receiving of ambulatory primary care core clinical laboratory test results
To support certification criteria and MU requirements, the Use Case will develop requirements
for an interface that enables the incorporation of clinical laboratory test results into certified
EHR as structured data
Laboratory Information Systems will be the sender of laboratory test results while Electronic
Health Record Systems will be the receiver
2.2 Out of Scope





Ordering laboratory tests
Querying for laboratory results
Querying for historical laboratory results
Receiving historical laboratory results
Secondary use of laboratory data



Specialty laboratory orders
Receiving specialty laboratory results
Hospital ordering and reporting of laboratory results
2.3 Background
The Laboratory Results Interface Initiative and the subsequent Laboratory Results Reporting to Primary
Care Providers (in an Ambulatory Setting) Use Case has been selected because of its alignment with
Meaningful Use Stage 1 and foreseen Stage 2 indications as well as addressing various Prioritization
Criteria as described below.
The Laboratory Results Interface Initiative holds importance and relevance in that it:

It enables stage 1 and potential stage 2 Meaningful Use criteria
o Stage 1: Incorporation of laboratory results as structured data
o Stage 2: Standardize laboratory results interface
The Initiative requires and supports information interchange. Messaging and vocabulary standards exist
but due to the high degree of allowable variation implementation of laboratory interfaces is time
consuming and costly. This Initiative will leverage existing interoperability standards and specifications
when defining the Use Case and functional requirements.
There are two previous efforts, neither of which was widely adopted, that resulted in implementation
guides and specifications for laboratory results.


The Healthcare and Interoperability Standards Panel HITSP/IS01. The Electronic Health Records
Laboratory Results Reporting Interoperability Specification and HITSP/C36 Laboratory Message
Component in combination define and constrain the use of the HL7 Version 2.5.1.
Implementation Guide: Order and Observations; Interoperable Laboratory Results Reporting to
Electronic Health Record (EHR), Release 1.
EHR-Laboratory Interoperability and Connectivity Specification (ELINCS) also constrained the
HL7 Version 2.5.1 Implementation Guide which resulted in the HL7 2.5.1 Implementation Guide:
Orders and Observations; Ambulatory Laboratory Results (ELINCS), Release 1.
2.4 Policy Issues
The Use Cases strive to address relevant and timely policy issues that will have downstream effects on
the US healthcare reform agenda; specifically relevant to healthcare information technology. Without a
widely accepted standard for laboratory results exchange several issues will arise in relation to clinical
decision support and quality reporting.


Meaningful Use Criteria: Incorporate Laboratory results as structured data into Electronic
Health Record
Certification Criteria: Receive results in structured format and display in human readable
format. The Medicare and Medicaid EHR Incentive Programs do not specify the use of code set
standards in meeting the measure for this objective. However, the Office of the National
Coordinator for Health Information Technology (ONC) has adopted Logical Observation
Identifiers Names and Codes (LOINC®) version 2.27, when such codes were received within an
electronic transaction from a laboratory, for the entry of structured data for this measure and
made this a requirement for EHR technology to be certified.
2.5 Regulatory Issues
The Centers for Medicare & Medicaid Services (CMS) regulates all laboratory testing (except research)
performed on humans in the U.S. through the Clinical Laboratory Improvement Amendments (CLIA). In
total, CLIA covers approximately 200,000 laboratory entities. The Division of Laboratory Services, within
the Survey and Certification Group, under the Center for Medicaid and State Operations (CMSO) has the
responsibility for implementing the CLIA Program.
The objective of the CLIA program is to ensure quality laboratory testing. Although all clinical
laboratories must be properly certified to receive Medicare or Medicaid payments, CLIA has no direct
Medicare or Medicaid program responsibilities. Interpretations of legal requirements across the states
and laboratory sources vary widely and there is currently no ability to monitor/enforce standards.
2.6 Communities of Interest
Communities of Interest are public and private stakeholders that are directly involved in the business
process or are involved in the development and use of interoperable implementation guides and
implementation of the Solution. Some members are business actors. Communities of Interest may
directly participate in the exchange, that is they are actors, or indirectly through the results of the
improved business process.
The following list of Communities of Interest and their definitions are for discussion purposes for clinical
information exchange:
Member of Communities of Interests
Patient
Consumers
Care Coordinators
Clinicians
Provider
Working Definition
Members of the public Members of the public who require
healthcare services from ambulatory, emergency department,
physician's Office, and/or the Public Health
Agency/Department.
Members of the public that include patients as well as
caregivers, patient advocates, surrogates, family members,
and other parties who may be acting for, or in support of, a
patient receiving or potentially receiving healthcare services.
Individuals who support clinicians in the management of
health and disease conditions. These can include case
managers and others.
Healthcare Providers with patient care responsibilities,
including physicians, advanced practice nurses, physician
assistants, nurses, psychologists, pharmacists, and other
licensed and credentialed personnel involved in treating
patients..
An individual clinician or care delivery setting who requests or
Laboratories
Laboratory Information System(LIS)
Provider Organizations
Standards Organizations
Electronic Health Record/Personal
Health Record Vendors
Federal Agencies
HIE
accepts the transfer of the clinical summary for the purposes
of delivering care.
A laboratory (often abbreviated lab) is a setting where
specimens are sent for testing and analysis are resulted, and
then results are communicated back to the requestor. The
types of laboratories may include clinical/medical and
environmental, and may be both private and/or public.
Laboratory Information System is an information system that
receives, processes, and stores information generated by a
medical laboratory processes. LIS is often interfaced with HIS
and EMR applications.
Organizations that are engaged in or support the delivery of
healthcare to include Hospitals Ambulatory Centers and
Provider Practices.
Organizations whose purpose is to define, harmonize and
integrate standards that will meet clinical and business needs
for sharing information among organizations and systems.
Vendors which provide specific EHR/PHR solutions to
clinicians such as software applications and software services.
These suppliers may include developers, Providers, resellers,
operators, and others who may provide these or similar
capabilities.
TBD by UCR Workgroup Participants
Health Information Exchange (HIE) is defined as the
mobilization of healthcare information electronically across
organizations within a region, community or hospital system.