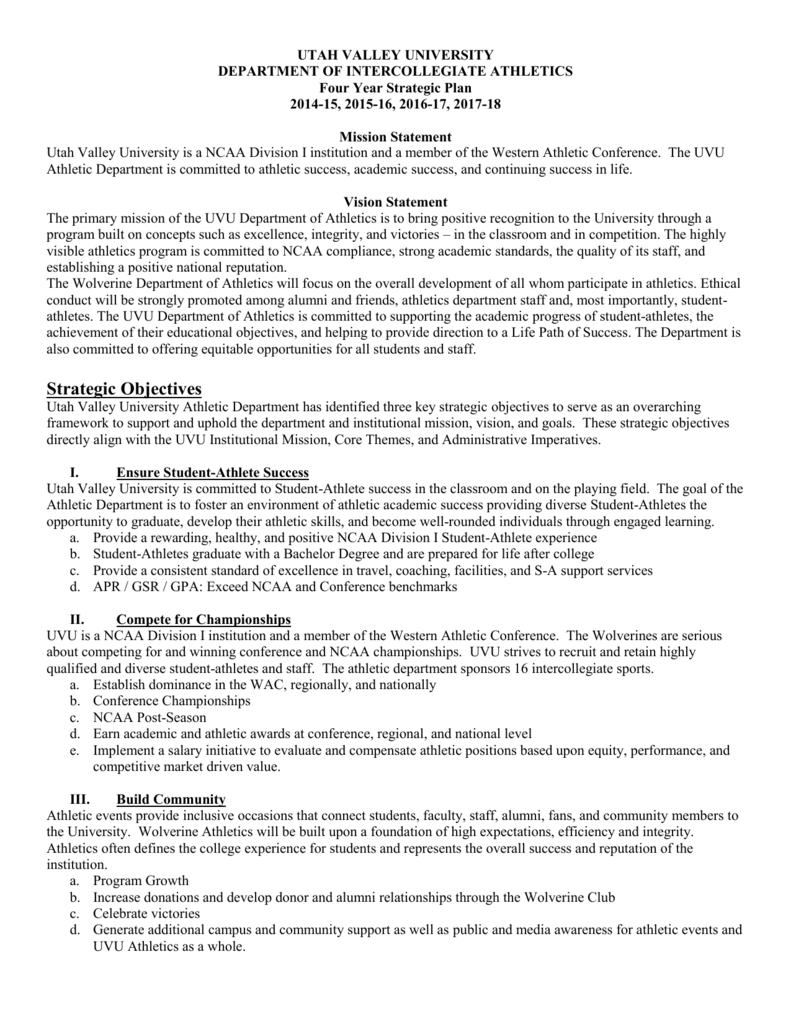 UTAH VALLEY UNIVERSITY
DEPARTMENT OF INTERCOLLEGIATE ATHLETICS
Four Year Strategic Plan
2014-15, 2015-16, 2016-17, 2017-18
Mission Statement
Utah Valley University is a NCAA Division I institution and a member of the Western Athletic Conference. The UVU
Athletic Department is committed to athletic success, academic success, and continuing success in life.
Vision Statement
The primary mission of the UVU Department of Athletics is to bring positive recognition to the University through a
program built on concepts such as excellence, integrity, and victories – in the classroom and in competition. The highly
visible athletics program is committed to NCAA compliance, strong academic standards, the quality of its staff, and
establishing a positive national reputation.
The Wolverine Department of Athletics will focus on the overall development of all whom participate in athletics. Ethical
conduct will be strongly promoted among alumni and friends, athletics department staff and, most importantly, studentathletes. The UVU Department of Athletics is committed to supporting the academic progress of student-athletes, the
achievement of their educational objectives, and helping to provide direction to a Life Path of Success. The Department is
also committed to offering equitable opportunities for all students and staff.
Strategic Objectives
Utah Valley University Athletic Department has identified three key strategic objectives to serve as an overarching
framework to support and uphold the department and institutional mission, vision, and goals. These strategic objectives
directly align with the UVU Institutional Mission, Core Themes, and Administrative Imperatives.
I.
Ensure Student-Athlete Success
Utah Valley University is committed to Student-Athlete success in the classroom and on the playing field. The goal of the
Athletic Department is to foster an environment of athletic academic success providing diverse Student-Athletes the
opportunity to graduate, develop their athletic skills, and become well-rounded individuals through engaged learning.
a. Provide a rewarding, healthy, and positive NCAA Division I Student-Athlete experience
b. Student-Athletes graduate with a Bachelor Degree and are prepared for life after college
c. Provide a consistent standard of excellence in travel, coaching, facilities, and S-A support services
d. APR / GSR / GPA: Exceed NCAA and Conference benchmarks
II.
Compete for Championships
UVU is a NCAA Division I institution and a member of the Western Athletic Conference. The Wolverines are serious
about competing for and winning conference and NCAA championships. UVU strives to recruit and retain highly
qualified and diverse student-athletes and staff. The athletic department sponsors 16 intercollegiate sports.
a. Establish dominance in the WAC, regionally, and nationally
b. Conference Championships
c. NCAA Post-Season
d. Earn academic and athletic awards at conference, regional, and national level
e. Implement a salary initiative to evaluate and compensate athletic positions based upon equity, performance, and
competitive market driven value.
III.
Build Community
Athletic events provide inclusive occasions that connect students, faculty, staff, alumni, fans, and community members to
the University. Wolverine Athletics will be built upon a foundation of high expectations, efficiency and integrity.
Athletics often defines the college experience for students and represents the overall success and reputation of the
institution.
a. Program Growth
b. Increase donations and develop donor and alumni relationships through the Wolverine Club
c. Celebrate victories
d. Generate additional campus and community support as well as public and media awareness for athletic events and
UVU Athletics as a whole.