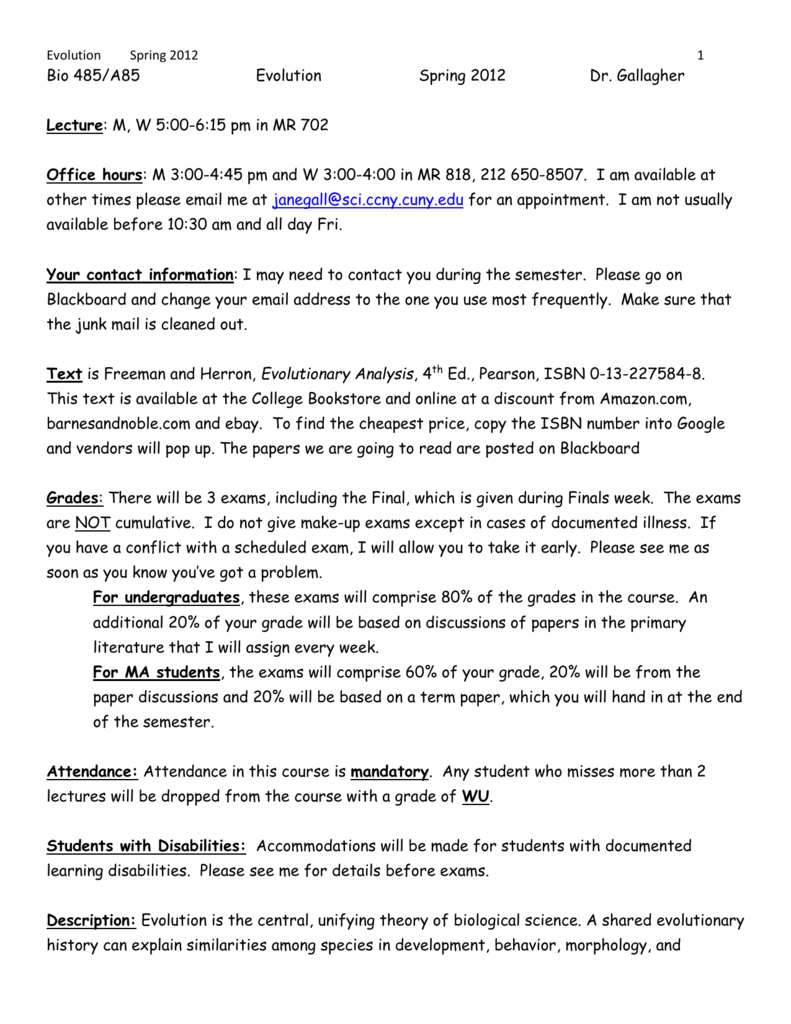 Evolution
Spring 2012
Bio 485/A85
1
Evolution
Spring 2012
Dr. Gallagher
Lecture: M, W 5:00-6:15 pm in MR 702
Office hours: M 3:00-4:45 pm and W 3:00-4:00 in MR 818, 212 650-8507. I am available at
other times please email me at [email protected] for an appointment. I am not usually
available before 10:30 am and all day Fri.
Your contact information: I may need to contact you during the semester. Please go on
Blackboard and change your email address to the one you use most frequently. Make sure that
the junk mail is cleaned out.
Text is Freeman and Herron, Evolutionary Analysis, 4th Ed., Pearson, ISBN 0-13-227584-8.
This text is available at the College Bookstore and online at a discount from Amazon.com,
barnesandnoble.com and ebay. To find the cheapest price, copy the ISBN number into Google
and vendors will pop up. The papers we are going to read are posted on Blackboard
Grades: There will be 3 exams, including the Final, which is given during Finals week. The exams
are NOT cumulative. I do not give make-up exams except in cases of documented illness. If
you have a conflict with a scheduled exam, I will allow you to take it early. Please see me as
soon as you know you've got a problem.
For undergraduates, these exams will comprise 80% of the grades in the course. An
additional 20% of your grade will be based on discussions of papers in the primary
literature that I will assign every week.
For MA students, the exams will comprise 60% of your grade, 20% will be from the
paper discussions and 20% will be based on a term paper, which you will hand in at the end
of the semester.
Attendance: Attendance in this course is mandatory. Any student who misses more than 2
lectures will be dropped from the course with a grade of WU.
Students with Disabilities: Accommodations will be made for students with documented
learning disabilities. Please see me for details before exams.
Description: Evolution is the central, unifying theory of biological science. A shared evolutionary
history can explain similarities among species in development, behavior, morphology, and
Evolution
Spring 2012
2
physiology. Evolution continues today, explaining such phenomena as the development of new
human diseases and the increases in pesticide and antibiotic resistance. The approach taken in
this course is to examine recent research in Evolutionary Biology at both the morphological and
molecular levels. A major objective is to get students to think critically about experimental
design in the primary scientific literature.
Goals and Objectives:
1. To examine basic principles of evolutionary biology
2. To learn methods of modern evolutionary research
3. To integrate the fields of molecular biology, genetics, ecology and physiology with
evolution. This course can be regarded as a capstone course in the Biology major.
4. Critical thinking about experimental design is a central theme of this course.
Students will be expected to read and criticize primary literature that involves
evolutionary principles.
Lecture Date
1
2
3
4
5
6
7
8
9
10
11
Topic and assigned paper
M
Introduction to course; schedule AMNH fieldtrip; Evolutionary
1/30
Thinking: An example of HIV evolution
W 2/1 Students chose papers for presentation; Darwin and the Pattern
of Evolution: The difficulty of interpreting cause and effect in
Evolution
M 2/6 Tools to analyze data: How to interpret statistical data; review of
228; descriptive statistics; Inferential statistics
W
Analytical tools II: Phylogeny Reconstruction
2/8
W
Experimental Design in Evolutionary Biology
2/15
T
No class today to give back time for AMNH trip TBA
2/21
W
Review of Hardy-Weinberg and Genetics
2/22
Paper 1: Enamelin gene in Whales
M
Modeling selection and mutation as mechanisms of evolution (MA
2/27
paper topic due)
W
MIDTERM I
2/29
M 3/5 Migration, Drift and non-random mating I
Paper 2: Assortative mating in migrating birds
W
Migration, Drift and non-random mating II
3/7
Paper 3: Domestication of dogs
Ch
readings
Ch. 1
Ch. 2
handouts
Ch. 4
Ch. 3
Ch. 5
Ch. 6
Ch. 7
Ch. 7
Evolution
12
13
14
15
16
Spring 2012
M
3/12
W
3/14
M
3/19
W
3/21
M
3/26
W
3/28
Linkage and Co-adapted gene complexes; tradeoff in life histories
Paper 4: Spatial structure in primate faces
How to study adaptation and its difficulties
Paper 5: fitness of hybrids in Irises
Sexual selection
Paper 6: Sex ratios in turtles
Sexual selection
Paper 7: Sexual selection in human facial symmetry
Kin selection and altruism
Paper 8: Monogamy in mammal communities
17
Speciation (Just what is a species anyway???) Everyone read
commentary by Woese on Blackboard
Paper 9: Genetic Introgression in mice
18
M 4/2 Transposable elements and horizontal gene flow (MA paper
outlines due)
Paper 10: Horizontal gene flow in mammals
19
W
MIDTERM II
4/4
20
M
Host parasite evolution
4/16
Paper 11: Genome of pathogenic E. coli
21
W
Host parasite evolution
4/18
Paper 12: H1N1 flu evolution
22
M
Co-evolution
4/23
23
W
Fossil Record
4/25
Paper 13: Neanderthals and Denisovans
24
W
Fossil Record
4/30
25
M 5/2 Development and Evolution (Animals)
Paper 14: Evo Devo in Tree Hoppers
26
W
Development and Evolution (Plants)
5/7
27
M 5/9 Catch-up
28
M
Evolution, conservation and climate change
5/14
Paper15: Genetic restoration of the Florida Panther
FINAL EXAM WILL BE HELD MAY 23 FROM 6:00-8:15 PM IN MR 702
3
Ch 8
Ch.10
Ch 11
Ch 11
Ch 12
Ch. 16
Ch. 15
Ch. 14
Ch. 14
Ch.17
Ch 18
Ch 19
Ch 19
Presentations: Students will work in pairs on each paper and use Powerpoint or Xeroxed
handouts. One student will present the background and the methods, the other one will present
the results and discussion. Both students will answer questions. The presentation should last a
Evolution
Spring 2012
4
total of 20 minutes. I do NOT want you to read the paper to us. I want summaries and
criticisms. The most difficult thing for students to do is to put primary research in context in
order to judge its importance. This context comes from additional readings. Start with
reading the text's treatment of the topic. Then scan the abstracts of the papers cited in the
Introduction of the paper you are presenting. The librarian can help you find references online.
The papers are scheduled to be more or less coincident with the relevant topic in lectures.
Term paper (MA students only): I want you to select a topic in evolution that is relevant to
your career goals. You must review the literature critically on this topic and explain what the
next relevant experiment should be. The paper should be no more than 5 single spaced (or 10
double spaced) typed pages plus one page of references. Your topic must be cleared with me by
2/28/2011. I want an outline of your paper and 5 references by 4/4/11.