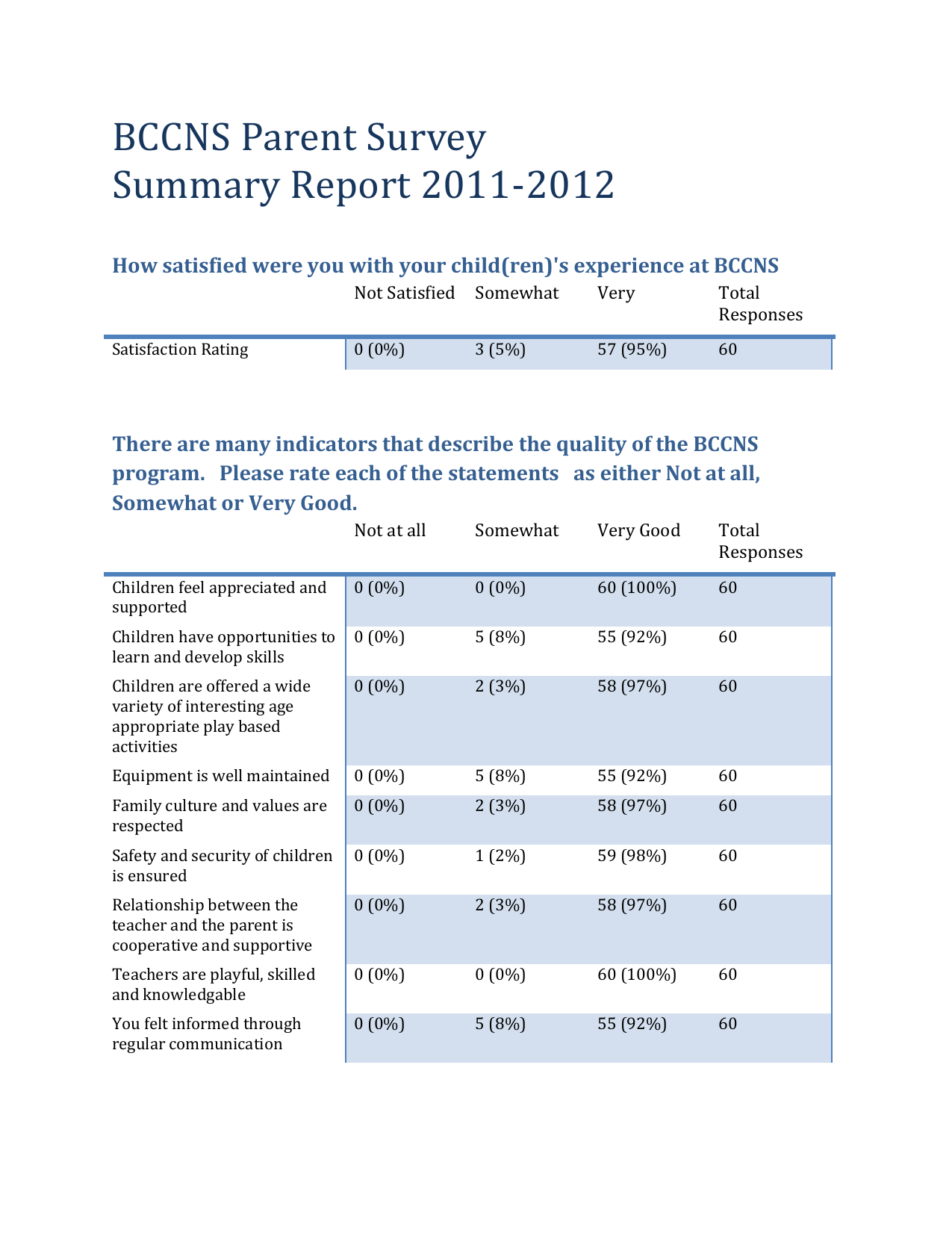 BCCNS Parent Survey
Summary Report 2011-2012
How satisfied were you with your child(ren)'s experience at BCCNS
Satisfaction Rating
Not Satisfied
Somewhat
Very
Total
Responses
0 (0%)
3 (5%)
57 (95%)
60
There are many indicators that describe the quality of the BCCNS
program. Please rate each of the statements as either Not at all,
Somewhat or Very Good.
Not at all
Somewhat
Very Good
Total
Responses
Children feel appreciated and
supported
0 (0%)
0 (0%)
60 (100%)
60
Children have opportunities to
learn and develop skills
0 (0%)
5 (8%)
55 (92%)
60
Children are offered a wide
variety of interesting age
appropriate play based
activities
0 (0%)
2 (3%)
58 (97%)
60
Equipment is well maintained
0 (0%)
5 (8%)
55 (92%)
60
Family culture and values are
respected
0 (0%)
2 (3%)
58 (97%)
60
Safety and security of children
is ensured
0 (0%)
1 (2%)
59 (98%)
60
Relationship between the
teacher and the parent is
cooperative and supportive
0 (0%)
2 (3%)
58 (97%)
60
Teachers are playful, skilled
and knowledgable
0 (0%)
0 (0%)
60 (100%)
60
You felt informed through
regular communication
0 (0%)
5 (8%)
55 (92%)
60
Please rate the following qualities in terms of how well you feel your
child's teachers did.
Response
Chart
Percentage
Count
Approachable
97%
57
Friendly
98%
58
Creative
88%
52
Playful
93%
55
Enthusiastic
98%
58
Committed
88%
52
Helpful
88%
52
Leader
69%
41
Fun
90%
53
Other, please specify...
15%
9
Total Responses
59
Please rate the following qualities in terms of how well you feel your child's
teachers did. (Other, please specify...)
#
Response
1. Best teachers ever!
2. professional
3. Just perfect
4. caring
5. Warm and loving
6. Appreciative of all children for each of their unique qualities
7. communicative
8. Awesome!
BCCNS strives to contribute to the overall development of your child.
Please rate each of the aspects.
Not at all
Somewhat
A lot
Total
Responses
Socially
0 (0%)
2 (3%)
58 (97%)
60
Emotionally
0 (0%)
13 (22%)
47 (78%)
60
Independence
0 (0%)
7 (12%)
53 (88%)
60
Follows instructions
0 (0%)
9 (15%)
50 (85%)
59
Confidence
0 (0%)
4 (7%)
55 (93%)
59
Would you recommend BCCNS to others?
Response
Chart
Percentage
Count
Yes
100%
60
No
0%
0
If you wish, please add in specific comments for your child's teachers. |
Response
The teachers are fabulous and really helped my child adjust to school
Celina, Heidi and Sharon have all helped my child to feel welcome, comfortable and loved in such
a fun learning environment.
Resourceful
Good job everyone, continue making the children happy.
The teachers were FANTASTIC! They kept giving the children new experiences/curriculum. They
were always down at the level of the children and interacting with them in very caring and
enthusiastic ways. I can't say enough about them!
My son started Jk this year in addition to attending the kinders program. The positive comments
that Sharon gave us on how he was doing at BCCNS are the best things about this entire year. We
are so happy with his behaviour, and he does so well there that it gives me hope he will come out
of his shell at school next year, and I think it's a direct correlation between Sharon's treatment of
him and his happiness.
Truly care about the development of the children; regularly give feedback to the parents re
progress of your child which is appreciated; overall, Celina & Sharon are phenomenal teachers!
Can't say enough about the teachers, they made such a huge impression on our little girl.
Learning and playing, building friendship was so much fun. Can't thank them enough!!!! They
are amazingly talented :) I will miss them so much!!
What was the best thing about BCCNS? |
Response
Teachers
I find that the teachers really make each child feel special. I also like the promotion of
independence with respect to dressing and undressing themselves. Support with toilet training is
another huge positive for BCCNS. Having the support coming from all sides has been incredibly
useful for us.
The loving environment created by the staff that facilitates learning for all.
The teachers are phenomenal!
The teachers
activities in classroom
Everybody are very friendly
Great family-centered programming
The school offered our child the opportunity to garner strong friendships and learn to
recognize emotions of others - and how to interact as a result
It is an excellent nuresry school and the development of my kids from September is noticed.
The teachers and other support staff are excellent!!
The most loving environment for my child's learning!
The happy smile I saw when I picked up my son.
Any other comments |
Response
We are so glad we decided to try BCCNS.
Have a wonderful restful summer!
We will miss you all!
My family had an excellent experience at BCCNS. I can only say great things about the school.
Thank you
Excellent work!
Thanks everyone, my daughter is always excited to go to school.