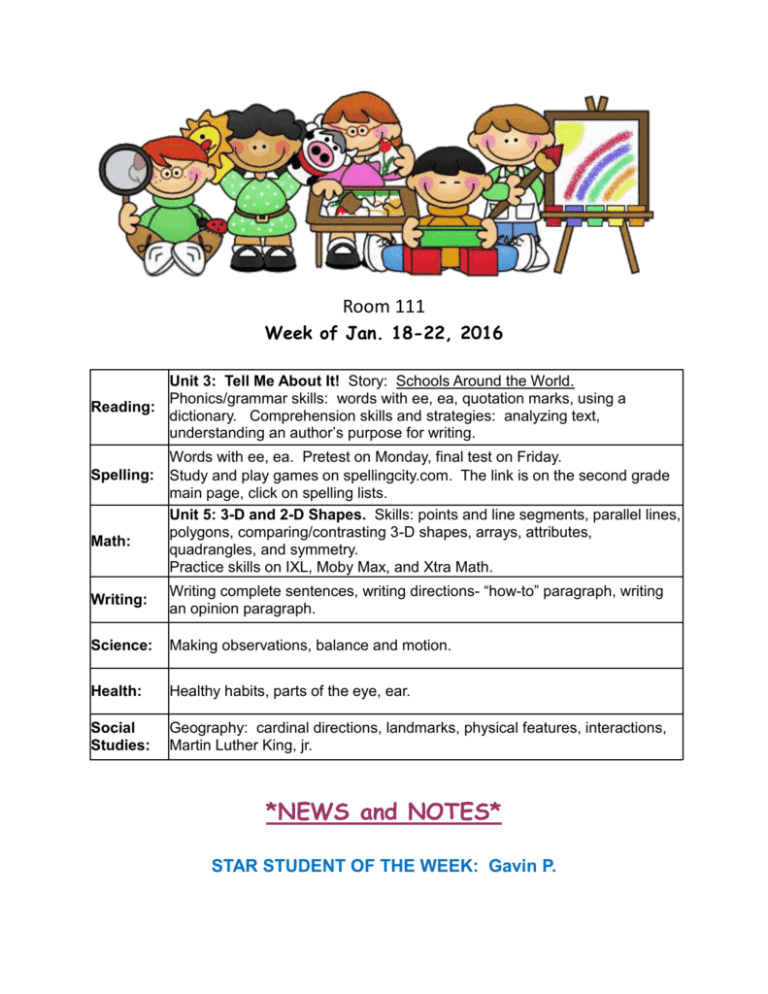 Room 111
Week of Jan. 18-22, 2016
Unit 3: Tell Me About It! Story: Schools Around the World.
Phonics/grammar skills: words with ee, ea, quotation marks, using a
Reading:
dictionary. Comprehension skills and strategies: analyzing text,
understanding an author's purpose for writing.
Words with ee, ea. Pretest on Monday, final test on Friday.
Spelling: Study and play games on spellingcity.com. The link is on the second grade
main page, click on spelling lists.
Unit 5: 3-D and 2-D Shapes. Skills: points and line segments, parallel lines,
polygons, comparing/contrasting 3-D shapes, arrays, attributes,
Math:
quadrangles, and symmetry.
Practice skills on IXL, Moby Max, and Xtra Math.
Writing:
Writing complete sentences, writing directions- "how-to" paragraph, writing
an opinion paragraph.
Science:
Making observations, balance and motion.
Health:
Healthy habits, parts of the eye, ear.
Social
Studies:
Geography: cardinal directions, landmarks, physical features, interactions,
Martin Luther King, jr.
*NEWS and NOTES*
STAR STUDENT OF THE WEEK: Gavin P.
Coming up in January and February:
Super Bowl Reading Challenge! AFC vs NFC
Monday, January 25: Conferences/book fair, 12:00-8:00 pm
Thursday, January 28: Conferences/book fair, 4:00-8:00 pm
February is I Love to Read Month! The theme this year is Reading is Groovy!
Thursday, Feb. 11: 2nd Grade Coborn's Math Night, 6:00pm
Friday, Feb. 12: Valentine's Day Party!
Friday, Feb. 19: Lunch with Parents, 12:45pm, DES cafeteria
Saturday, Feb. 27: Tiger Fun Fair, 4:00-8:00pm-TAC
If you plan to volunteer for a field trip, a party, or in the classroom this year, be sure to fill out
the district volunteer paperwork and watch the video. These items can be found on the
elementary website, under school services and volunteering. Thanks!
Please make sure your child brings his/her home folder and weekly planner to
school every day. Thanks!
F.R.O.G. awards are given to children for demonstrating Friendship, Respect and
responsibility (the "Tiger Way"), Outstanding citizenship, and Great behavior.