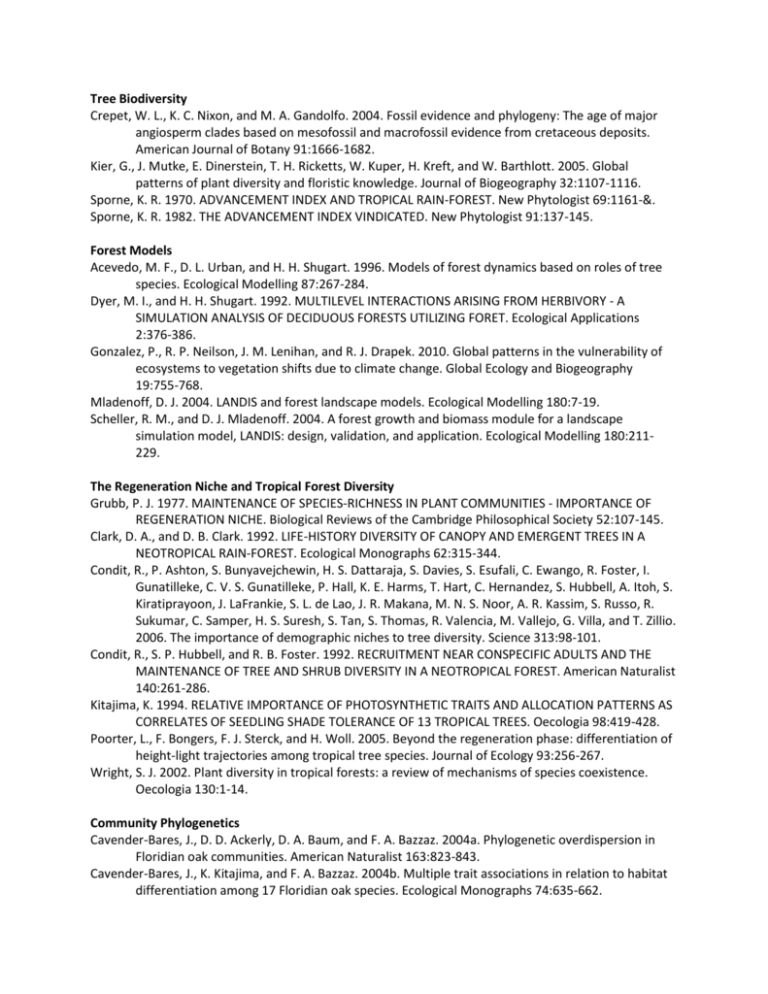 Tree Biodiversity
Crepet, W. L., K. C. Nixon, and M. A. Gandolfo. 2004. Fossil evidence and phylogeny: The age of major
angiosperm clades based on mesofossil and macrofossil evidence from cretaceous deposits.
American Journal of Botany 91:1666-1682.
Kier, G., J. Mutke, E. Dinerstein, T. H. Ricketts, W. Kuper, H. Kreft, and W. Barthlott. 2005. Global
patterns of plant diversity and floristic knowledge. Journal of Biogeography 32:1107-1116.
Sporne, K. R. 1970. ADVANCEMENT INDEX AND TROPICAL RAIN-FOREST. New Phytologist 69:1161-&.
Sporne, K. R. 1982. THE ADVANCEMENT INDEX VINDICATED. New Phytologist 91:137-145.
Forest Models
Acevedo, M. F., D. L. Urban, and H. H. Shugart. 1996. Models of forest dynamics based on roles of tree
species. Ecological Modelling 87:267-284.
Dyer, M. I., and H. H. Shugart. 1992. MULTILEVEL INTERACTIONS ARISING FROM HERBIVORY - A
SIMULATION ANALYSIS OF DECIDUOUS FORESTS UTILIZING FORET. Ecological Applications
2:376-386.
Gonzalez, P., R. P. Neilson, J. M. Lenihan, and R. J. Drapek. 2010. Global patterns in the vulnerability of
ecosystems to vegetation shifts due to climate change. Global Ecology and Biogeography
19:755-768.
Mladenoff, D. J. 2004. LANDIS and forest landscape models. Ecological Modelling 180:7-19.
Scheller, R. M., and D. J. Mladenoff. 2004. A forest growth and biomass module for a landscape
simulation model, LANDIS: design, validation, and application. Ecological Modelling 180:211229.
The Regeneration Niche and Tropical Forest Diversity
Grubb, P. J. 1977. MAINTENANCE OF SPECIES-RICHNESS IN PLANT COMMUNITIES - IMPORTANCE OF
REGENERATION NICHE. Biological Reviews of the Cambridge Philosophical Society 52:107-145.
Clark, D. A., and D. B. Clark. 1992. LIFE-HISTORY DIVERSITY OF CANOPY AND EMERGENT TREES IN A
NEOTROPICAL RAIN-FOREST. Ecological Monographs 62:315-344.
Condit, R., P. Ashton, S. Bunyavejchewin, H. S. Dattaraja, S. Davies, S. Esufali, C. Ewango, R. Foster, I.
Gunatilleke, C. V. S. Gunatilleke, P. Hall, K. E. Harms, T. Hart, C. Hernandez, S. Hubbell, A. Itoh, S.
Kiratiprayoon, J. LaFrankie, S. L. de Lao, J. R. Makana, M. N. S. Noor, A. R. Kassim, S. Russo, R.
Sukumar, C. Samper, H. S. Suresh, S. Tan, S. Thomas, R. Valencia, M. Vallejo, G. Villa, and T. Zillio.
2006. The importance of demographic niches to tree diversity. Science 313:98-101.
Condit, R., S. P. Hubbell, and R. B. Foster. 1992. RECRUITMENT NEAR CONSPECIFIC ADULTS AND THE
MAINTENANCE OF TREE AND SHRUB DIVERSITY IN A NEOTROPICAL FOREST. American Naturalist
140:261-286.
Kitajima, K. 1994. RELATIVE IMPORTANCE OF PHOTOSYNTHETIC TRAITS AND ALLOCATION PATTERNS AS
CORRELATES OF SEEDLING SHADE TOLERANCE OF 13 TROPICAL TREES. Oecologia 98:419-428.
Poorter, L., F. Bongers, F. J. Sterck, and H. Woll. 2005. Beyond the regeneration phase: differentiation of
height-light trajectories among tropical tree species. Journal of Ecology 93:256-267.
Wright, S. J. 2002. Plant diversity in tropical forests: a review of mechanisms of species coexistence.
Oecologia 130:1-14.
Community Phylogenetics
Cavender-Bares, J., D. D. Ackerly, D. A. Baum, and F. A. Bazzaz. 2004a. Phylogenetic overdispersion in
Floridian oak communities. American Naturalist 163:823-843.
Cavender-Bares, J., K. Kitajima, and F. A. Bazzaz. 2004b. Multiple trait associations in relation to habitat
differentiation among 17 Floridian oak species. Ecological Monographs 74:635-662.
Webb, C. O. 2000. Exploring the phylogenetic structure of ecological communities: An example for rain
forest trees. American Naturalist 156:145-155.
Webb, C. O., D. D. Ackerly, M. A. McPeek, and M. J. Donoghue. 2002. Phylogenies and community
ecology. Annual Review of Ecology and Systematics 33:475-505.
Paleoecology
Anderson-Carpenter, L. L., J. S. McLachlan, S. T. Jackson, M. Kuch, C. Y. Lumibao, and H. N. Poinar. 2011.
Ancient DNA from lake sediments: Bridging the gap between paleoecology and genetics. Bmc
Evolutionary Biology 11.
McLachlan, J. S., and J. S. Clark. 2004. Reconstructing historical ranges with fossil data at continental
scales. Forest Ecology and Management 197:139-147.
McLachlan, J. S., J. S. Clark, and P. S. Manos. 2005. Molecular indicators of tree migration capacity under
rapid climate change. Ecology 86:2088-2098.
Svenning, J. C. 2003. Deterministic Plio-Pleistocene extinctions in the European cool-temperate tree
flora. Ecology Letters 6:646-653.