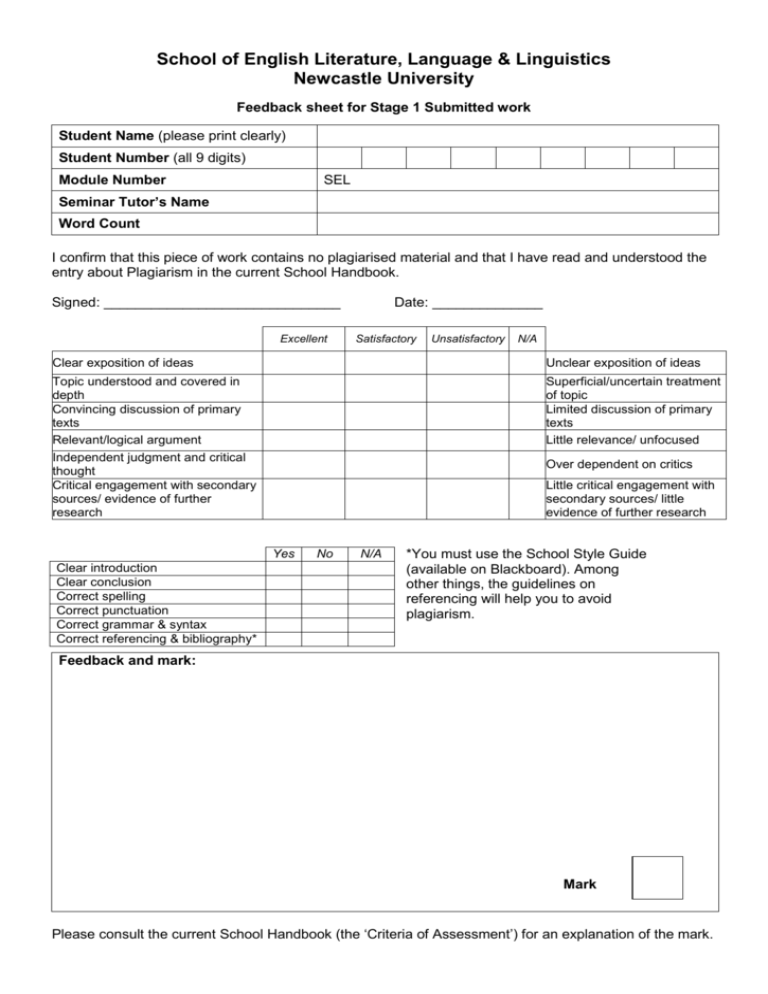 School of English Literature, Language & Linguistics
Newcastle University
Feedback sheet for Stage 1 Submitted work
Student Name (please print clearly)
Student Number (all 9 digits)
Module Number
SEL
Seminar Tutor's Name
Word Count
I confirm that this piece of work contains no plagiarised material and that I have read and understood the
entry about Plagiarism in the current School Handbook.
Signed: ______________________________
Excellent
Date: ______________
Satisfactory
Unsatisfactory
N/A
Clear exposition of ideas
Unclear exposition of ideas
Topic understood and covered in
depth
Convincing discussion of primary
texts
Relevant/logical argument
Independent judgment and critical
thought
Critical engagement with secondary
sources/ evidence of further
research
Superficial/uncertain treatment
of topic
Limited discussion of primary
texts
Little relevance/ unfocused
Over dependent on critics
Little critical engagement with
secondary sources/ little
evidence of further research
Yes
Clear introduction
Clear conclusion
Correct spelling
Correct punctuation
Correct grammar & syntax
Correct referencing & bibliography*
No
N/A
*You must use the School Style Guide
(available on Blackboard). Among
other things, the guidelines on
referencing will help you to avoid
plagiarism.
Feedback and mark:
Mark
Please consult the current School Handbook (the 'Criteria of Assessment') for an explanation of the mark.