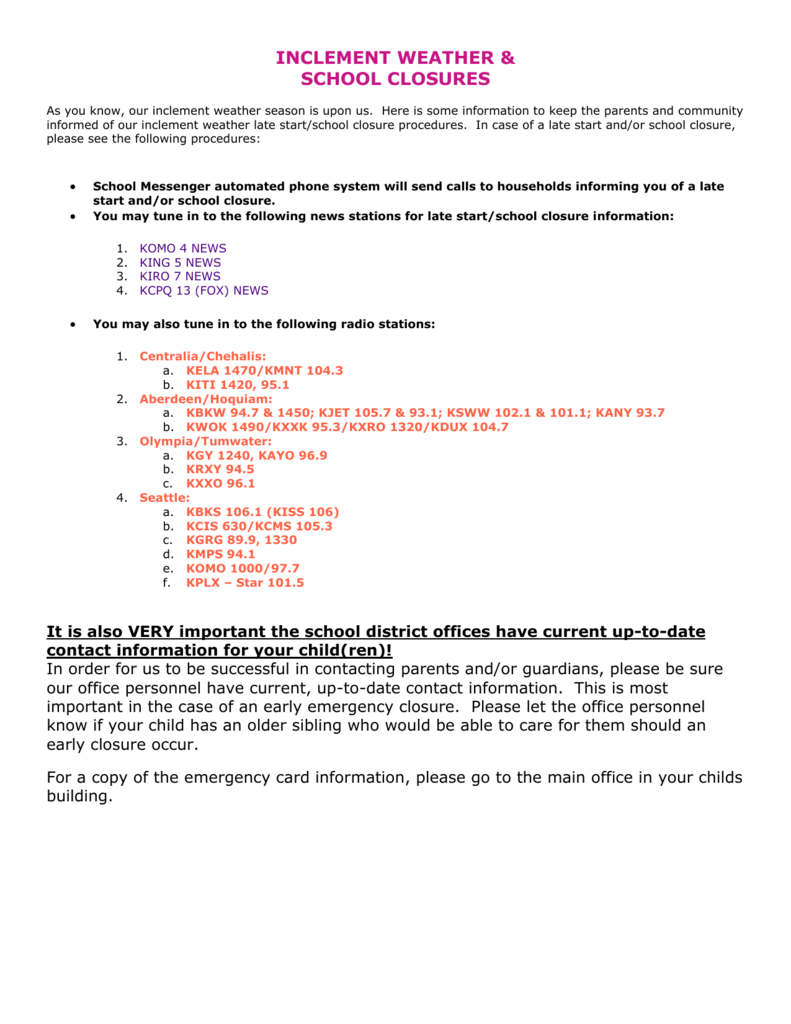 INCLEMENT WEATHER &
SCHOOL CLOSURES
As you know, our inclement weather season is upon us. Here is some information to keep the parents and community
informed of our inclement weather late start/school closure procedures. In case of a late start and/or school closure,
please see the following procedures:


School Messenger automated phone system will send calls to households informing you of a late
start and/or school closure.
You may tune in to the following news stations for late start/school closure information:
1.
2.
3.
4.

KOMO 4 NEWS
KING 5 NEWS
KIRO 7 NEWS
KCPQ 13 (FOX) NEWS
You may also tune in to the following radio stations:
1. Centralia/Chehalis:
a. KELA 1470/KMNT 104.3
b. KITI 1420, 95.1
2. Aberdeen/Hoquiam:
a. KBKW 94.7 & 1450; KJET 105.7 & 93.1; KSWW 102.1 & 101.1; KANY 93.7
b. KWOK 1490/KXXK 95.3/KXRO 1320/KDUX 104.7
3. Olympia/Tumwater:
a. KGY 1240, KAYO 96.9
b. KRXY 94.5
c. KXXO 96.1
4. Seattle:
a. KBKS 106.1 (KISS 106)
b. KCIS 630/KCMS 105.3
c. KGRG 89.9, 1330
d. KMPS 94.1
e. KOMO 1000/97.7
f. KPLX – Star 101.5
It is also VERY important the school district offices have current up-to-date
contact information for your child(ren)!
In order for us to be successful in contacting parents and/or guardians, please be sure
our office personnel have current, up-to-date contact information. This is most
important in the case of an early emergency closure. Please let the office personnel
know if your child has an older sibling who would be able to care for them should an
early closure occur.
For a copy of the emergency card information, please go to the main office in your childs
building.