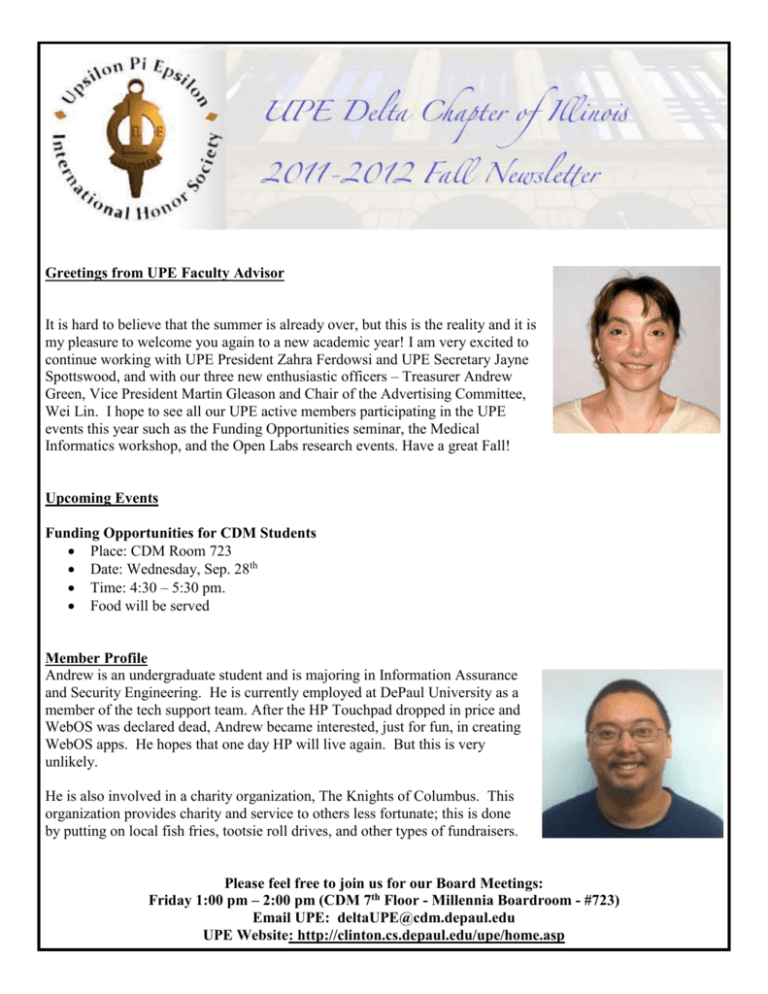 Greetings from UPE Faculty Advisor
It is hard to believe that the summer is already over, but this is the reality and it is
my pleasure to welcome you again to a new academic year! I am very excited to
continue working with UPE President Zahra Ferdowsi and UPE Secretary Jayne
Spottswood, and with our three new enthusiastic officers – Treasurer Andrew
Green, Vice President Martin Gleason and Chair of the Advertising Committee,
Wei Lin. I hope to see all our UPE active members participating in the UPE
events this year such as the Funding Opportunities seminar, the Medical
Informatics workshop, and the Open Labs research events. Have a great Fall!
Upcoming Events
Funding Opportunities for CDM Students
 Place: CDM Room 723
 Date: Wednesday, Sep. 28th
 Time: 4:30 – 5:30 pm.
 Food will be served
Member Profile
Andrew is an undergraduate student and is majoring in Information Assurance
and Security Engineering. He is currently employed at DePaul University as a
member of the tech support team. After the HP Touchpad dropped in price and
WebOS was declared dead, Andrew became interested, just for fun, in creating
WebOS apps. He hopes that one day HP will live again. But this is very
unlikely.
He is also involved in a charity organization, The Knights of Columbus. This
organization provides charity and service to others less fortunate; this is done
by putting on local fish fries, tootsie roll drives, and other types of fundraisers.
Please feel free to join us for our Board Meetings:
Friday 1:00 pm – 2:00 pm (CDM 7th Floor - Millennia Boardroom - #723)
Email UPE: deltaUPE@cdm.depaul.edu
UPE Website: http://clinton.cs.depaul.edu/upe/home.asp
Alumni Interview: Bob Paulin
1. What was your favorite memory of UPE?
My favorite memory of UPE was at the then CTI Research Symposium. A handful of
other board members and I volunteered to help setup for the event. Besides the free
food and t-shirts we got to listen to some cutting edge research on a variety of
computer science topics from software engineering to bioinformatics. It was
interesting to see the wide range of topics being worked on by students from the
undergraduate level all the way up to folks putting the finishing touches on their
dissertations.
2. What have you been doing after graduation?
For the last year I've been working at Acquity Group in Chicago as a consultant. I've worked on a number of
projects ranging from Portals to Mobile sites. The work is exciting because I get to work with a broad range of
technologies and some very smart people. Additionally nearly everything I work on is external facing for my
clients. This means the work I deliver must meet the needs of a wide degree of languages and cultures as well
as scale to millions of page hits.
3. What advice do you have for UPE student members?
Get involved and network with your peers! The tech community in Chicago is big so it's important to network
and get your name out there. Being involved in the UPE board gives you some great opportunities to meet with
other members that you may not otherwise meet. People that like you have worked hard to be at the top of their
class. Success begets success.
Spring Quarter Recap
We have had the great opportunity to host some very exciting events in the 2010-20011 Spring Quarter.
UPE Initiation
Date: May 10th, 2011
It was a pleasure to see the continued academic success of the students at CDM. UPE invited 92 student
members and one honor faculty member, Dr. Amber Settle. Pictures and video of the initiation are posted
online.
Medical Informatics Workshop
Date: May 17th, 2011
This workshop featured presentations by DePaul faculty, undergraduate and graduate students working in the
CDM Intelligent Multimedia Processing Laboratory and Medical Informatics Laboratory. The presentations
covered the gamut of Medical Informatics, from core concepts of the field to hands-on experiences with
processing and analyzing medical images.
Reminders:
 Remain active in UPE! Send your $20 annual membership fee by check (made out to UPE) before
October 20th to: College of Computing and Digital Media, CDM; ATTN: UPE; DePaul
University; 243 South Wabash Avenue; Chicago, IL 60604.

All UPE members are entitled to ACM access; If you are a new UPE member, you need to send an
email to orders@acm.org with the following information: your UPE/ACM 15-character code #
(no spaces), full name, phone number, email address, gender & age and information on your
status as a student (name of college/university, current semester/year, expected date of graduation,
type of degree). Finally, indicate if you are an ACM student member. If you do not have your
UPE/ACM 15-character code #, contact deltaUPE@cdm.depaul.edu.