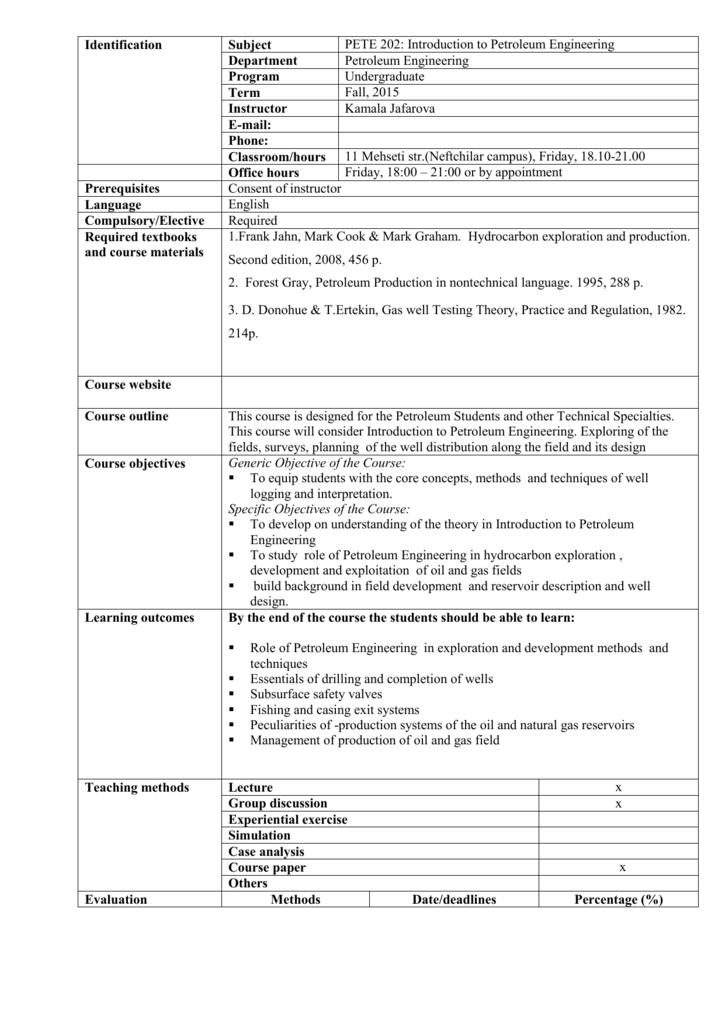 Identification
Prerequisites
Language
Compulsory/Elective
Required textbooks
and course materials
PETE 202: Introduction to Petroleum Engineering
Subject
Petroleum Engineering
Department
Undergraduate
Program
Fall, 2015
Term
Kamala Jafarova
Instructor
E-mail:
Phone:
Classroom/hours 11 Mehseti str.(Neftchilar campus), Friday, 18.10-21.00
Friday, 18:00 – 21:00 or by appointment
Office hours
Consent of instructor
English
Required
1.Frank Jahn, Mark Cook & Mark Graham. Hydrocarbon exploration and production.
Second edition, 2008, 456 p.
2. Forest Gray, Petroleum Production in nontechnical language. 1995, 288 p.
3. D. Donohue & T.Ertekin, Gas well Testing Theory, Practice and Regulation, 1982.
214p.
Course website
Course outline
Course objectives
Learning outcomes
This course is designed for the Petroleum Students and other Technical Specialties.
This course will consider Introduction to Petroleum Engineering. Exploring of the
fields, surveys, planning of the well distribution along the field and its design
Generic Objective of the Course:
 To equip students with the core concepts, methods and techniques of well
logging and interpretation.
Specific Objectives of the Course:
 To develop on understanding of the theory in Introduction to Petroleum
Engineering
 To study role of Petroleum Engineering in hydrocarbon exploration ,
development and exploitation of oil and gas fields
 build background in field development and reservoir description and well
design.
By the end of the course the students should be able to learn:






Teaching methods
Evaluation
Role of Petroleum Engineering in exploration and development methods and
techniques
Essentials of drilling and completion of wells
Subsurface safety valves
Fishing and casing exit systems
Peculiarities of -production systems of the oil and natural gas reservoirs
Management of production of oil and gas field
Lecture
Group discussion
Experiential exercise
Simulation
Case analysis
Course paper
Others
Methods
x
x
x
Date/deadlines
Percentage (%)
Policy
Midterm Exam
Case studies
Class Participation
Assignment and
quizzes
Project
Presentation/Group
Discussion
Final Exam
Others
Total
 Preparation for class
30
5
10
15
40
100
The structure of this course makes your individual study and preparation outside
the class extremely important. The lecture material will focus on the major points
introduced in the text. Reading the assigned chapters and having some familiarity
with them before class will greatly assist your understanding of the lecture. After
the lecture, you should study your notes and work relevant problems and cases
from the end of the chapter and sample exam questions.

Withdrawal (pass/fail)
This course strictly follows grading policy of theSchool of Engineering and
Applied Science. Thus, a student is normally expected to achieve a mark of at
least 60% to pass. In case of failure, he/she will be required to repeat the course
the following term or year.

Cheating/plagiarism
Cheating or other plagiarism during the Quizzes, Mid-term and Final
Examinations will lead to paper cancellation.
Professional behavior guidelines
The students shall behave in the way to create favorable academic and
professional environment during the class hours. Unauthorized discussions and
unethical behavior are strictly prohibited.
We
ek
Tentative Schedule
Topics
Date/Day
(tentative)
1
18.09.2015
Role of Petroleum Engineering. The field life cycle. Hydrocarbon
Accumulations. Exploration Methods and Techniques
2
3
01.10.2015
08.10.2015
Exploration methods and techniques. Land operations.
Field development. Well design.
4
5
6
7
8
9
10
11
12
13
14
15.10.2015.
22.10.2015
29.10.2015
05.11.2015
12.11.2015
19.11.2015
26.11.2015
03.12.2015
10.12.2015
17.12.2015
24.12.2015
Reservoir Description
Production and reserves
Drilling and completion of the wells
Casing types: Tie back and Liner hangers
Mid-term Exam
Artificial lift
Wellbore clean up, wellbore isolation
Problems during production, Sand control
Subsurface safety valves
Fishing, Casing exit systems
Production from natural gas reservoirs
Textbook/Assignments
(1) Pp 1-18
(1) pp.18-29
(2) pp.1-30
(1) pp. 75-151
(2) pp.6.1-6.47
(1) Pp.29-60
(2) pp. 37-47
(2) pp. 5.1-5.36
(2) pp.47-52
(2) pp.52-68
(3) pp.2.1-2.30
(3) pp.3.1-3.55
(3) pp. 4.1-4.81
15
29.12.2015
Plug abandonment . Managing the producing field
(1) pp. 170-190(1) pp.
331-362
1
TBA
Final Exam
This syllabus is a guide for the course and any modifications to it will be announced in advance.