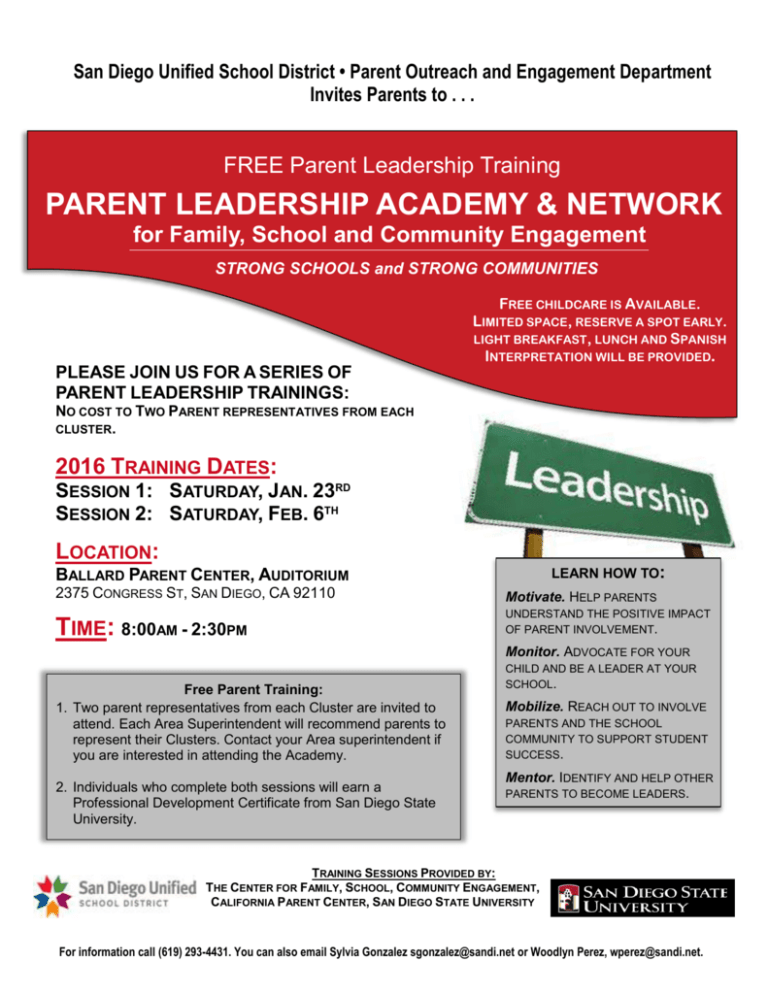 San Diego Unified School District • Parent Outreach and Engagement Department
Invites Parents to . . .
FREE Parent Leadership Training
PARENT LEADERSHIP ACADEMY & NETWORK
for Family, School and Community Engagement
STRONG SCHOOLS and STRONG COMMUNITIES
FREE CHILDCARE IS AVAILABLE.
LIMITED SPACE, RESERVE A SPOT EARLY.
LIGHT BREAKFAST, LUNCH AND SPANISH
INTERPRETATION WILL BE PROVIDED.
PLEASE JOIN US FOR A SERIES OF
PARENT LEADERSHIP TRAININGS:
NO COST TO TWO PARENT REPRESENTATIVES FROM EACH
CLUSTER.
2016 TRAINING DATES:
SESSION 1: SATURDAY, JAN. 23RD
SESSION 2: SATURDAY, FEB. 6TH
LOCATION:
LEARN HOW TO:
BALLARD PARENT CENTER, AUDITORIUM
2375 CONGRESS ST, SAN DIEGO, CA 92110
Motivate. HELP PARENTS
TIME: 8:00AM - 2:30PM
UNDERSTAND THE POSITIVE IMPACT
OF PARENT INVOLVEMENT.
Monitor. ADVOCATE FOR YOUR
Free Parent Training:
1. Two parent representatives from each Cluster are invited to
attend. Each Area Superintendent will recommend parents to
represent their Clusters. Contact your Area superintendent if
you are interested in attending the Academy.
2. Individuals who complete both sessions will earn a
Professional Development Certificate from San Diego State
University.
CHILD AND BE A LEADER AT YOUR
SCHOOL.
Mobilize. REACH OUT TO INVOLVE
PARENTS AND THE SCHOOL
COMMUNITY TO SUPPORT STUDENT
SUCCESS.
Mentor. IDENTIFY AND HELP OTHER
PARENTS TO BECOME LEADERS.
TRAINING SESSIONS PROVIDED BY:
THE CENTER FOR FAMILY, SCHOOL, COMMUNITY ENGAGEMENT,
CALIFORNIA PARENT CENTER, SAN DIEGO STATE UNIVERSITY
For information call (619) 293-4431. You can also email Sylvia Gonzalez sgonzalez@sandi.net or Woodlyn Perez, wperez@sandi.net.