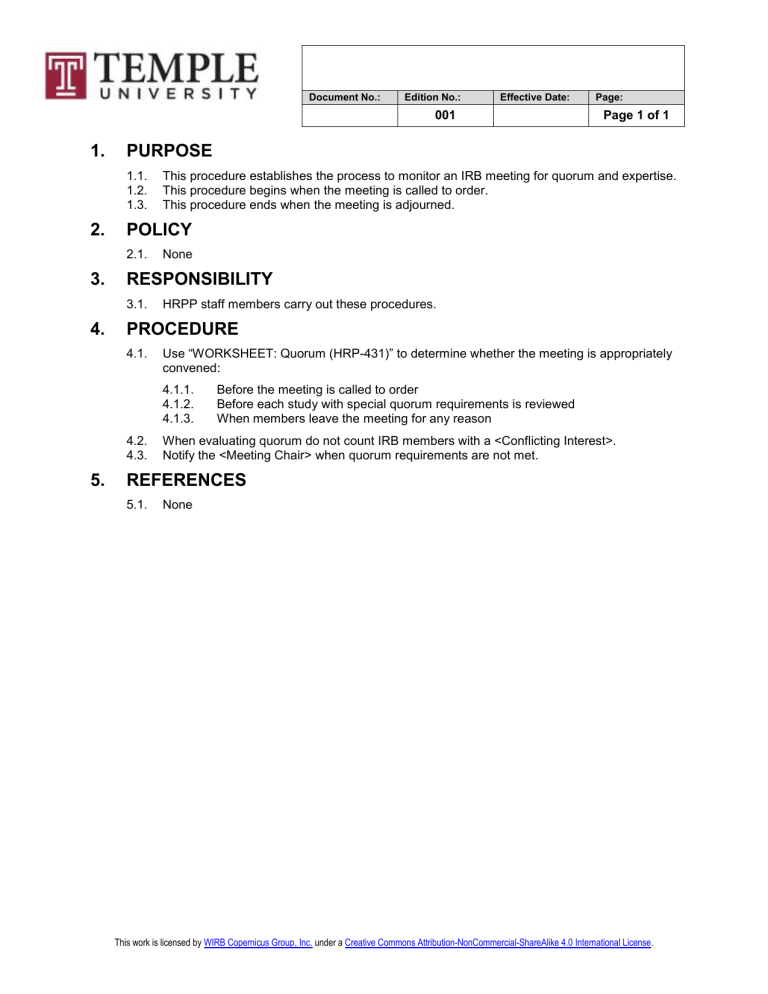 Document No.: Edition No.:
001
Effective Date: Page:
Page 1 of 1
1.
2.
3.
4.
5.
PURPOSE
1.1.
1.2.
1.3.
This procedure establishes the process to monitor an IRB meeting for quorum and expertise.
This procedure begins when the meeting is called to order.
This procedure ends when the meeting is adjourned.
POLICY
2.1. None
RESPONSIBILITY
3.1. HRPP staff members carry out these procedures.
PROCEDURE
4.1.
Use "WORKSHEET: Quorum (HRP-431)" to determine whether the meeting is appropriately convened:
4.2.
4.3.
4.1.1.
4.1.2.
4.1.3.
Before the meeting is called to order
Before each study with special quorum requirements is reviewed
When members leave the meeting for any reason
When evaluating quorum do not count IRB members with a <Conflicting Interest>.
Notify the <Meeting Chair> when quorum requirements are not met.
REFERENCES
5.1. None
This work is licensed by WIRB Copernicus Group, Inc.
under a Creative Commons Attribution-NonCommercial-ShareAlike 4.0 International License .